---
---
School Of Seven Bells – 'SVIIB'
Release-Date: 26.02.2016
Label: Full Time Happy
It's impossible to regard SCHOOL OF SEVEN BELLS' new and final album, SVIIB (named for the shorthand the bands fans use for their name) is the same way you would regard a normal record. Because in December 2013, Benjamin Curtis, one half of the duo, died of cancer at the tragically early age of thirty-five. Alejandra Deheza had been in a musically intense partnership with Curtis for ten years, five of those spent in a relationship, and was now left trying to find a way to process her grief. She decided the best thing to do would be to take the record that she and Curtis had almost finished and release it as SVIIB, a tribute to Curtis and to the band itself.
The lyrics Deheza had been writing when she and Curtis were initially working on the record were actually about him and the break-up of their relationship and the story of their decade together. This makes the album and incredibly intensely focussed portrait of two people. But to Deheza's immense credit, she avoids sinking into misery or mourning, and SVIIB instead concentrates on the celebratory aspect of Curtis and Deheza. Opener Ablaze practically glows musically, a rush of soaring synths and Deherza's testimony to Curtis' impact on her life: 'You saw the stars in me, when I had sunk into the black'. Music Takes Me focusses on the green shoots of psychological recovery, 'These days, I'm feeling the sun come through'. On Confusion the band steps away from the uptempo pop and explore an airy, spacy soundscape, Deherza's sombre, pained voice wandering over gentle waves of background fuzz.
Posthumous or tribute releases can often feel somewhat uncomfortable, albums forced out more out of a sense of duty than any genuine desire to create them. SVIIB isn't like that; the greatest tribute I can pay it is that to someone entirely in the dark about its backstory, it would still sound like an excellent album. When you're aware of the circumstances in which it was made, it only becomes more impressive. Deheza has completed a fitting sign-off to Curtis, and to SCHOOL OF SEVEN BELLS too. They'll be missed. (Austin Maloney)
NBHAP Rating: 4,5/5
---
---
Santigold – '99¢'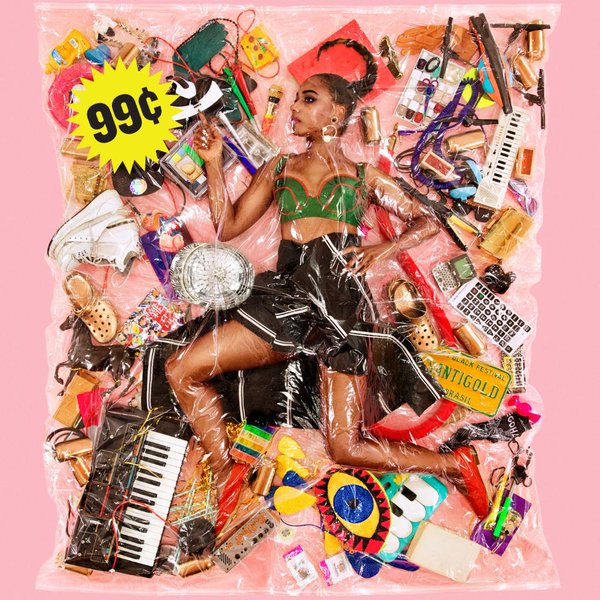 Release-Date: 26.02.2016
Label: Atlantic Records
There were a few aticles in the last couple of months which predicted that this time SANTIGOLD will hit the mainstream area by storm with her newest album. Now, the wait is over and the American R'n'B/pop artist shows up with 99¢ – a sequel to previous Santogold and Master Of My Make-Believe. The singer follows her well-known roots by mixing pumping bubble-gum beats with dirty synthy-features and ghetto-vibed vocals. And maybe that is the base she does not want to leave – the pop-underground. And who can't blame her for a catchy hit single like Can't Get Enough Of Myself?
The twelve songs are telling stories about partying, some love here and there, self-respect, all of them taste like American candy-street-style. Is it a bad thing? Not really, SANTIGOLD already has a big position in the scene of independent R'n'B divas and does not need a chart topper to prove her talent. She goes on with her beats – fans will follow, some new might join her trip. 99¢ is an intelligent pop record that showcases Santi Whites unique position in-between genres and definitions. Unfortunately, it doesn't add a lot of new elements and ideas to the the recipe of its two predecessors. And that itself is the biggest flaw for such a talented young lady. (Kai Hermann)
NBHAP Rating: 3,4/5
---
---
The 1975 – 'I Like It When You Sleep, For You Are So Beautiful Yet So Unaware of It'
Release-Date: 26.02.2016
Label: Polydor
It's hard to believe that THE 1975 are only just bringing out their second album. So what can we expect from I love it when you sleep, for you are so beautiful yet to unaware of it? To get straight to the point it's 80s pop music meets clever and witty lyrics that are just so THE 1975. You know when you hum a song and only then realise what the song's saying? Well, that's basically what you'll detect throughout this record. Casually thrown in lyrics such as 'You look famous, let's be friends' or 'If she says I've got to fix my teeth, then she's so American' are just priceless finds (but not there to be taken literally but rather display the bands reputation of taking the mickey of all sorts of situations).
But true to self it's not just a quickly produced and slapped together jumble of songs but a album that's been thought through and was so worth the wait. The only critic one might add that the record does drag a little throughout the middle, with two consecutive instrumentals and some rather glum songs that dampen the initial upbeat and fun vibe that the album opens with. Oh and the fact the track named I love it when you sleep, for you are so beautiful yet to unaware of it is also just an instrumental. Why? Because they can even if we were expecting a few lyrics to back up this lengthy beast of a title. The songs what really stand out are unfortunately also the pre-released singles UGH!, Love Me, The Sound and (because waiting a few days was too much to ask) Somebody Else. Still, the album is a step up and way more colourful than it's predecessor and just so darn catchy. If you love good pop music you can't ignore this fancy cocktail. If there's any logic left in the music business, this will be the album that brings THE 1975 their final breakthrough.Ugh! (Marla Geesing)
NBHAP Rating: 4,3/5
The album won't appear on Spotify until March 11, so here's the brand new 'The Sound' video instead.

---
---
Holy Esque – 'At Hope's Ravine'
Release-Date: 26.02.2016
Label: Beyond The Frequency/ Believe Digital
Honesty often doesn't come in shiny colours and tenderness. In the case of Glaswegian four-piece HOLY ESQUE it's an ugly and raw version of dedicated authenticity that capture's the listener's attention, right from the start. Prism stars their long awaited debut At Hope's Ravine with big drums, noisy sytnhs, sinister shoegaze guitars and that voice that makes you shiver in an instant. The desperate and distinctive Tremolo of singer Pat Hyne's voice dominated the driven mixture of wave rock and shoegaze. He's the emotional anchor and unique element that carries the powerful sound of his band members. The special sound of his vocal makes it feel as if every word comes directly from his heart as he screams out all the ugly emotions he can no longer hold insight. It's the essential piece that makes the HOLY ESQUE recipe work in the end.
The quartet recalls familiar musical elements – from ECHO & THE BUNNYMEN to THE TWILIGHT SAD, from the pre-stadium rock U2 to a noisier version of THE NATIONAL: if you love your independent rock with a certain sinister taste this might be your favourite new band. Big anthems like Hexx team up with heavier noise like Convenant III and almost uplifting pieces like Silences. Still, the key elements remain constant: huge guitar walls and a constantly driving rhythm section push the band further and further while they keep intensity and pace up from start to finish. HOLY ESQUE think big and are able to come up with surprisingly huge satidum anthems (Doll House) although there idea of that weird genre couldn't be further away from the one of COLDPLAY and Co. There's no room for fancy colours and balloons in the ugly reality of these guys. The fact that they doesn't end up sounding like miserable pricks but allow themselves a big amount of optimism makes this record even more valuable. At Hope's Ravine is already one of 2016 finest debut albums. (Norman Fleischer)
NBHAP Rating: 4,6/5
---
---
Mothers – 'When You Walk A Long Distance You Are Tired'
Release-Date: 26.02.2016
Label: Wichita Recordings
Athens, GA-based quartet MOTHERS might not be on your radar yet but they definitely will with this stunning little hidden treasure called When You Walk A Long Distance You Are Tired. The band's debut album deserves a place in the spotlight as it presents sweet and sensual melancholic lo-fi indie-rock. Originally a solo project by singer Kristine Leschper the band took shape back in 2014. Recorded with the help of producer Drew Vandenberg (OF MONTREAL, PORCELAIN RAFT) the debut album will please all those who like their independent rock gentle and sweet, instead of loud and noisy. Leschper's distinctive and longing voice remains the lighthouse in this little masterpiece of bedroom anthems, especially in the reduced moments of the album. Too Small For Eyes opens the record via a tender lullaby while Nesting Behaviour reduces a DAUGHTER-like goosebump ballad that drowns in sweet pain and melancholia. It's one of the many strong moments on When You Walk A Long Distance You Are Tired.
The quieter moments surely recall Kristine Leschper's early solo recording days while material like the driven It Hurts Until It Doesn't or the uplifting Copper Mines are clearly inspired by her performing with the rest of the band. The MOTHERS showcases these two sides of the band in perfect balance. Still, the more reduced moments dominate the sound of the band's debut album. From the fragile nightly vibe of Blood-letting to the lugubrious sensuality of Hold Your Head Down which results in an almost post-rock-like build-up: Leschper carries the listener along that heart-wrenching journey, she pilots the boat through a sea of melancholia and allows us to get lost in it but always saves us right before we tend to drown. If you are not afraid of dreamy songwiter gloom you'll definitely fall for those sinister lullabies. (Norman Fleischer)
NBHAP Rating: 4,4/5
---
---
Sarah Neufeld – 'The Ridge'
Release-Date: 26.02.2016
Label: Paper Bag Records
The Ridge is SARAH NEUFELD's second full-length solo attempt aside from the part she plays in that little indie rock institution called ARCADE FIRE. Lately, the success and size of the Grammy winning Canadians opened up possibilities for its indeed collective-sized membership. From COLIN STETSON, to WILL BUTLER and ultimately, violinist SARAH NEUFELD – one should not be mislead to say that these artists had no voice of their own in the first place. But they do benefit from the buzz of their main band.
Just like STETSON f.e., who also lends his sax-skills to this output, NEUFELD reframes the skills she barely can live out to the fullest in ARCADE FIRE through her solo work. Where her first solo effort Hero Brother still mainly exercised in neo classical territory though, this second record seems a lot more confident already. NEUFELD proudly exposes her voice and even gives in to little pop moments, while still remaining an overall art character. ARCADE FIRE drummer Jeremy Gara and electronic artist TIM HECKER contribute to that impression quite elegantly so that these eight songs barely bore but mostly score. (Henning Grabow)
NBHAP Rating: 3,8/5
---
---
The Castillians – 'You And Me'
Release-Date: 26.02.2016
Label: PNKSLM Recordings
THE CASTILLIANS are a band whom their label boss, PNKSLM's Luke Reilly, believes 'should be way fucking bigger than THE BLACK KEYS'. And on the Birmingham band's second album, You & Me, they show that they're at least the equal of the Keys when it comes to raw, blues-inflected rock songs. Three songs act as the opposite poles of the album's stylistic range. First single You & Me, fittingly for a title track, functions as a statement of intent for the whole record. It's built from classic rock tropes ('I got a car, it don't drive too bad, and I'll pick you up, from your mom and dad's'), wrapped up with sawn-off guitar riffs and vocals fed through what sounds like the rustiest of tin cans. It's loud, simple and sounds great.
Things calm down for I Left My Tassle Jacket In San Luis Obispo, a slow-burning almost-ballad that sees the band play around with a country-music lilt (I'll leave it up to the Music Authenticity truthers out there to determine whether a band from the UK Midlands have ever actually left a jacket in San Luis Obispo). Come What May is the band at their most anthemic, a story of warped angst crafted from waves of guitar surge and squall. The rest of the songs on the record mostly fall into the sonic territory carved out by those three: gritty guitar rock tunes with big, sharp choruses, played with an intensity that suggest THE CASTILLIANS worry their hands could fall off at any moment. Sure, a scuzzy guitar album with lyrics about love, cars and summer probably isn't cool, and certainly isn't innovative in 2016. But it would take an arch-pretentious miserablist to turn their nose up at a record this good. Songs as well written as these are essentially the reason we all got into music in the first place; loud, fun rock tunes that sound great whether coming from your stereo, headphones or an amp in a bar. Re-inventing the wheel can wait. (Austin Maloney)
NBHAP Rating: 4/5
---
---