---
---
Minor Victories – 'Minor Victories'
Release-Date: 03.06.2016
Label: Fat Possum Records
When MINOR VICTORIES first announced themselves to the world, formed as a jigsaw puzzle of members of other big name bands, the pressure mounted for their first LP to be as well received as their previous work. They didn't disappoint. Bringing decades of combined experience in the music industry, SLOWDIVE's Rachel Goswell, MOGWAI's Stuart Braithwaite, Justin Lockey, from Editors fame, and his filmmaker brother James, have unveiled a wholly new band that, instead of replaying ideas from their past projects, stretches their originality when pitted together.
MINOR VICTORIES self-titled album isn't trying to cater for everyone, but create something new from three unique sounds. SLOWDIVE's classic 90s Shoegazing comes up against MOGWAI's electronic fervor and a deeply brooding, characteristically Editors atmosphere. Despite the variety of styles, the album never lacks harmony. A Hundred Ropes offers soft vocals over intimidating electronic beats, creating a very distinctive melody. As the band's sound expands, so does the rich list of influences and collaborators. In For You Always, where Goswell sings a duet with Mark Kozelek, MINOR VICTORIES demonstrates its interested and curious outlook. There is always something to try and someone with whom to work. With any luck, this first LP is evidence of an original sound that rises out of the confidence that comes with experience and an eagerness to have something more to say. (Agatha Cantrill)
---
---
Tegan & Sara – 'Love You To Death'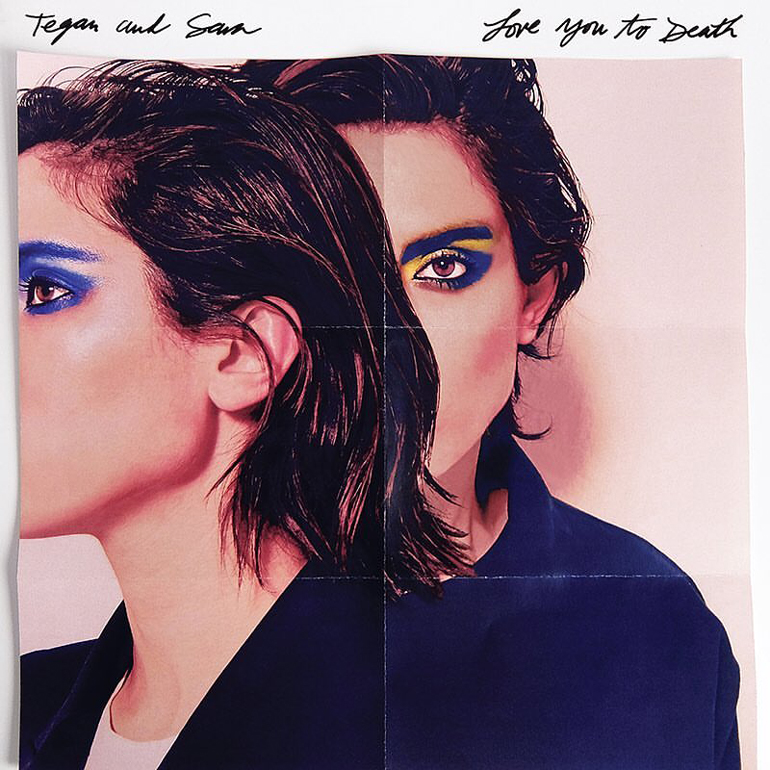 Release-Date: 03.06.2016
Label: Vapor Records
Love, sadness, self-reflection, heartbreak and intrigue. These are always good ingredients to create some smash hit songs. And exactly what Canadian pop-synth sister duo TEGAN & SARA have brought together in their brand new album Love You To Death.
Right from the get go, the LP bare the pop-synth signature we're used to from TEGAN & SARA since their last album Heartthrob. Many of the track melodies remind one of old school 80s pop but that's exactly what makes the album so great. Stand out tracks are their previously released single Boyfriend but also opening track That Girl as well as tracks like U-Turn are the right kind of infectious bright tunes that are just so great to listen to. The song Stop Desire especially has summer hit potential with its bright, bouncy, fun vibes that resonate on and on in your head. For those you like it a little slower, tracks like White Knuckles and 100X are pretty chill songs that despite being a little more quiet still fit perfectly into the concept of the album. The topics discussed throughout the LP aren't anything ground-breakingly new to those familiar with TEGAN & SARA's work, however in a an ever changing world it's sometime nice to have a band with a 'stick to what you know' attitude. Love You To Death is definitely a worthy successor of their previous work and the Canadian duo has created an album worthy of being a summer hit success. (Marla Geesing)
---
---
Classixx – 'Faraway Reach'
Release-Date: 03.06.2016
Label: Innovative Leisure
Chirurgical fresh EDM. Three words that totally define what CLASSIXX are, and want to be. With Faraway Reach, the duo from Los Angeles once again prove its talent to make a groovy and aerial sound, both codified and explorative. After having released the successfully acclaimed Hanging Gardens in 2013, they come back three years later at the exact same period – just before the summer, which is no coincidence – with the desire to be wider than ever before.
The only drawback would be some less impressive tracks like Safe Inside or the single Just Let Go (featuring HOW TO DRESS WELL) where they dangerously play with the thin line that differentiate them from unsavoury classic EDM just to be a bit more easy-listening. But if it's to put gems like In These Fine Times, Eyes on Me or The Dissolve into more ears, who can blame them? The choice to make it a collaborative song-oriented album, counting only three solo tracks, is coherent with their goal to make both a more diversified and more accessible piece. CLASSIXX' second full-length is the kind of album you would listen around a pool with some friends, not hipsters nor ravers, but with your no-hassle friends who still have curious ears. (Bastien Perroy)
---
---
The Kills – 'Ash & Ice'
Release-Date: 03.06.2016
Label: Domino Records
THE KILLS return with their fifth studio album Ash & Ice, and it's taken 5 years since the successful Blood Pressure. However, It comes shrouded in drama after Jamie Hince, lead guitarist and 1/2 of rocks coolest duo, trapped his hand in a car door and had to relearn the guitar. On her side, Alison Mosshart worked a lot with her other project, THE DEAD WEATHER, with which she released Dodge & Burn last year. Yet, it hasn't stopped the forever cool rock inspired sound of THE KILLS. The two very contrasted personalities somehow find an equilibrium in the art exercise, managing to represent something singular and recognizable. This curious chemistry makes you feel like you're following a love story – more ardent than never – on Ash and Ice.
The opening track Doing It To Death is a tropical summer anthem and lives up to their electro edge. Impossible Tracks cements their rock creditability and reminds the listener of their durable relation. Heart Of A Dog is a tribute to our animal instincts, and the whole project acts as a memorandum of that. This record comes just in time for those summer festivals and parties. Released on Domino, the reliable status of quality rock. (Hannah Fahy)
---
---
Fear of Men – 'Fall Forever'
Release-Date: 03.06.2016
Label: Kanine Records
The sound of the new FEAR OF MEN could be coarsely summed up as a soft voice guiding you through reverberated layers of guitars, only to be pillared by short-attacked drums. This quite distinctive balance, where instruments madly develop their soundscape and where the drum set keeps everything clear and on place – almost in a military manner – works perfectly. It almost sounds electronic or sampled from time to time, which is the best way to better emphasize the very human and haunted melodies of lead singer Jessica Weiss.
Fall Forever keeps its tension by always going back and forth in terms of moods. In the end it is a beautiful, accessible, simple – but not simplistic – touching story. The journey leads you through hilly landscapes where tales are told about how we deal with our past and how we should keep moving forward. While their first album Loom was more about unconcernedly exploring the world, being sonically more adventurous, Fall Forever is about exploring yourself in a humble and methodical way. This second album is subtler, but hits you in the guts anyway. (Bastien Perroy)
---
---
Phoria – 'Voilition'
Release-Date: 03.06.2016
Label: X Novo / Humming Records
What makes a debut album stand out? Is it the presentation of new ideas, either musically or lyrically? Is it innovation? Is it a variety in between the tracks? Or is it a single track that sounds better than anything one has ever heard before? The cover of PHORIA's debut album Volition is the same outline of a woman's body that had been used for previous singles. For those, the shape was boasting of all the different colours of the rainbow. Now the cover looks like it had all those colors sucked out of the image. All that remains is a dull blackness. It's like a metaphor for the actual music on the record. While the previously released single Evolve was varied in structure and left the listener hopeful for a new sound, the album as a whole feels a bit flat.
The undertone is a relaxed and melancholic mood, a perfect soundtrack to chill out to. Though the songs are no doubt pleasant to listen to, they feel like one long mush of synth sounds dominating the tunes, with shy drums and keyboard keys clanking in the far distance. While the title is Volition it sounds more like Vague. Vocal loops and the voice of lead singer Trewin Howard are in perfect synchrony with the stretched out synths, slow and whiny at times. Dramatic strings support the electronic elegy in songs such as Loss. The clapping noise from Evolve is taken a bit further in Emanate, one of the more interesting tunes. Well-noted is also the effort to mingle broken bits of a conversation into Red, mirroring dream pop contemporaries' common use of weird and uncommon sounds from sources such as kids' toys. The debut album of five-piece band PHORIA is a pleasant listen, but does not stand out enough to pull one in or make sure one returns for a second listen. (Nora Hiller)
---
---
Ladyhawke – 'Wild Things'
Release-Date: 03.06.2016
Label: Polyvinyl Records
As LADYHAWKE explained to The Fader, before writing Wild Things, the seasoned musician had several swerves in her life, quitting drinking, focussing on her health and getting married. The result: A more stable work, which places clarity at its forefront. Wild Things is apparent in its message from start to finish; LADYHAWKE gives precedent to her vocals – often with persistent refrains throughout the tracks. The stylish, electronic sounds that characterised her earlier works, however, have been placed in the passenger seat, in favour of a more apparent inclusion to the pop genre.
In this album, LADYHAWKE is at her best when she allows the melodies to carry her abstract lyrics. In Let It Roll, a slightly distorted but sprightly beat pinpoints some of the aggression found in the track's bracing words. As she sings, 'But it's the wrong way to start a new day, so let it roll like a newborn soul', the punchy rhythm frames angrily dismissive lyrics. However, in A Love Song, while the melody responds to forceful synthetic sounds straight out of the 80s, her vocal additions are repetitive and steeped in pop cliché. When LADYHAWKE allows her playful approach to electronic melodies to take centre stage, Wild Things both responds to and builds on the distinctive style she cultivated in tracks such as Paris is Burning and Black White & Blue. But it is as if she has lost some faith in her listeners and – at times – Wild Things is hesitant to experiment with the sounds of LADYHAWKE's previous LPs. (Agatha Cantrill)
---
---
Amber Arcades – 'Fading Lines'
Release-Date: 03.06.2016
Label:  Heavenly Recordings
AMBER ARCADES, aka Dutch musician Annelotte de Graaf, sprang to our attention last year with Turning Light, a hypnotic slice of shimmering guitar-pop, and then confirmed with her next single Right Now that this was an album we were very much looking forward to. And now her debut album Fading Lines is here, and it proves that we were right to get so excited. Fading Lines is a record that draws you deep into its dream world, packed with tracks that positively glow with indie radiance.
The swooping melodies of opener Come With Me prove that the singles were not an outlier in terms of the album's quality: the songwriting on this record is incredibly strong, the ten tracks passing by without a single weak moment. Songs like Fading Lines and Right Now prove that de Graaf is an expert in bright, jangling indie, but the record also shows that she has a lot more in her locker than just that. Constant's Dream is a slow, wistful exercise in stripped-back sound, Apophenia is moonlit and hazy dream-pop, and Turning Light has a powerful motornik rhythm. This album will earn de Graaf a lot of fans, and if you listen you'll almost certainly become one too. (Austin Maloney)
---
—