Find the first part of this week's release reviews right here.
---
---
The Last Shadow Puppets – 'Everything You've Come To Expect'
Release-Date: 01.04.2016
Label: Domino Records
There is a bit of nostalgia around the corner when you listen to that new and only second album of THE LAST SHADOW PUPPETS. Has it really been eight years since Alex Turner and Miles Kane entered the stage with smart haircuts and suits in order to prove that resembling the sweet tone and attitude of a certain past makes them appear ever so youthful? And even more so, has it really been ten years since the ARCTIC MONKEYS hit the headlines with the once fastest-selling debut album in UK music history? Phew. Let's take a deep breath. Well, both Kane and Turner are fully grown men now and things are still going well especially for the latter as the ARCTIC MONKEYS – although (or due to?) lacking creative forces in a younger past – made it to establish themselves as an alternative rock band that is still able to sell records and attract to its audience when headlining Glastonbury.
Everything You've Come To Expect is not that bad at all. If you hold on and give it a go after initial disappointment you may find that it is sort of a shallow version of the debut album. It's not that we strongly want to compare the two but the Puppets don't make it easy for us not to. The ingredients this new record is provided with are basically the same the debut profited from in 2008. OWEN PALLETT is again aboard doing a great job providing strings and orchestral arrangements that let some of the songs leave a dusty bar so that they can be touched by sunlight. They're vivid additions to melodies that mostly won't stuck in your head, even after repeated listen. Therefore, the most impressive moment in opening track Aviation is its cacophonous beginning. The crux of the following songs until track six is that Turner and Kane possibly want to sound relaxed, but appear rather bored. There are only tiny elements flashing up that make the record enjoyable like that nice guitar melody in the background of, well, The Element of Surprise. First single Bad Habits offers the needed twist with its rough and edgy sound remembering the glory days of 2006 but as it is 2016, no one would even care if this song was released by any other band. Everything you've come to expect you will only find in the two closing tracks that belong to the THE LAST SHADOW PUPPETS's best work to date. Pattern is as worthy a single as was The Age of the Understament, Standing Next to Me and my Mistakes Were Made for You with its brilliant melody, background chorus, and strings. However, the second album culminates when Turner becomes introspective in The Dream Synopses where he tells of his hometown, girlfriend, and 'visions of the past and possible future'. Hopefully, there are brighter days ahead for Kane and Turner than Everything You've Come to Expect predicts. (Chris Hegholtz)
---
---
Laura Gibson – 'Empire Builder'
Release-Date: 01.04.2016
Label: City Slang
Texas Eagle, California Zephyr and Empire Builder. No, these are not new names for spaceships joining the likes of the Millenium Falcon in the next part of the Star Wars legacy. Though whoever came up with those, equipped them with a sound powerful and worthy enough of space travel. These are the names of some of the train lines running across the plains of the American country. From coast to coast, day in, day out. And now Empire Builder is also the title of LAURA GIBSON's fourth album. In the summer of 2014 the singer-singwriter took the train to move to New York City from Portland, Oregon. Drawing inspiration from that journey for the title track of her newest release, the accompanying video was also shot on an Amtrak train, strengthing her calm vocals with lovely visuals of landscapes rolling past the the window.
Her folky sound, which she cements with Empire Builder, is not boasting the greatest variety in musical styles. There are no experiments, no grave re-inventions. Strumming of an acoustic guitar alternates with tinny drums and shakers in more upbeat tunes. A lot of the songs sound very similar, most of them on the mellow end, even monotone at times. The lack in variation isn't a bad thing by any means though. She has settled for her style and it must be true to the kind of record she wants to make. The lyrics describe a personal reflection of loss and growth. It's an emotional journey, partially enabled through a physical voyage. Fans of high quality singer/songwriter pop should risk a click on the 'play' button. (Nora Hiller)
---
---
Yeasayer – 'Amen & Goodbye'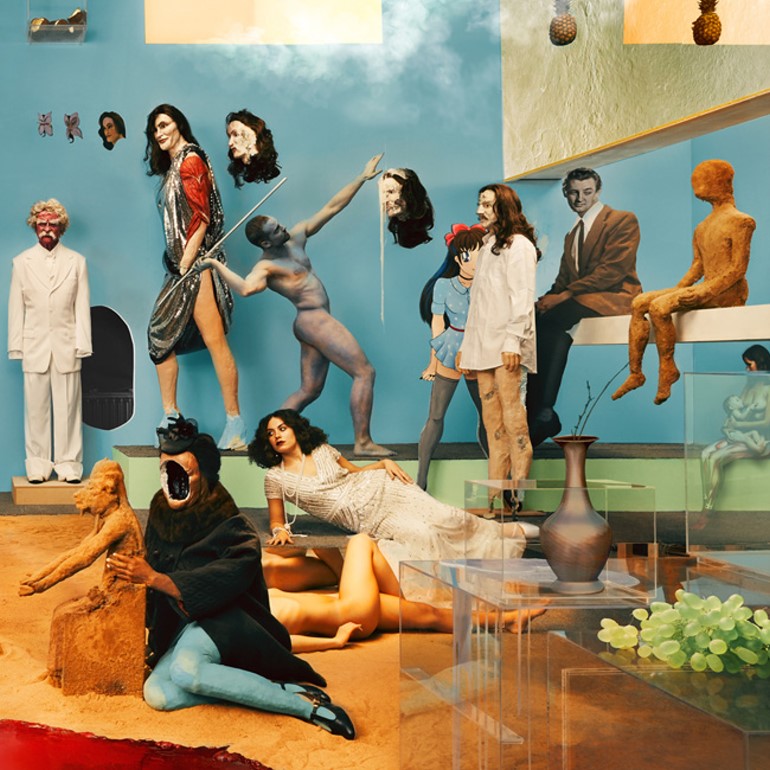 Release-Date: 01.04.2016
Label: Mute Records
For a band like YEASAYER it would be fairly easy to overload songs or even full albums with a great deal of ideas that create excitement, but also create chaos at the same time. It is a trap the trio from Brooklyn has successfully avoided on their fourth LP Amen & Goodbye. Experimenting is clearly still on the band's agenda, but in a much more accessible way considering its outcome this time.
Sonic contrasts and various religious themes seem less severe when being wrapped in little pop anthems that don't make you search for a decent groove for long. Songs like I Am Chemistry, Silly Me or Cold Night will make you shuffle your feet before the first note. Promise. With a few instrumental tracks popping up all across the album as well, YEASAYER render homage to one of their best features – unpredictability. It is a strong return for the three sound maniacs. Amen & Hello there!. (Annett Bonkowski)
---
---
Andrew Bird – 'Are You Serious?'
Release-Date: 01.04.2016
Label: Loma Vista
ANDREW BIRD has been doing his thing for close to two decades now. From lending tracks to TV shows such as Turn or Orange Is The New Black – making him more present to current audience – to assembling a cover album of THE HANDSOMES FAMILY's songs, it's been a while since he's actually produced an a full length album of his own. But Are You Serious shall be the album he finally returns with after three years on the down low.
 Initial thoughts when listening to the album: it sounds familiar. Immediate thoughts: PAULO NUTINI, GREGORY PORTER, and even THE KOOKS. Not due to the voice but more of the rhyme and groove that resonate from songs such as Capsize or Are You Serious. Still, the LP is a box of gems. Particular favourites and songs that just stick are Roma Fade and Truth Lies Low. What really gets you is the blend of current singer-songwriter vibes mixed with late 60s/ early 70s melody feels. But even stating this doesn't do the album justice. It's also got rock'n'roll and classical elements through out, all with this home-made touch, that sets this album apart from others out there right now. So, although the LP does at first strike as same old tunes, ANDREW BIRD does manage to pull the boat around and open your mind to new musical possibilities. (Marla Geesing)
---
---
The Field – 'The Follower'
Release-Date: 01.04.2016
Label: Kompakt
Today Swedish electronica producer Axel Willner, better known as THE FIELD returns with his newest release on Cologne's famous Kompakt label. The Follower is the follow up to 2013's Cupid's Head. Once more his 5th long player is a dense and deep piece of contemporary electronic music. Willner's newest strike contains 6 tracks, from whispering ambient loops to partly pumpin' deep house tunes. The opener, also the album's title track, already shows a wide range of this magnifying sound mixture when it starts with a lovely classy acid bass that easily tilts over into a subtle but straight four to the floor beat. Pushing these limits from track to track, The Follower becomes an eclectic listening pleasure you can't ignore. This one of these releases showing you more'n'more layers, faces and surprises with every try you give.
Especially when played on your headphones Willner's soundscapes become a quite touching tonal experience. Imagine getting lost while wandering through the lushy green forest, probably of Scandinavia. Every time you loose track in this dark deepness of wood and foliage, the sun pushes its warm and golden beams slowly but strongly through the boughs and leaves. If BRIAN ENO once successfully released his pioneering 'Music for Airports', this tiny but shiny record of THE FIELD easily could work as a 'Music for the woods' try. So, stay patient between cracking undergrowth and the cool dampness and enjoy the silence. (Stefan Kutschera)
---
---
William Fitzsimmons – 'Charleroi: Pittsburgh Volume 2'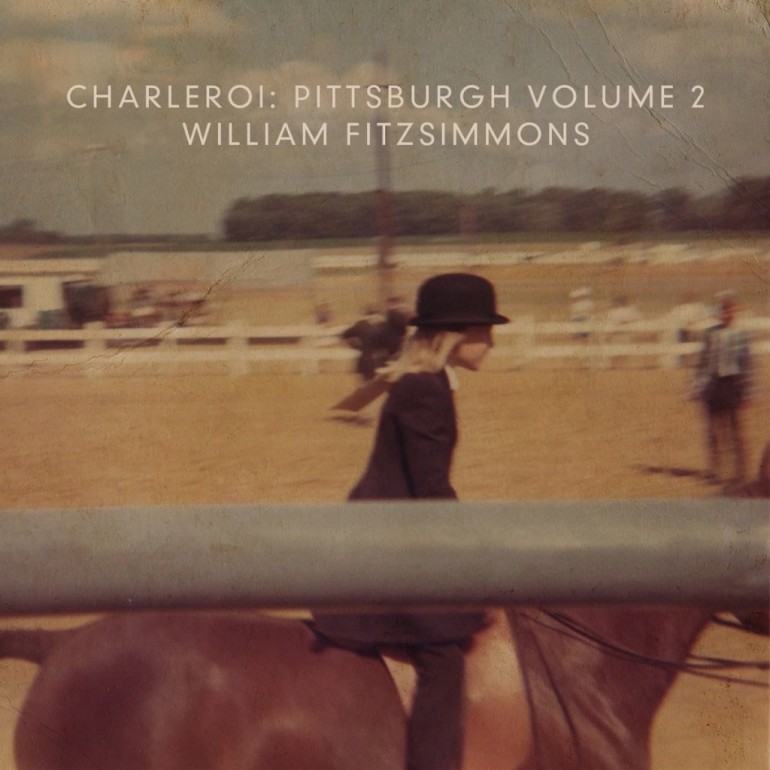 Release-Date: 01.04.2016
Label: Grönland/ Rough Trade
One might think that a songwriter sometimes would run out of topics to sing about. This goes especially for an artist like WILLIAM FITZSIMMONS whose songs always delt with life's less plenty aspects and themes. Melancholia, despair and loss and the struggle to overcome those dark phases in your life have always been crucial elements in his music. He's been drowning in a sea of sadness so often that you might think him and his audience would get tired of all this sooner or later. His latest mini-album/ EP proves that he surely doesn't. While 2015's first half of the Pittsburgh story was a tribute to his lates grandmother, the second part reflects on the one he never came to know.
The story of Charleroi itself holds enough drama material for WILLIAM FITZSIMMONS. His father was returned to the hospital as an infant, ill with whooping cough. After being left there for several months he was finally adopted by a doctor who became his father. It toook the songwriter and his family over 60 years to solve the mystery of his father's origin. FITZSIMMONS's father never got the chance to meet his real mother who came from Charleroi, Pennsylvania. Now, her grandson delivers six gentle odes to this lady. While Pittsburgh surprised with gentle electronic elements and beats, Charleroi is more 'back to basic' material from the bearded gentlemen. Acoustic guitar, voice, female backing vocals and really tender synthesizer elements (the flutes on Hear Your Heart really add something special to the song) are everything it takes to score this sad story. WILLIAM FITZSIMMONS remains a brand on his own and hopefully he will continue to do so in the future. I wish him all the best, although I'm not sure how this will result in more of those painful songs. But he'll figure it out. (Norman Fleischer)
---
---
Bombee – 'Golden Cage'
Release-Date: 01.04.2016
Label: Hellbig Music
It feels a bit as if it took German indietronic trio BOMBEE ages to come up with a new release. Their last one, the really joyfrul Aurelia EP dates back to the fall of 2013. But it looks like Alexander Seypt, Felix Schubert and Philipp Roeder are slowburning perfectionist who like to take their time. It's something you can definitely notice while listening to Golden Cage. The band's new record feels a bit like a fight between the human and the inhuman elements of BOMBEE's music. It's an album that is trying to be quite soulful while also providing a somehow cold and synhtetic sense of minimalism on the other side. The result is a colourful album with little, timeless gems that will take you on a music trip through different decades, genres and moods.
Lyrically, the three-piece deals with the life task of steadily balancing out between good and bad, plus and minus, positive and negative. Vocalist Seypt remains calm and and doesn't let the fight look like one. Golden Cage is an album where the tender guitars of THE XX meet a melancholic 'piano bar' version of DAUGTHER while also providing a similar production to GLASS ANIMALS' sound althought it's also way less exotic and more minimal. Songs like the piano-driven Calm Down set the mood straight while More Than Friends unfolds itself as sad electronic ballad with a catchy refrain. On the other hand the title-track expresses the sonic identity of BOMBEE with a down-tempo foundation and sparkling pop flavour. A few more diversified ingredients would have helped Golden Cage to sound a bit more diversified but these guys prefer tenderness over raw power and if you're looking for exactly that you might hit the play button below. (Fernando Rennis)
---
---