---
---
The Boxer Rebellion – 'Ocean By Ocean'
Release-Date: 29.04.2016
Label: Absentee Recordings
The sheer fact that THE BOXER REBELLION are still doing what they are doing can't be appreciated enough. 15 years and five albums in the term 'indie' still remains way more than just a genre classification for the British band with their American singer Nathan Nicholson. The career of the band was anything but easy and packed with obstacle, still they kept on going and slowly but steady built up a loyal fanbase over the years. Ocean By Ocean is the next step in the ongoing evolution of THE BOXER REBELLION and the first LP with new guitarist Andrew Smith. More than before the band embraces its status as a pop band. The colourful 80s aesthetics of the record's artwork aren't a coincidence. What you see is what you get.
The smooth Weapon opens the record, drenched in shiny synthesizers and way more polished than the previous releases of the band. The heavier rock sound of their debut Exits might be gone forever and even compared to its predecessor Promises the new album takes a giant dose of high gloss synthesizer sounds. Let's Disappear delivers finest funky pop sweetness while Redemption and the first single Big Ideas head straight for the stadiums. That might sound harsh but the funny thing is, that THE BOXER REBELLION actually can get away with it. They are still far from turning into COLDPLAY because there's a certain honesty within these songs, one that the delicate voice of Nathan Nicholson transports way better than Chris Martin does. They are still really talented songwriters. Songs like Keep Me Close or the wonderful closing track Let It Go prove that. Ocean by Ocean might sound a bit more polished than their other albums but that also creates quite a floating and cohesive character that carries the entire album. If you can look behind that new sound you'll discover the familiar quality you've come to love from these guys. It might take a bit longer this time but it helps to keep things exciting. (Norman Fleischer)
---
---
Travis – 'Everything At Once'
Release-Date: 29.04.2016
Label: Red Telephone Box / Caroline
If you ask people what is the most important part of a song, they'll most definitely tell you that it's the melody. It's exactly what TRAVIS have always paid great attention to in their long career. With their new album Everything At Once, they continue to carefully build one catchy hook after another. After two decades of being in the spotlight, the band returns with ten songs and their truly distinctive handwriting that seems to echo past glories, but still moves on. In a lot of ways, the Scottish band renews its sonic vows that are carried to the listeners' ears with a gentle and uplifting spirit.
Recorded at the famous Hansa Studios Berlin, it really does feel like TRAVIS had a 'magnificent time' working on songs like the single with the same title suggests. The result may not come as a surprise, but its appearance is almost effortless. And it emphasizes once more that the quartet is still very much capable of delivering a bunch of catchy and thoughtful tunes. While doing so, they kindly remind us what pop music used to be about before horrible sound effects and a fancy image more and more destroyed its essence. Everything At Once, however, is a pleasant listening experience that gives you comfort in times where pop bands tend to overload their songs with unnecessary layers hoping to disguise the lack of good songwriting. TRAVIS have never failed to lose sight of this craft up until now. (Annett Bonkonwski)
---
---
Various Artists – 'Pampa Records Vol .1'
Release-Date: 29.04.2016
Label: Pampa Records
DJ KOZE has been working on almost everything, Rap, Soul, band projects, remixes and his own productions. With Pampa Volume 1 he delivers – together with his label partner Marcus Fink – the first compilation of his own label Pampa. It's the first one after its formation ten years ago and that itself is quite surprising for the scene. There is only one KOZE remix of ROMAN FLÜGEL's stunning 9 years, which finds itself as an non-remix during the end of the compilation – and an remix of his own production Royal Asscher Cut. The rest belongs to the hand-picked guests.
With carefully chosen artists such as MATTHEW HERBERT, MOUNT KIMBIE, JAMIE XX there's a huge diversity of different styles. Pampa Vol.1 is – as most of DJ KOZE's own productions – electronic music for the more grown-up ravers who enjoy a quiet indoor-rave with cooking and a glass of wine more than wasting away in a dirty basement cellar. If you're not looking for huge build ups and dirty bass drops this sampler might fit perfectly for you. (Louisa Zimmer)
---
---
Brian Eno – 'The Ship'
Release-Date: 29.04.2016
Label: Warp Records
When introducing his new LP, BRIAN ENO forewarned his listeners that The Ship would not 'rely on the normal underpinnings of rhythmic structure and chord progressions.' ENO's claim might be grandiose but, upon listening to the album, it's undoubtedly accurate. The LP opens with a 21-minute title piece that sets up with smooth synths before a haunting voice rises out some six minutes in. Both in The Ship and Fickle Sun, the vocals are refusing to offer 'rhythmic structure' just as much as the synths are. In Fickle Sun, both vocal and non-vocal instruments take a journey from tranquil tones to blaring, intimidatingly distorted chords; the emotional development of this long track is apparent. The producer plays with so many different instruments and tropes, overlaying a male choir with robotic voices and distorted mechanical synths. However, in the third track on the album, The Hours is Thin a spoken word vocal track contributes as a roadmap to the album of unearthly sounds.  In The Hours is Thin, BRIAN ENO offers a belated interpretation for the first two tracks.
Once the listener is settled into their own interpretation, ENO offers them one. A severe, deep voice takes centre stage in The Hours is Thin, accompanied by a serene piano. But, despite its soft melody, the track offers little comfort. Eno is articulating a perverse war to his listeners, 'Tired with what the world has yet brought forth, with the women waving at war,' Eno says, 'And the news that war is faith.' After the tumultuous first 40 minutes, The Hours is Thin expresses reluctance and exhaustion through an uneasy combination of lullabies and calls to war. The blissful conclusion to the album, I'm Set Free, is BRIAN ENO's cover of THE VELVET UNDERGROUND'S track by the same name. It's certainly a fitting, (possibly) optimistic conclusion to a rocky journey. A beautiful and bewildering album, BRIAN ENO's The Ship demands your attention as you follow its own emotional turmoil despite refusing to detail that turmoil through conventional structures. (Agatha Cantrill)
---
---
Kapnorth – 'Dematerealize'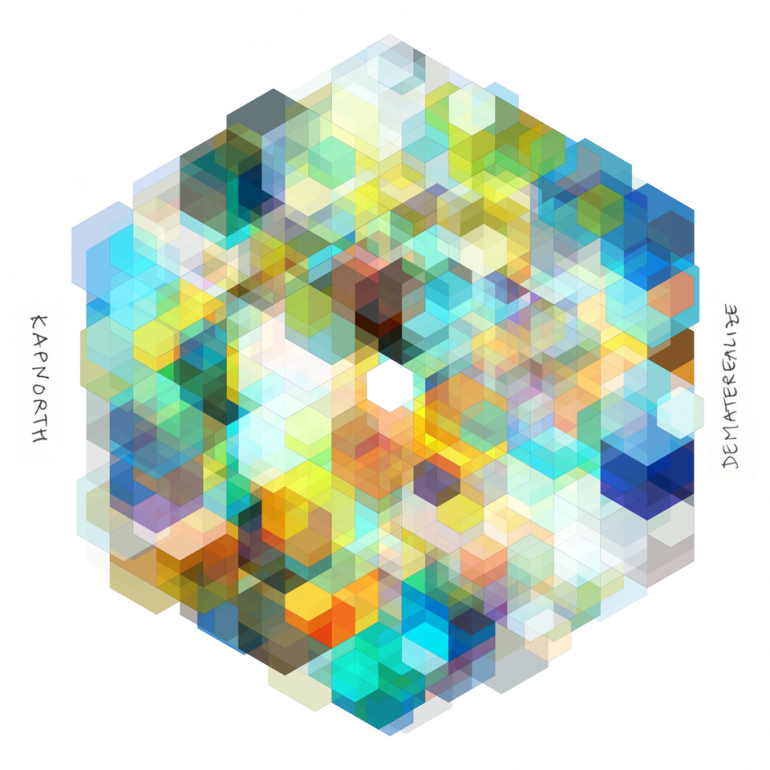 Release-Date: 01.05.2016
Label: Petite Machine Agency
KAPNORTH, a four piece from Switzerland, and their second album Dematerealize are a synth storm. Synths can easily sound tired (thanks 2008!) but Dematerealize isn't tired, it's fresh. It takes you on an enigmatic journey through sound. Impossible to ascertain how the group have taken a familiar sound and made it so new. Yet, it works. It's fresh in the face of same-old radio gunk, blurring the lines of genre. It's post pop, taking the best features of pop and turning them into a serene masterpiece.
Combining the forlorn sounds of Casiotone for the Painfully Alone with the swaggering vocal charm of JOY DIVISION, KAPNORTH seem to grasp what an audience is seeking. These comparisons, however, are crass, how can you explain Kapnorth's vortex of sound? From the smooth jazz tones of A Little Red Book to the electro quasi-rhythmic beat of Dematerealize, the record takes you on to high points of strong musical genres. It's jazz, it's pop, it's chillwave. It's every genre whilst simultaneously being none. It's fresh yet familiar. It's a musical oxymoron and I think it's my summer soundtrack. The Swiss four piece might not deliver your usual 'easy listening' material but they give you an auditive adventure instead. (Hannah Fahy)
---
---
Various Artists – 'The Ladies Of Too Slow To Disco'
Release-Date: 29.04.2016
Label: City Slang
Sometimes there's not much to add to a definition if it's on point. 'A compilation series of Late 70s Westcoast Yachtpop you can almost dance to' is the description Marcus Liesenfeld and his alter ego DJ SUPERMARKT have given their ongoing sampler and party series Too Slow To Disco and I couldn't think of a more fitting one. And as slow as its musical content the grooving credo of Mr. Liesenfeld and his supporters makes its way out of Berlin's underground to the bigger stages of Europe and the world. The third instalment of the compilation series delivers just the arguments to explain it. The Ladies Of Too Slow To Disco delivers 19 wonderfully pieces of pop music from a golden era, carefully compiled and hand-packed by DJ SUPERMARKT who establishes himself as an expert on the field.
Once again, we take a trip back to the golden era of 1970s soft-rock and soulful pop. Gentle guitars, soft strings, funky basslines, smooth beats, saxophone solos and sensual vocalists tempt the listener. And while a few pop nerds might recognize familiar names like CAROLE KING, CARLY SIMON (you remember You're So Vain, right?) or RICKY LEE JAMES might ring a bell the quality of this sampler comes from all the hidden treasures and forgotten goddesses of 70s pop DJ SUPERMARKT collected on the sampler. Love, passion and expertise are sensible in every minute here. The Ladies Of Too Slow To Disco is a nostalgic trip back to simpler times where mainstream pop and craftsmanship could go hand in hand. Somehow it's an almost too melancholic reminder of past's former glory… and in that case I really don't feel the urgency to dance happily. Well, maybe a bit slower. Thank god, this is the album for it. (Norman Fleischer)
---
---