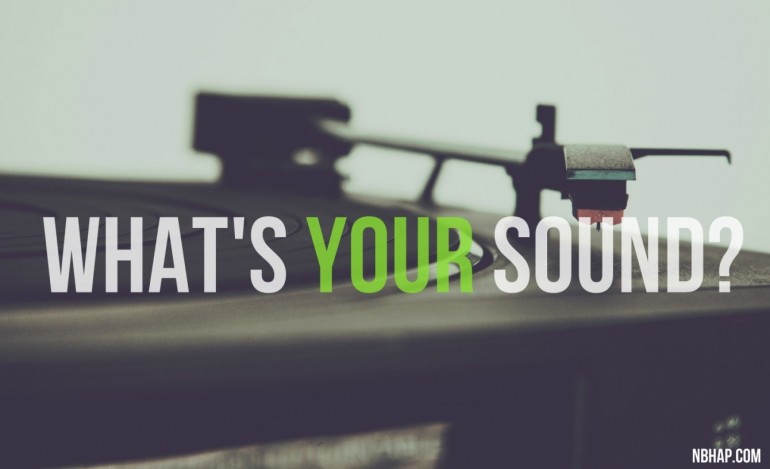 NOTHING BUT HOPE AND PASSION has always cared about new talent, quality music and giving those a platform who deserve the attention, but even our mail inboxes are stodged way too often. However, we've always tried to find new ways to write about fresh and exciting music. That's why we introduced the 'What's Your Sound?' series to the NBHAP microcosm a few months back. And now we made it even more efficient, thanks to the power of SubmitHub.
What's Your Sound? is the possibility to showcase your music, present it to our readership and a larger audience in general. Using what artists submit to us via our SubmitHub profile the NBHAP staff will pick five thematically related tracks and present them in a weekly installment. We don't just want to throw together a bunch of music without context; instead, each new installment will have its own umbrella theme, giving artists a possibility to tell us about how their music relates to the bigger picture, while encouraging you to dig deeper and discover similar bands as you read along.
---
---
The ubiquity of affordable computers and digital audio production software has opened the doors to countless new styles of music that once used to rely on pricey drum computers and synthesizers. More salient, however, is the trend to mine the aesthetics of past decades, which has given birth to countless varieties of independent or synth pop. Infused with shades of disco, IDM or soul, the music of the following five up-and-coming artists can't be put in one drawer – their songs merge genres in ways that are definitely worth a listen.
---
---
Mikhael Paskalev – Witness
MIKHAEL PASKALEV set the music world a flutter in 2013 with his much-loved debut album What's Life Without Losers. The captivating, globetrotting Norwegian has charmed fans worldwide with his cheeky Risky Business-inspired video for single I Spy, which has reached over two million views. The release of his new single Witness deliberately ushers in a new era for PASKALEV and his signature dance infatuation.
The song 'Witness' is pretty much about finding that release from whatever hurt or self doubt you've been holding. That calming that comes from losing yourself in the moment. When it was time to make the music video, I really wanted to make something that felt sincere, but daring.
---
---
MILA – Sisters
It was two years ago when singer MILA saw Anouk van Wijk's designs for the first time and she was fascinated by the big shapes combined with the occasional nudity in Anouk's work. Her fashion statement includes the same power and femininity that MILA produces in her sound. After listening to MILA's demos, Anouk van Wijk was very willing to collaborate on an artistic level. Inspired by her light voice and minimalistic beats, Anouk van Wijk created a wearable design for each single, the first two of which will be finalised in a photo series by photographer Evely Duis. Together the music singles and the design pieces form a collection that reflects the minds of these young creatives.

---
---
STRØM – Mesmerize
STRØM is an alternative project of a 27 year old producer and multi-instrumentalist from Stockholm, Sweden. The project was created to break away from musical structures, forming kind of a hybrid genre with no rules or fixed directions. According to STRØM himself, the music is influenced by artists such as D'ANGELO & DIIV. Mesmerize is a darkly-shaded track about obsession and fictional desire, built around a cutting warped bass and dreamy vocals delivered in an airy falsetto. It's electronic dark-pop, layered with indie guitars and dirty beats.
---
---
Two Another – World Demands It
London based duo TWO ANOTHER is made up of two best friends from different parts of the globe. Inspired by soul and Motown classics, 90's R&B and electronica, their music is driven by silky vocals, catchy bass-lines and stripped back instrumentals. Their project embraces collaboration with various contributions from musicians around the world and recording sessions in bedrooms. World Demands It is the perfect marriage of slick, soulful electronica, fused with R'n'B licks and an infectious hook.
This track was the first thing we made together after quitting our jobs and moving to London in 2015. We are really excited to share it with people as it shows a different side of the Two Another project and kicks off our second EP!

---
---
Soul Catalyst & Felish –Remember You
Not much is known about SOUL CATALYST, apart from the fact that he is a Los Angeles based producer collaborating with various singers. For Remember You he got Felicia Bergqvist Soumah aka FELISH on board, crafting a groovy, yet relaxing electronic piece that centeres around both of their vocals. FELISH's voice adds a sheen of soul and RnB into an environment that mirrors contemporary electronic pop productions. Though rather subdued, the non-electronic instruments like faint bongos and gently plucked guitars add to the summery feel of the track and serve as a antipole to the glacial blips and synthesizers.
---
---
If you're interested in listening to more up-and-coming artists, be sure to check out NOTHING BUT HOPE AND PASSION's Daily Tune Playlist on Spotify, featuring all tracks we recently covered. And of course, share your music with us via SubmitHub.

For other more frequent news don't forget to follow NBHAP on Twitter and Facebook as well.
—