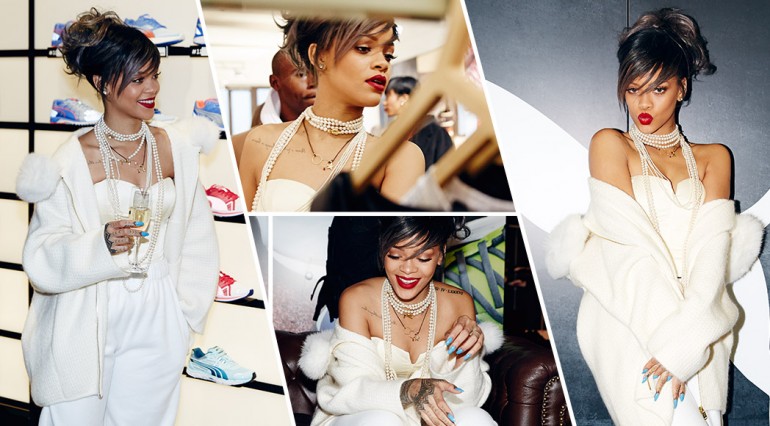 Kanye isn't the only mega star to collaborate with a famous sports brand and design an own line. Puma's latest collaboration is with world's favorite bad girl Rihanna. The first Fenty x Puma collection for Fall-Winter 2016 was presented at the New York Fashion Week and, although it was nothing like Kanye's grandiose show (how to beat Yeezy Season 3?), the fashion world was there to have a look and decide whether they loved it or hated it. One thing is sure, that's an interesting collection for many and different reasons.
The Fenty x Puma show was set in the middle of an "arctic urban forest". That's what Rihanna wanted.
Black, white and gray, with flashes of yellow every now and then, the runway looked like a black and white urban film. The models had their hair roots painted white, in order to achieve a "frozen look". The black trees and the mirrors gave this fairytale-gone-nightmare kind of vibe. The princess in this story wears snicker-stilettos and the prince is dressed in oversized, furry sweaters. Chokers, rosarios, and crazy, furry backpacks were sported. Cut-out sweatpants and oversized hoodies are obviously two key pieces for the brand. If we have to find words to describe the Fenty x Puma collection, that would be edgy, American urban style revisited by a teenager with a pair of scissors. And we don't necessarily mean that bad.
The collection screams "Rihanna".
It's more than obvious that when an already established brand gets on board for their creative direction a celebrity/actor/pop star all they care about is becoming relevant again. It's a marketing stunt in order to become more popular to the young people. Having Rihanna put her signature on a Puma line can only increase the brand's sale numbers and that's all they care about!
The thing is that this specific collection is screaming "Rihanna". All outfits could be seen on her. The mix-and-match of silhouettes, fabrics and styles are so well-executed. Would RiRi pull that look off? Sure! Would you like to see your niece or cousin in those outfits? Oh, well…
Athletic brands got their ticket to fashion week by teaming up with first-row guests, which is ok, but the question is who's going to wear and buy those clothes? Fear not! Puma reported profit already.
Puma VS Adidas
The rivalry between Puma and Adidas has been a thing since almost a century! We're talking about two German sports brands with a long and dramatic story. In Bavaria, shortly after the World War II, the two (obviously) competitive (nazi) brothers founded the two sports brands. If you're interested about the family drama, there's a great article on Fortune. It will seriously make you wonder why this is not a movie already. Hang on there… the movie "Die Dasslers" is in the production.
All industries out there, especially the big boys, are no strangers to counter-products. That basically means that if company X succeeds (aka has a good financial performance), company Y has to study what company X changed and beat it with a similar product. The need is already created in the market and the rest of the companies have to keep up which leads to the so-called "trends". Adidas, by putting Kanye in charge, created a trend that the others brands had to follow. K-Swiss got Diplo on board, Keds shoes got Taylor Swift etc. Adidas' rival, Puma, got Rihanna, who's arguably the female Kanye when it comes to the IDGAF mentality. And while Kanye has far too many judges to put up with, Rihanna's more humble stance and likability are already boosting the brand's sales. What's probably going to boost their sales even more is the fact that they signed a deal with Kylie Jenner (Kanye West's sister- in-law) – does that mean that a new family war is about to start? If the Dasslers managed to divide the city of Herzogenaurach back then, the Kardashian-Jenner clan (America's most favorite family they love to hate) could divide celebs around the world.
In all cases, who cares?
Enough with all those families and their feuds? We're here to talk about fashion, so, here are our picks from the Fenty x Puma Collection. Have a look for yourselves and decide if you want pieces of it in your wardrobe.
Photos by Marcus Tondo / Indigital.tv