Only a few more weeks before Berlin's most joyful and extraordinary beach party at the Strandbad Weißensee opens its gates for its fourth (and also final) edition. By the Lake festival returns on August 4 and we couldn't be happier about it as we already experienced joyful moments here over the past years. One of the key aspects of the small event's fascination might be its mixture of the unsual venue (a really old-fashioned looking lido) and the adventurous line-up which avoids obvious hype picks and focusses on a carefully curated programme that celebrates music's more experimental sides.
The folks of web radio collective The Lake (originally founded by members of Efterklang & Liima) once again compiled an interesting line-up for By the Lake 2018 as we already told you before. What you often don't see on all those lovely summerly festival photos is the sheer amount of work and dedication it takes to make such a small event happen. Things tend to be a bit tougher when you aren't Lollapalooza but it also allows you to follow your own path. Tobias von zur Gathen is one of the two founders of By the Lake and for him the event is an affair close to his heart like it is for all people involved in this one. We caught up with with Tobias to talk about the festival's upcoming fourth edition and what it takes to organize a music festival in Germany's captital.

Hey there, Tobias. Tell us a bit about your involvement in By the Lake.
I am the lucky guy that was asked by Birgit Voigt in December 2014 to found a festival with her. I'm a chairman of the festival association and my task is mostly everything related to production – like the stage, sound, lights and the artists.
Berlin's event landscape appears to be packed with plenty of events. How tough is it to organize one on your own?
The basic costs for a festival of our size are more or less the same than foran event that sells 5.000 tickets, so financially it can be very challenging. Luckily we have and had very nice partners over the years that supported us along the way. Apart from that we don't feel like we're in competition with other events. We try our best to make our event special, and so do a lot of other amazing people in Berlin. We are always happy to see new festivals, new approaches and new people that want to get involved in the 'landscape'. The city is big enough for everybody, you just have to be cautious how your actions may affect others, and talk to them – most of the times that's a great start for collaborations, like we have with the local Down by the River Festival.
The line-up of the festival seems to be quite special and unusual every year. And are you forcing yourself to avoid 'easy line-up solutions'?
The line-up is always selected by our curators, the web radio The Lake and there's a long list of favourite acts and we just try to have as many of themas possible. We're not trying to be different, we just aim for a line-up thatwe all would love to see. Sometimes it's also just a 'Schnapsidea', like: 'Wouldn't it be cool to have faUst play with a local choir?' And here we are…
If someone hasn't been to By the Lake festival yet why should one attend?
Because it has all the upsides of a festival, like amazing weather, food, people, a beach, and of course music, but none of the downsides, like camping, 2h shuttle bus rides, sponsorship give-aways, cashless payment systems and plastic cups. Also it's in the most beautiful festival location in Berlin, the Strandbad Weißensee.
What have been your personal festival moments of the past years and what are your programm highlights this year?
Memorable highlights that will always remain close to my heart are the dancing crowd on stage with Omar Souleyman, the perfect beach soundtrack of Laid Back in the second year and last year's performance of Arthur Russell songs performed by Peter Broderick. Lonny Holley and Selventer are further, very honorable, mentions.This year I'm mostly looking forward to the show of Ata Kak, but also A Hawk And A Hacksaw. Yet, my personal highlight is that this event even exists, and that a couple of friends can dream something and then bring it to existence.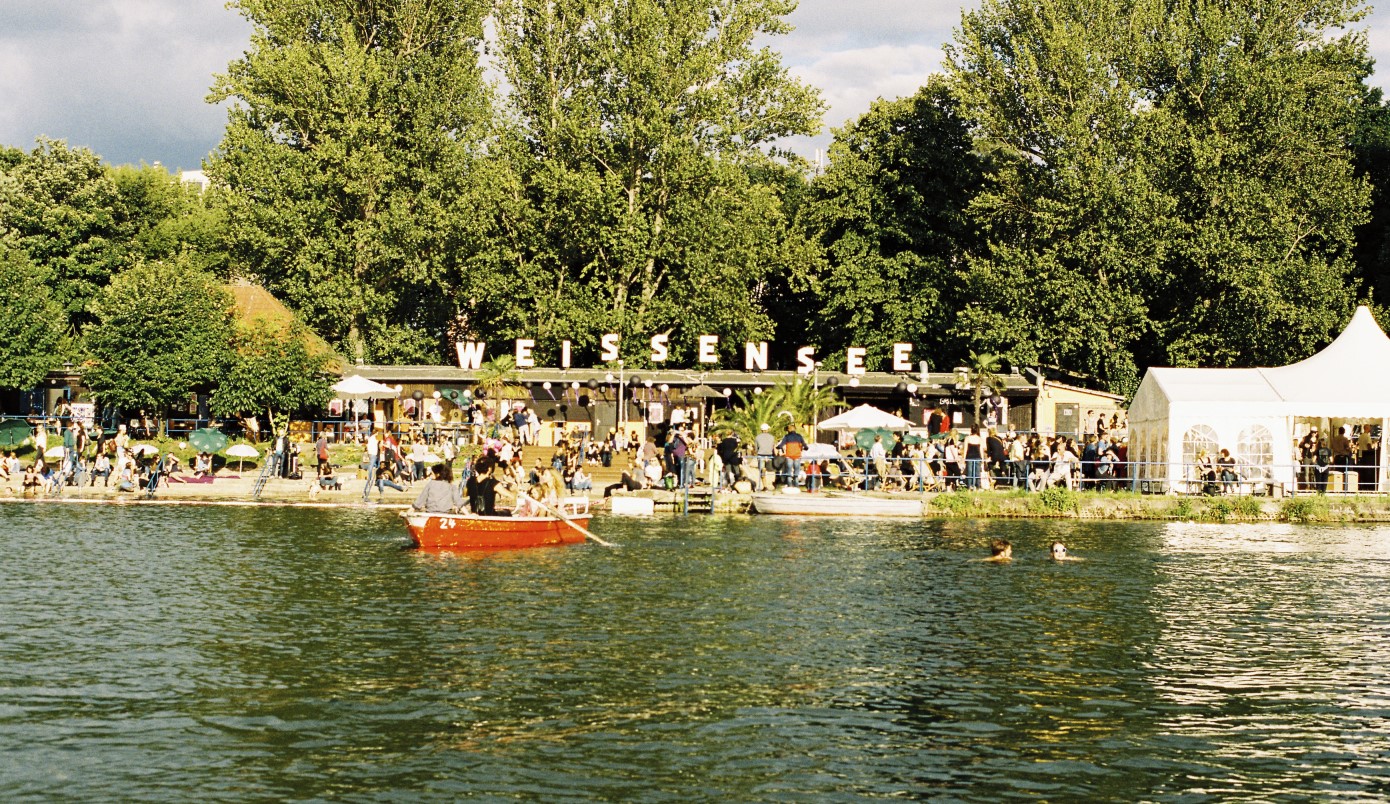 Are there any changes made to the event's fourth edition?
We always aim to change as much around as possible – we want people to know how they will feel at By the Lake, but not why they will feel like this beforehand. This year for example we will expand on the idea of the small pop-up concerts,which I really liked last year. We won't announce these acts before the day,but we have already confirmed quite prestigious artists – one of the reasons why we will open the doors a little bit earlier this year.
The fourth edition of the festival will also be its final one. Why did you decide to end things after this one?
It has never been our dream to 'establish' a new Berlin festival in its structure. We always wanted to do something new, something exciting, every year. To reinvent yourself always takes a lot of work and time, and is not infinitely repeatable. That's why we think that now is the right time to close the circle and focus on new dreams from 2019 onwards.
We are very much grateful for all the people who made this possible, our helpers, bands, partners and of course guests who helped us to realize our little festival fairy-tale. And we are even more pleased that we – emphasizing this from the bottom of our hearts – present the greatest By the Lake edition of all time this year!
Of course it's a very emotional decision for us and all association members are left with a big a whole in our hearts but we're much looking forward to new adventures and possibilities – so I would say stay tuned!
By the Lake 2018 happens at Strandbad Weißensee (Berliner Allee 155, 13088 Berlin). Get your tickets for the event right here.
More information on http://bythelake.co