The twenty-one year old singer sits on the single chair of the tiny room at the Michelberger Hotel wrapped in a giant Louis Vuitton blanket-slash-scarf, as I enter. The tired eyes speak of hour-long travel from the US to Germany, but as I ask about her performance at the Braves baseball game in Atlanta, Faye Webster lights up. Under the shade of the hat she is wearing, her brown eyes sparkle. 'The hat' she says has been with her for the past two years after she 'permanently borrowed it from a friend in L.A.' Her favorite piece of clothing accompanies her 'in winter and in summer, inside and outside' and even made it on the album cover of the forthcoming release.
Growing up in Atlanta, Faye Webster did not only get acquainted with roots American music but was also got 'brainwashed to love the Braves', the hometown baseball team. 'The Braves are huge in Atlanta. I am a big fan and I was more nervous to meet Ronald Acuña Junior, than to sing in front of the huge crowd.' She chuckles and announces that she can 'retire now'.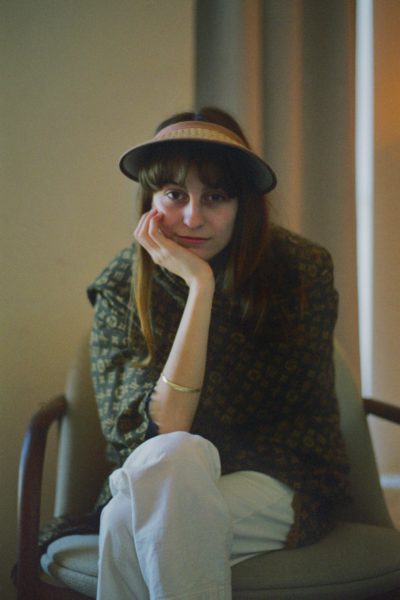 It's all about the Pedal Steel
Luckily Faye Webster has other passions too, besides pitching at the batting cage and going to baseball games. On the 24th of May she is about to release her third full-length record. Yes, the third! When reminiscing about her debut album at age 16, the songwriter cringes. 'I had nothing to sing about at that age and I probably couldn't play any of these songs anymore. Sometimes I wish they weren't online but I guess it is like a bad tattoo.'
Even on her very first recording Faye Webster stuck to, what became her musical trademark: the Pedal Steel. What looks like a flat guitar with pedals, is actually much more complicated. The guitarist admitted that she had never managed to learn how to play it. Nowadays the instrument is pretty rare and its floaty sound transports you back to alt-folk or country from back in the days. Thanks to her family's roots in bluegrass music, the musician discovered and fell in love with its unique sound. 'I first heard the pedal steel on Asleep At the Wheel and since then it has been pedal steel always and forever. I cannot make music without it!'
Breaking free from the Nashville sound
The new Atlanta Millionaires Club record features heaps of the groovy slides. 'My dad and his friends inspired the title of the album. They called themselves 'Atlanta Millionaires Club' when they were in College and even printed shirts with the name on them. I used to wear them all of the time until they were in shreds.'
The artist's own college experience went a little different but was of equal importance for the creation of her musical style. After high school she moved to Nashville to study songwriting but quickly realized that she did not want people telling her how to change her songs. Now she has moved back to Atlanta, a wise choice, since she explains 'everything that comes from Nashville sounds alike. It's almost conformist. Everybody there is a singer songwriter. Nobody comes from there but after a while of living there, they all shift shape into this Nashville singer songwriter cliché'.
'I still love going to Nashville. But I am glad I moved away from there. It's like all of the music there only exists within the city and never hits new grounds and inspirations.' Back in Atlanta, Faye Webster had more luck in fulfilling her musical visions. The folky singer, with strong ties to old-school southern folk, was signed by Awful Records – a label usually putting out Hip Hop music.
'Awful' Southern Country
'To me it always felt natural working with the artists at Awful.' Faye says about her unlikely choice of Label. Their Hip Hop and RnB focus gave the young singer the chance to expand her musical knowledge and style. 'I got to sing on songs that I would have never gotten into without them. For example, I did a 'Cheap Thrills' cover on guitar. The track is originally by Father and a full-on Rap anthem. One day I had the song stuck in my head and tired to play it from memory and it sounded pretty cool.'
Faye's songwriting also benefitted from the collaboration with artists active in a different genre. Encouraged to experiment, her forthcoming record even features a track recorded together with rapper Father. Flowers combines the unique RnB progressions the rapper likes to use, with folky vibes. The smooth single slides along with gentle easiness of RnB grooves while the singer's gently crooned vocals mingle with the rapped lyrics and mellow Hip Hop beats.
Finding beauty in the simple things
Atlanta Millionaires Club reflects an incredibly easy feel partly because Faye explains 'the tracks were recorded live. We just pressed play and started recording. It was my first time at the studio with a band and of course not everything went perfect, but the imperfection gives the album its special groundedness.'
One thing that Faye Webster learned from her five years of recording experience is to be honest. Atlanta Millionaires Club is her most honest record to this day. As she sings on Hurts Me Too, she is done changing words to make her songs sound prettier. 'I want my music to be me on this LP. And it doesn't matter if it bothers some people, these are the things that I need to put into my music.' Even though the singer plays it incredibly cool, singing love songs to former flames like 'Jonny', she admits to being a little bit nervous about the reactions they will achieve.
'I try to not think twice about my songs and I usually write them in one sitting.' This is how Faye Webster creates the loose and easy feel that subtly moves through all of her songs. 'I like singing about things that other people would not sing about.' By finding the beauty in the simple things of life the singer transforms seemingly mundane things to utter importance. Right Side Of My Neck is about the lingering smell of a lover after they left. 'You said you can't change your haircut but it looks good anyways' she slowly croons on the single. These trivial moments, which Faye turns into songs, make her music deeply relatable. By putting something other people would not consider worthy on a record, she turns daily life into art – almost like an abstract painting that lives from its simplicity and pioneering ideas.
Anecdotes from the life of Faye Webster
On the catchy single Jonny Faye is accompanied by retro RnB synths and a steady beat while she laconically whispers 'my dog is my best friend and he doesn't even know what my name is'. What appear to be trivial anecdotes randomly taken from the singer's life grow to a deep-rooted love song. The painfully melancholy of the lyrics flourish in the simplicity. By describing personal moments like 'I'm losing my mind, why the hell did I paint this wall white.' she gives insight into the details only a broken-hearted person notices. And the single, which did not start out as a love song, makes a 360 Degree turn and transforms into a heart-breaking beautiful ballad.
'My dog's name is Wiley' the singer says with a broad smile. 'I live alone with him and he takes care of me.' After leaving Nashville, Faye returned to Atlanta and lives in a suburb called Cabbage Town. She notices that in contrary to her former home, 'in Atlanta you can make any kind of music and be accepted.' While spinning her pink Yoyo up and down, with skill that can only come from years of practice, Faye talks about her passions and music refreshingly down to earth and honest. On her trip to Berlin, she took not only one, but her whole 'travel set of yo-yos'.
Welcome to the Club
With horns, Pedal Steel and RnB and Hip Hop sensibilities, Faye Webster created a unique third record of a talent that you should keep an eye on. Atlanta Millionaires Club is a work of a matured musician who knows what she wants to sound like and say. The light-weighting tunes, the floaty Pedal Steel and the simplicity of the lyrics never cease to amaze and make the LP utterly relatable for anyone in any situation.
And if you were wondering – the process of shooting the album cover was less tasty than it looks, Faye explains. 'When we were shooting the cover, they just kept smearing chocolate all over my face because I always got it into my mouth and it started to dissolve.' After having two kilos of chocolate spread on my face, I would probably cut out the candy for a while, too. Of this ear-candy, though, we won't get enough anytime soon.
Atlanta Millionaires Club is released on May 24 via Secretly Canadian.
All Photos by Liv Toerkell for NBHAP