Since his latest solo record Krieg And Frieden in 2013, Sascha Ring has one more time toured around the globe with his pals Gernot Bronsert and Sebastian Szary aka Modeselektor under their shared moniker Moderat. On LP5, the German artist proves his talent of experimenting with electronic and ambient soundscapes. While everyone outside of Berlin is talking about the city's club scene and electro landscape, Ring remains one of the pioneers of the original 90s electronic movement, gaining international recognition with his releases on Shitkatapult and more recent Mute Records.
On a grey Tuesday afternoon in Berlin, Ring returns to the Monkeytown Records headquarters in Berlin, where we already talked three years ago upon the release of Moderat's album III. Although Ring himself admits that LP5 doesn't have a story to be told, there's enough things to catch up on, including his life in Berlin, touring, and jamming with a band.
Jamming, touring, scoring soundtracks
How was the recording process for your first solo album since 2013?
I had the absurd plan to have the biggest possible contrast to Moderat. After all the weird theater experiences, where I performed live with a band, I wanted to jam with a band because I never did that in real life and it doesn't correspond to my nature. We recorded in a studio near me called JRS-Studios (editor's note: Jazzanova Recording Studio Berlin) from Axel (editor's note: Axel Steinmeier), a pretty cool guy. We jammed for three weeks there, it was really depressing: I am really shitty concerning live music. I was a studio autist for decades. There was a huge outcome on material and nothing was really awesome. In hindsight I tried to use things from here and there. But the delusion of grandeur of recording a band jam turned into recording in a music room and another computer-record.
With touring the whole world, do you have working on an album on your mind while being away?
I can't record on tour on a laptop. I don't know if it's the mindset or the technical circumstances, but I can't do it anymore.
Recently, a lot of Moderat and Apparat songs have found their way into soundtracks in film and television. What's its outcome for you and your work?
Film scores are a good opportunity to make money as a musician. Live playing still works, if you don't have complex tour setups. Not to mention album sells. Many musician supervisors don't have that on their radar and use tracks for their film trailers. The downside is admittedly having your music somewhere you wouldn't like it to be used. If it would be an advert from Smith and Wesson, I could say no. But if it lands on a trashy television channel, I couldn't control that.
How does it feel like to listen to your own music on a soundtrack, let it be in cinema or on television?
I watch a lot of films and it happened twice to me, that there was a Moderat song in the score without my knowledge. Usually I'm involved in the discussion, but my management forgot about it twice. The last time was with the film Anhilation with Nathalie Portman, a very psychedelic film. In one key sequence there is a Moderat song, an Intro (editor's note: The Mark (Interlude) from II). That was the last time I was sat in the cinema and was terribly shocked.
Your last record, Krieg And Frieden was indeed a score for theater, though.
People always told me that they imagine stories while listening to my music. I always tried to get into that world. But eventually, that world got back to me. Directors asked me for music. With Krieg And Frieden, a play for Ruhrtriennale we played with the material as a band and turned it into a record afterwards. Until now, it was the most easy-going experience I ever had with a record production. It was an amazing opportunity.
And that with a Tolstoi opus.
This is funny indeed. The piece was the worst torture. I also had to read the book, two books with 1000 pages each. With the experience of recording the score in the back of the neck, I wanted to work on the new record to turn it into an actual production.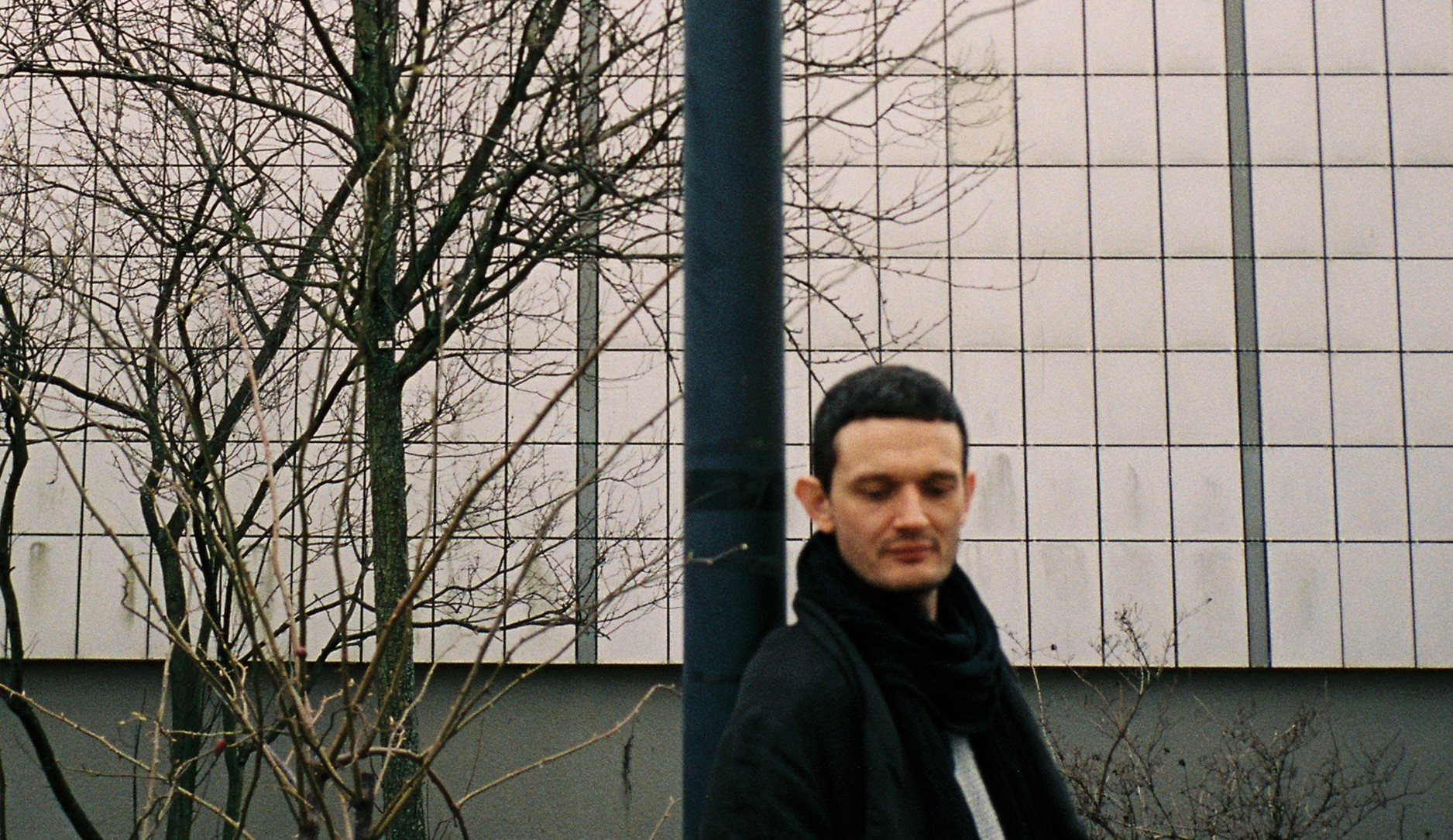 Returning to Berlin
Besides recording LP5, you've also been working as a restaurant co-owner in Berlin-Kreuzberg with Zum Mond on Koepenicker Straße.
The information about that isn't easy to find. I don't really have time for another construction area, I don't go there too often. The idea came up, because the lives of me and my manager Daniel circle around music. I want to take every chance to do something beside the craziness of the music business. Especially if it's with something, which is equally great: food. The idea of owning a restaurant grew on us over the years. We joined the business, renovated the restaurant and now it turned into a small, but nice place. When eating there, you'll get information about the regional food and it's origin. There's no shitty meat there.
After releasing Moderat's III exactly three years ago, did living in Berlin change for you anyhow?
In my hood in Prenzlauer Berg the kids became teenagers. They're drinking their first beers, smoking their first cigarettes or joints. That's the only thing I recognise consciously. With all the other things I ask myself, if it really changed or if I have just distanced myself because of being on tour. Maybe I am viewing the city through different eyes now. Generally speaking, I've been living in the same area for 20 years. There's a lot of history around me permanently. I am running through the streets and every corner reminds me of something we did, and so on. On the one hand, it's beautiful, on the other hand, it's sometimes nice to distance yourself and be around somewhere, without associations. Somewhere, where you can be completely free. I think that ship has sailed for me in Berlin. Spending time in Los Angeles, for example, is a compromise for me because you can have a nice life there and interact with people around you. It's not just for chilling, but also for working.
How does it look like with the Berlin club landscape?
Every club has a half-life period. A club closes and then there's people, that belong to the scene of the club and go away, others find their home somewhere else. Other's exit the club's scene and find their home someplace else. It's a renewing process, that comes with new clubs all the time. With Bar 25 it was a new world, a new bubble, behind the hard door policy, which pissed everyone off at that time. Then it was gone, some people became regulars to Kater Holzig and then it splitted. Now there's very different people there, which is fine, that's the way it is.
Do you find any time for clubbing when returning to Berlin?
If I had the power, I should go out and search for new and interesting places. The fresh air is gone, but to say Berlin is boring, would be ignorant. There's a lot of new places formed. But there's a party mainstream. The Berlin club scene doesn't automatically associate the terms underground and cool.
There's outskirts though and little bubbles, but you have to search for them. I don't have specific examples, I haven't been out for some while.
There's been journalist approaches to explain the Berlin club scene from the 90s until now, such as the oral history Der Klang der Familie by Felix Denk and Sven von Thülen or the newer release Die Clubmaschine: (Berghain) by Jorinde Schulz and Kilian Jörg.
Everything changed, everything is so different. That a club stays so long in the same location, is a record. Tresor was longer in their old location. Clubs often used to move, which was good for the happening in Berlin. But now the capacities for locations are skimpy, you can't just move because there's nothing new available.
Would there be any possibility for you to move and work outside Berlin?
I'm a friend of hybrid solutions, consequently moving away is too harsh. I noticed after the time in LA, that I miss the history, that each pore of the city oozes. For me it is a luxury, a privilege to be in different places of the world. But one thing never worked out for me: I thought if I would record somewhere else, my music would sound differently. I worked for three months in Mexico, but it would've sounded the same in Berlin. You just take your work with you, it doesn't get affected from other factors. I stay in Berlin, I don't need to record a record in Mexico, but I can still go there.
Thanks for the interview, Sascha!

All Photos by Louisa Zimmer for NBHAP