Hamburg's annual Reeperbahn Festival is not just one of the music industry's most important get togethers, it furthermore always feels like a school trip held together by alcohol, sleep deprivation, constant conversations with colleagues from the industry and the overall madness of the Reeperbahn itself. But most of it, the event is about the music happening all around that infamous street in Hamburg. Countless venues with hundreds of performances await the audience and that always makes it quite hard to pick your program choices.
Although the Reeperban Festival 2017 line-up saw a lot of old favourites like PORTUGAL. THE MAN, MAXIMO PARK and FINK as well as surprise performances by LIAM GALLAGHER and DEATH FROM ABOVE I personally decided to head for acts I haven't seen live on stage yet because that's the cooler aspect of this event anyway: Being surprised (or disappointed) by all the countless recommendations from friends, promoters and people in the industry. I don't like to bother you with some of the mediocre gigs I've experienced but, of course, want to focus on the surprises. These were the eight Reeperbahn Festival performances which gave the best impression; the artists you should consider falling in love with as soon as you can.
Sir Was (SWE)
Somehow the debut album by Swedish songwriter Joel Wästberg aka SIR WAS ended up slipping under my personal radar although NBHAP featured this young gentleman before. His performance at Hamburg's Knust was a tender reminder to give Digging A Tunnel another spin. Wästberg and his band delivered an ultra-smooth mixture of soulful and laidback West Coast sounds, combined with hip hop flavour. That sounds like quite an unique combination but it worked surprisingly well on that night, I must say.
First Hate (DK)
Okay, I already recommended these guys prior to the festival and a few times before but Anton Falck Gansted and Joakim Norgaard delivered such a massive performance on Wednesday night that I just need to confirm my love for FIRST HATE once again right here. Feeling like a PET SHOP BOYS/ FUTURE ISLANDS bastard on LSD, these two were furious, frantic and fascinating to look at. One of my favourite moments was legendary BOWIE producer and Anchor Awards jury member Tony Visconti's 'What the fuck is this?' look when I spotted him next to the stage. I consider this a compliment.
Me Succeeds (GER)
Hamburg-based two-piece ME SUCCEEDS was a last minute addition to the Reeperbahn Festival line-up but it turned out to be a wise one. Singer MOHNA (who did a great job on CHRISTIAN LÖFFLER's Mare album earlier this year) and her musical partner Lorin Strohm delivered a tender performance at the St. Pauli Museum, riding a gentle wave of minimalistic electronica and hypnotic singing while even adding a clarinet to the equation which I personally never experienced in that setting. These guys are clearly underrated.
REIN (SWE)
Her Swedish label manager pitched REIN as the 'Queen of Electro Punk' to me which felt like quite a big thing to do. But, well, the result pretty much matched with the expectations. The young lady from Sweden delivered pumping harsh electronic beats (think back to BOYS NOIZE and 'Ed Banger'-like sounds from around 2008) and a vocal performance that constantly switched between rough raps, screaming and tender sung melodies. The Techno Tank Girl delivered another argument for the thesis that women are currently just making the better music. Period.
The Cool Quest (NL)
If you end up naming your band THE COOL QUEST there's pretty much no chance to NOT make really pumping and funky music, right? This Dutch gang delivered a captivating and joyful performance, packed with a lot of soul and energy that really got the crowd going. Something you don't experience that often on such a showcase festival. Dear festival bookers, if you are looking for a crowd-pleasing new band, you better give these guys a call.
Friends Of Gas (GER)
It's kind of ironic that one of Germany's most exciting new bands played the night prior to the general election. While the quite boring campaign of Mrs. Merkel might have given the impression that everybody's chilled in the country, FRIENDS OF GAS represent the total opposite. The group from Munich delivered raw, ugly and driven post-punk that wasn't in the mood to please anyone. Especially leading lady Nina Walser and her monotonous singing delivered a undeniable feeling of antipathy. It's not even singing, more a sort of distinctive screaming. Nothing is good, there is anger and frustration rising in Germany's youth. And although FRIENDS OF GAS' partly English lyrics are rather cryptic than political they unfold a tension-filled atmosphere of true uproar, resulting in this outstanding live experience.
Sue The Night (NL)
Dutch singer Suus de Groot and her group SUE THE NIGHT already created a decent buzz in her home country with her first two albums Mosaic and Wanderland. Experiencing her live on stage I got an impression why. These are just really good and well-crafted wave pop tunes, following the tradition of bands like THE SMITHS, early THE WAR ON DRUGS and partly even the 80s incarnation of FLEETWOOD MAC. Great melodies, delivered with a sense of bittersweet melancholia – I'm a sucker for that sort of sound, so it's always great to discover a great band like this which I didn't know even existed.
This Is The Kit (UK)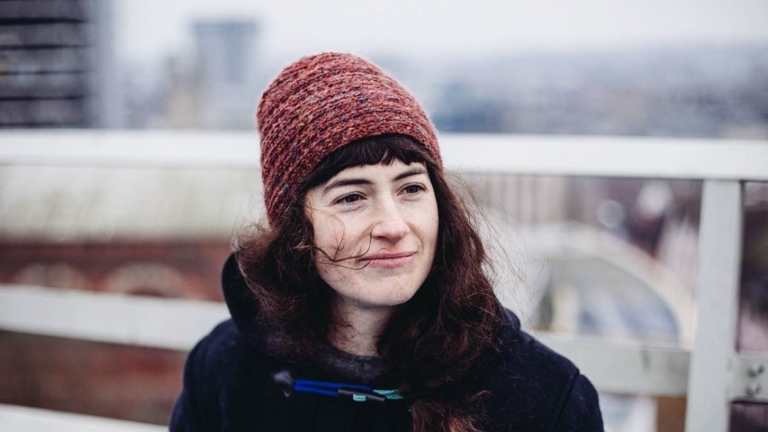 Okay, Kate Stables might have the 'Dessner bonus' (both THE NATIONAL brothers worked on her most recent album) but even without the knowledge of that pop fact the sound of her project THIS IS THE KIT is just too mesmerizing to miss it. Being the first act I experienced at the final evening of Reeperbahn Festival, Stables delivered an – for the event – unusually quiet show, driven only by her voice and guitar (or partly banjo) while her backing band kept things very soft. Still, her lyrics aren't as gentle as you might think, they are quite desperate, partly bleak and the stories of her songs don't always come with a happy end. Needless to say, I want more from that.

—