Coldplay – 'Music Of The Spheres'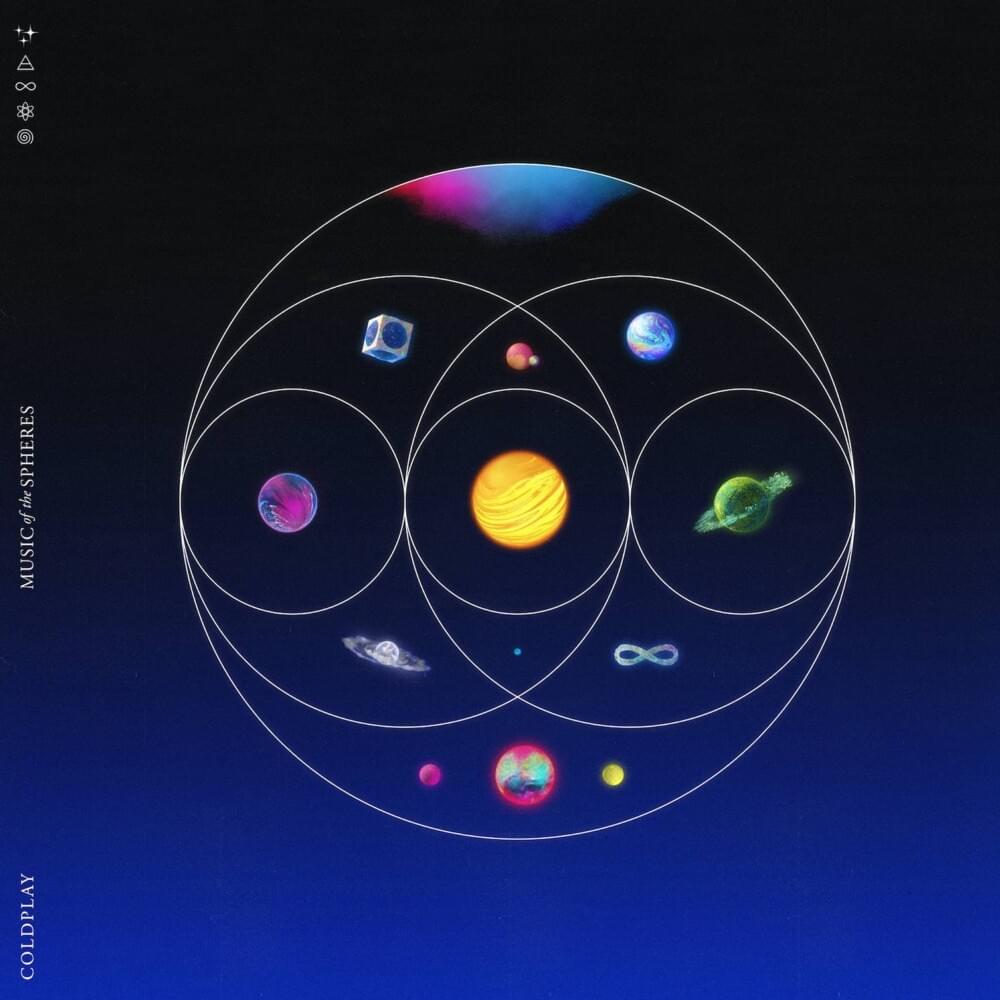 Sounds like … a partly cheesy love letter to the power of pop music, sent from outer space.
Listen, I honestly don't know whether it makes that much sense to actually review Coldplay in 2021. Because those of you who still like the band, especially with all the musical changes they made over the past twenty years, will also dig huge parts of their ninth studio album. Those who despise the band or lost interest somewhere between the wild EDM experiments and Beyoncé collaborations of the past decade won't be returning either. 2019's Everyday Life might have been more of a 'return to the roots' record here and it was easily the band's best album in a long, long time. However, a certain inconsistency is now a crucial part of the Coldplay discography, the pendulum seems to constantly swing between shallow mainstream pop and a more progressive approach. You have to look at each of the band's album projects as stand-alone concepts by now, freed from the predecessors. That can be a bit challenging but those of you who aren't afraid of various musical worlds can definitely find joy in that manoeuvre. In the case of Music Of The Spheres we're getting an ambitious space-themed longplayer with an entire universe built around it (including an own alien language and extremely expansive looking CGI videos). But what's more important might be the question what's in it musically beyond the world-building? Well, a lot of pop obviously.
The fact that Swedish pop mega producer Max Martin (who's behind at least 70 percent of pop evergreens of the past 25 years) finally agreed to work with Coldplay feels like an overdue accolade for a band that constantly its way into the pop mainstream and out of their indie roots. Music Of The Spheres is unapologetically pop, an ode to the power of a good hook and universal messages that will speak to the whole world – or at least an entire stadium dedicated to the band. That's the territory we're aiming for and for most of the time the Brits find the right balance. The love-overflowing Higher Power opens the record with an addictive chorus and is immediately followed by Humankind, another one of the band's infamous nods to 80s U2, it appears. Gone is the intimate and raw tenderness of the predecessor as well as the lyrical depth. This time things are getting a bit cheesy again and as usual the band tends to overstep the line every now and then. The Selena Gomez duet Let Somebody Go is weak even for Coldplay standards and People Of The Pride feels like a failed attempt to create an aggressive political anthem with Muse vibes but feels a bit out of place. My Universe features the other biggest band of the planet – K-pop giants BTS – and although it's quite a tempting pop tune (I mean, of course it is), this one feels slightly forced and more like a desperate attempt to jump on the bandwagon of the Korean superstars.
Still, there are moments of true beauty in there (including the little interludes they crafted with Jon Hopkins) – Human Heart is a reduced and soulful ambient R&B ballad featuring We Are KING and Jacob Collier and it's extremely wonderful. Biutyful surprises with pitched-up vocals from Martin but it actually works in the content of the record and because it's a good song. And then, of course, there's Coloratura, the epic 10-minute long space rock closing track which suddenly sees the band heading for Pink Floyd territory. While you have to question whether that sort of song actually makes sense on the album it's a powerful reminder of all the musical strength and brilliance that is still the foundation of Coldplay's work, even if you leave all the Max Martin influence aside. If you're not a fan of Coldplay's pop side Music Of The Spheres won't convince you anyway. Maybe their next record will. By now anything is possible with these guys. (Norman Fleischer)
Stream It: ► Spotify / ► Apple Music
---
Hadyden Thorpe – 'Moondust For My Diamond'
Sounds like … an existential out-of-body-experience.

Hayden Thorpe's second solo album tries to reconnect with a world at the brink of collapse. It looks at the world around us, ravaged by climate change and human intervention, and asks how one can inhabit and reconnect with it. Thorpe aims to look outward but always ends up within himself, unable to sever the connection between himself and the world around him, falling in and out of dream states, observations, and fantasies. Parallel lives and alternative outcomes are a recurring motif in the lyrics, as are out-of-body-experiences. In the world of Moondust For My Diamond, nothing less than the entire universe is at stake, and the music seems to reach for that, yearning for some sort of spiritual connection or higher awareness.
This is big stuff, and the music echoes that, constructing grand echoey soundscapes that brim with detail and care. Moondust For My Diamond occupies the more serene side of House and Indie, popularized by artists like Thom Yorke and The Acid. Aside from reoccurring thematic concerns, the songs are also unified by a soundscape of engulfing synths, tasteful, syncopated drum grooves and bittersweet vocal melodies that are found across the record. At times, Thorpe flies a little too close to the sun and ends up sounding like a B-side to Thom Yorke's The Eraser, but for the most part, the craftsmanship is so impressive and the intent so obviously earnest that concerns fall away. Thorpe also has the good sense to throw some more danceable cuts into the track list, and Rational Headache and Suspended Animation lead nicely through the second half of the record. There are worse ways to worry about the world. (Nils Heutehaus)
Stream It: ► Spotify / ► Apple Music / ► Bandcamp
---
Le Ren – 'Leftovers'
Sounds like … a nostalgic dive into the essence of human connection.
As stunning as it is, to see that folk music is constantly redefining itself in the past decades or so, it is always refreshing to witness an artist diving deep into the genre's roots. Lauren Spear, better known under her moniker Le Ren, has done exactly that for her debut record, which goes by the straightforward title Leftovers. Concerned chiefly with the musings on friendships with mothers, lovers and friends, Lauren describes the songs as a "collection of relics from the past". In that, the ten tracks ignite a soothing and particularly folkish delight for the listener. This is bedroom folk-pop of the finest kind, and it might just be the starting point of a promising journey for the Canadian songwriter.
Are songs on romantic relationships overrated? Well, they might just be, as pop music's obsessive focus on them just spares out the diverse ways in which we as human beings are affected and drawn to the people closest to us. The wonderful Dyan, an acoustic ode to Lauren's mother, is a prime example how the perspective can be shifted in a way that is both classy and soothingly affectionate. Similarly, in the pen-ultimate Friends Are Miracles, Le Ren heads back into her early twenties to dig up the nostalgic reminiscences of her closest friends. All the while, Leftovers dwells in soft acoustic realms and although it is a collection of past memories, the notion of painful events, which the songs do indeed contain (Was I Not Enough, May Hard Times Pass Us By), the serene voice and the tranquil acoustic meadow Le Ren manages to create makes any melancholic sentiment into a wholesome and delightful affair. Leftovers in the end, isn't just about songs that remained from the experience of an artist coming of age, it creates an idea of love and friendship on its own. And in that, it is beautiful and uncompromising in its aesthetic direction. (Andreas Peters)
Stream It: ► Spotify / ► Apple Music / ► Bandcamp
---
Sir Was – 'Let The Morning Come'
Sounds like … a warm ray of hopeful sunlight following an exhausting day.
If 2020 told us one thing than that nothing is for certain and making plans can become quite a relative thing in the wake of global pandemic. Swedish producer Joel Wästberg had ambitious plans following his sophomore 2019 album Holding On To A Dream. A support tour for fellow Swedes Little Dragon was on the horizon and his music had a certain momentum. So instead of conquering the world of pop, Wästberg was back writing new Sir Was material when he was hit with the news that doctors found a rare gene in his genetic met-up which could cause multiple strokes. The devastating news came at a time when our whole world was going through a phase of uncertainty and it obviously affected those new songs. Suddenly, priorities shifted and Wästberg was faced with an intense feeling of being alive. That's why, despite addressing issues like transience, self-acceptance and death the third Sir Was full length Let The Morning Come actually delivers an overall feeling of hope.
Hope We'll Make It Through is a fitting credo placed right at the beginning of the album. Sir Was' smooth slacker pop with hip hop roots is still the perfect soundtrack for lazy days in the sunshine. Sometimes those little song gems groove a bit more (I Need A Minute, I Wanna Feel Like That), sometimes they take things a bit smoother. One Day, for example, comes with a cloudy trap beat and sees Wästberg floating on a sea of synthesizer patterns while I Don't Think We Should Wait combines a sensual R&B setting with an uplifting guitar-based finale. Waiting For The Weekend might capture that fine feeling right between melancholia and euphoria the best as it showcases Wästberg's reflective longing for distraction and relief, following a hard week. That's something most of us can relate to following the past year, right? It's that gentle and honest understatement that makes the sound of Sir Was so enjoyable. (Norman Fleischer)
Stream It: ► Spotify / ► Apple Music / ► Bandcamp
---
Lala Lala – 'I Want The Door To Open'
Sounds like … a reinvention of an artist and complete creative freedom. 
Lillie West is "swimming towards her new life" on with her latest release I Want The Door To Open. Under the moniker Lala Lala, the Chicago-based artist created a record that breaks from her previous rock grandeur and explores a more niche electronic-rock version of the artist. With experimental elements, an overall longing feel, and the help of several other musicians, I Want the Door to Open becomes the work of a matured musician, dwelling on questions but at the same time accepting that there are just some things beyond the human grasp.
Castle Life points exactly that out – between reality and fantasy, the artist finds herself in a musical labyrinth. The synth pop on Lava is mingled with saxophones and Lillie West's mumbled vocals, talking more than singing about how different light can look in the mirror – a metaphor? Photo Photo is an experimental track consisting just of medieval choir reminiscent vocal layers. While the doomy Utopia Planet featuring saxophonist Sen Morimoto sounds darkly futuristic and Color of the Pool upbeat and electronic. The loose record jumps from one style to another, and what might sound musically scattered is actually the ultimate freedom that Lala Lala is looking for. "I want total freedom, total possibility, total acceptance. I want to fall in love with the rock," she says."I think it's easy to feel like we keep making the same mistakes over and over again, that we never learn, that we're Sisyphus; but time is actually a spiral that we move up. The key is falling in love with the labor of walking up the mountain." I want the Door to Open is Lillie West falling in love with the struggles and mundanities of life and finding freedom in that realization. (Liv Toerkell)
Stream It ► Spotify / ► Apple Music / ► Bandcamp
---