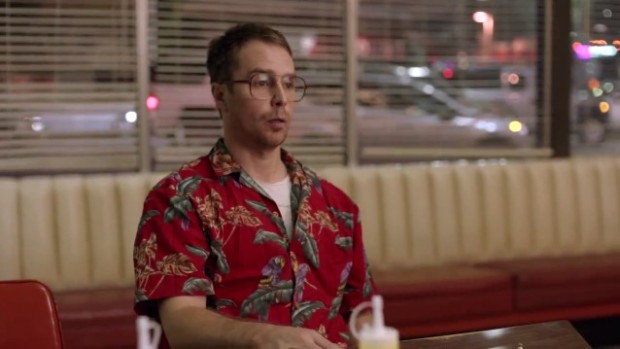 Hollywood stars and dance music video clips are always a great combination. Sam Rockwell is the latest one to join the club as he got the main role in Down To Earth by Australian band FLIGHT FACILITIES. The song is taken off the band's debut album which goes by the same name. In the clip, Sam Rockwell unleashes his inner Christopher Walken as he dances his way through an empty L.A. dinner at night. This man got quite some moves, that's for sure.

---
---
British indietronic trio WE HAVE BAND has shared first music off their recently announced new EP The Woods. The track goes by the name Out The Woods and comes with irresistibly catchy disco groove. You can stream it right here. The new EP by the trio arrives on April 26

---
---
Just in case you lost track on the whole 'WILL BUTLER releasing one song each day'-thing that is happening this week. The charismatic ARCADE FIRE member managed to stick to his plan and we already presented you some of his tunes. His latest one might be called Madonna Can't Save Me Now but it is NOT about her Brit Awards incident. If was originally planned but BUTLER ended up singing about the scientific discovery of a black hole that's 12 billion times bigger than the sun. And yes, we agree: that topic is way more interesting than the queen of pop falling down.

---
---
Just in case you were wondering: RADIOHEAD are still in the studio, working on the follow-up to The King Of Limbs. Jonny Greenwood now gave a little update on the progress as he talked with an Indian newspaper. He states: 'We've done a couple of months of recording, and it has gone really well. We haven't listened to anything back yet, so at the moment we're all very happy. Now, I guess we're going to go and listen to what we've done and see if we were right to be so happy. But we left it at a good place when we last stopped.' As you can see: some things just take a bit time.
---
---
Looks like Icelandic goddess BJÖRK is the latest artist who doesn't want to show love for Spotify and Co. In a freshly released interview with Fast Company she explains why her latest album Vulnicura can't be found on Spotify and similar platforms: 'This streaming thing just does not feel right. I don't know why, but it just seems insane. To work on something for two or three years and then just, Oh, here it is for free. It's not about the money; it's about respect, you know? Respect for the craft and the amount of work you put into it.' In the future BJÖRK hopes for a model like the one from Netflix, only music-based. Not the worst idea, indeed.
---
---
The latest COLD WAR KIDS record Hold My Home finally gets an international release these days and to celebrate that fact the band just premiered a video for Hot Coals, that documents their live performance power. The band on the video: 'Our good buddy Vern Moen shot this video at a home show at The Regent Theater in L.A. and captured the colours and mood of the song.' Watch it right here.
---
---
Good news for all EDITORS fans. The new album is almost done. As the band now posted via their Twitter account the basic recording is done and they are about to start the mixing progress. As NOTHING BUT HOPE AND PASSION reported before the follow-up to 2013's The Weight of Your Love will also feature a guest appearance by SLOWDIVE singer Rachel Goswell.
---
---
Although spring has finally made a first appearance here at the Berlin headquarters of NOTHING BUT HOPE AND PASSION we're a bit sceptical if he's here to stay. Norwegian pop singer AURORA seems to be in winter mood as well. Her latest video Runaway works a perfect commercial for the winterly landscapes of her home country, wouldn't you agree?
---
---
Earlier this year NOTHING BUT HOPE AND PASSION already reported about the planned reissue of SIGUR RÓS' legendary 1999 album Ágætis byrjun, now the group shares a few more details on the release. The re-release will arrive this summer, featuring previously unreleased music, rare live footage and an epic box-set, including photos from the private archive of the group. Re-releases of 1997's Von and ( ) from 2002 are also in the works. Christmas comes early this year, right?
---
---
—