---
Austra – 'Future Politics' (Domino Records)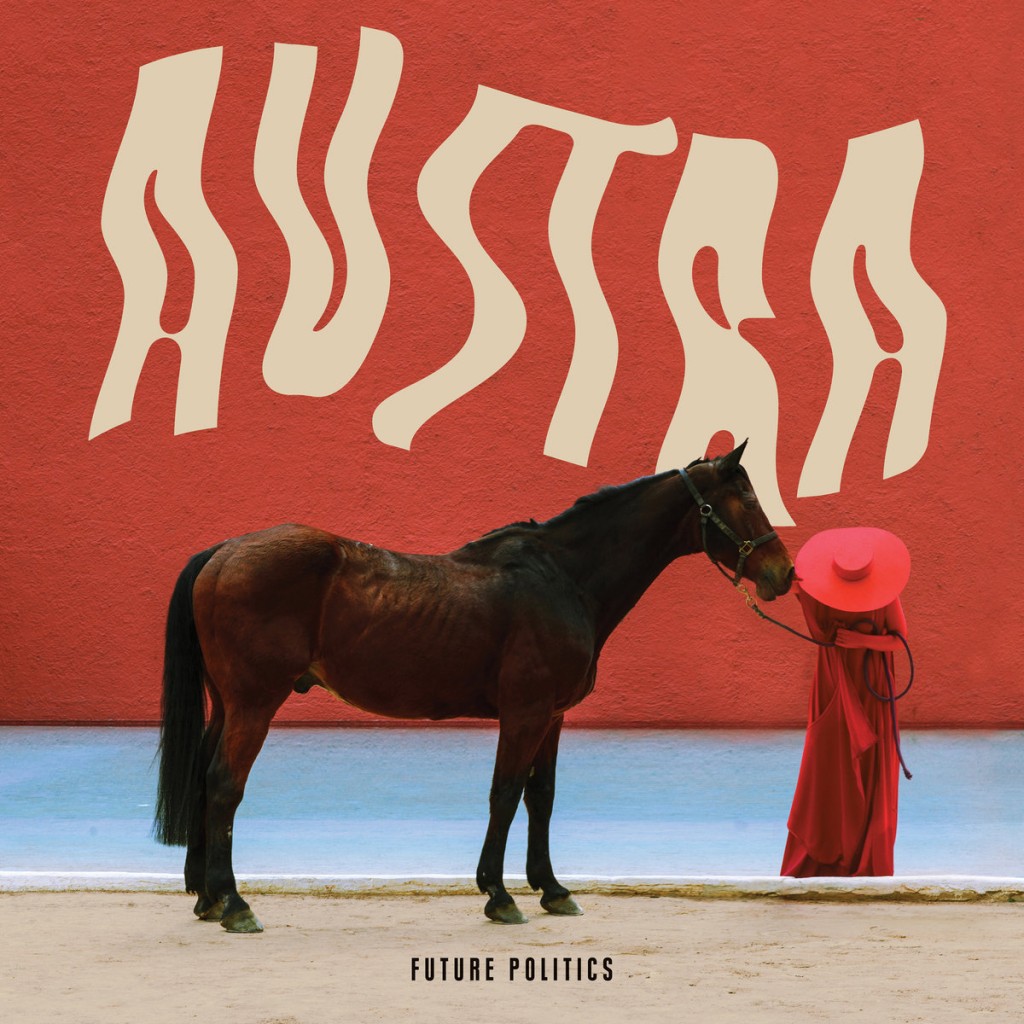 What it is: The third full-length by the Canadian wave pop project of Katie Stelmanis. And more than ever she's willing to give AUSTRA's music a certain existential weight. In a time when dystopian visions seem to be en vogue, Stelmanis wants to make a radical call for hope, crafted with the help of pumping beats and gentle melodies.
Why to listen to it: The music of AUSTRA hasn't lost its tempting appeal, providing synthpop quality combined with the melodramatic sensuality within Stelmanis' voice. The sentimental opener We Were Alive already marks a highlight on the album as the singer desperately asks: 'Doctor, what's the cure for apathy?'. Stelmanis leaves no doubt that she is willing to fight the current trend of scaremongering in a quickly changing society. Whether it's the pumping title-track or the catchy Utopia ('It might be fiction but I see it ahead') the tender aspect of hope shines through in all songs. The message is clear – cut the crap and make a change, don't fall for the media, Trump and all those who are stating you can't make change. Future Politics is an important album for the year 2017 and quite possibly the band's best one yet. (Norman Fleischer)
---
Foxygen – 'Hang' (Jagjaguwar/ Cargo Records)
What it is: It's the already fifth full-length release by American weird folk rockers Sam France and Jonathan Rado but actually the first one they recorded in a proper studio. FOXYGEN enter next level madness by hiring a 40+ piece symphony orchestra for every track while getting MATTHEW E WHITE, THE FLAMING LIPS and THE LEMON TWIGS on board. Hang is an outburst of analogue craziness and passion, a 21st century Sgt. Pepper attempt that arrives just in time for its 50th anniversary.
Why to listen to it: Because you'll hardly find a comparable piece of old-fashioned retro pop these days that offers such a massive amount of ideas within just eight songs. While the opener Follow The Leader is still quite catchy and radio friendly 60s pop that is surfing the West Coast on a big wave of strings, FOXYGEN go 'full Pet Sounds' on Avalon, providing circus piano, changing tempi and a lot of drama in barely four minutes. Hang was entirely recorded and mixed via 2-Inch tape and even the vinyl lacquers were cut directly from the master tapes, making it a wet dream for every analogue junkie. There's a lot to discover here, just take the epic America, a 5-minute long anti-anthem with a constantly twisting and turning character while the band states 'Our heroes are bred/ They just got nothing to lose'. FOXYGEN sing a lullaby to their home country while recalling its golden musical era. And the contradiction doesn't end here. Hang is an aural adventure that might have turned into an instant classic 50 years ago but is quite happy with its outsider position in contemporary music, it seems. (Norman Fleischer)
---
Tycho – 'Epoch' (Ghostly International)
What it is: aerial electronica with classic song structures. Something quite close from M83 with reverber-ated guitar melodies and a focus on drum layering. Overall, the music from TYCHO is not about groove. It's about scenography. The sound design is emphasizing small little organic details in the background, when the sound scape feel very complete and powerful. TYCHO articulates his story around the idea of flow, instead of creating a clear ambiance or body-focused works. And yes, I am aware that this record came out months ago but since it's
Why to listen to it: Yes, I am aware that this record came out months ago digitally but since it's the official physical release today AND following a Grammy nomination earlier this month this one deserves a closer look. Especially because TYCHO mastermind Scott Hansen still got stories to tell. He is the kind of musician who always want to take it one step further – working with orchestras for his live was amongst the last symbols of that. The only things you could regret on this album are clear spaces to breathe. The music on Epoch is in-deed very airy, but at a certain point It's almost if you feel drowning into thin air. The structures are very pop-oriented and it's also something that could put you off if you're more into the kind of electronic music that endanger your senses. Other than those two elements, Epoch is an excellent album that will gladly take its place on the shelve of some of you. Many problematics dealt with in Epoch are quite transdisciplinary, therefore It could be one of the genre-gate for some of you to explore electronic music. (Bastien Perroy)
---
Giant Rooks – 'New Estate' (Haldern Pop Recordings)
What it is: GIANT ROOK are back in order to deliver an early 2017 release that constitutes their debut on Haldern Pop Recordings. The new EP entitled New Estate comprises five songs probably widely known to those who attended one of last year's numerous shows that made 2016 a busy year for the five lads from Hamm. On their first release backed up by a label that shows great support for newcomers, the band feel free to (re)arrange older and newer songs making the studio recordings sound audibly different as opposed to the field-tested live versions.
Why to listen to it: A bit puzzled. That's how you might feel after listening to the New Estate EP, GIANT ROOK's first release after having signed to Haldern Pop Recordings. The initial irritation is wonderful as it makes you think and reconstruct. Yes, this is a group of young adolescents some of which are even going to school. Considering their young age and output to date, the New Estate EP – the band's follow-up to their self-released debut The Times Are Bursting The Lines, sounds incredibly homogeneous, hardly leaving the impression of newcomers preparing for their first full album. Still, there is enough of youthful spirit and creativity to be found on the new recordings. In spite of the 5-track-collection sounding unexpectedly 'pop', the songs profit from small and adorable details such as a xylophone break in Bright Lies and a fairy tale-like synth melody ringing in the vocal climax of Mia & Keira (Days To Come). New Estate, the Ep's title track, turns out to be GIANT ROOK's first single having a clear chorus and a classic pop song structure. The reworked Chapels stresses the aspect of songwriting whereas its live session counterpart predominantly aimed at creating 'atmosphere'. Overall, the New Estate EP sounds way more euphoric than its slightly melancholic predecessor, suggesting an atmosphere of departure. It shows a band developing their very own sound 'on record' and that's what makes the EP such an interesting listening experience. (Chris Hegholtz)
---
Klangstof – 'Close Eyes To Exit' (Mind Of A Genius/Warner)
What it is: KLANGSTOF originally started as a side project of Koen van de Wardt, who grew up quite isolated in Norway doing nothing but making music. With the debut album Close your Eyes to Exit the Amsterdam-based band managed to come up with a debut that is pretty varied and unique with a combination of complex song structures and layering, clever guitar recordings as well as catchy echoing choruses. We know the LP was already released last September in parts of Europe but now it's coming officially to other parts of the world as well – so if you haven`t checked out the record yet, now is the time to do so.
Why to listen to it: KLANGSTOF got referenced to RADIOHEAD and SIGUR RÓS quite a few times– if a band gets compared to artists like these curiosity is probably one reason to check out their debut album. But other than that Close your Eyes To Exit is a debut record that you want to tell your friends about – just because it is different in the overload of unvaried, indie synth-pop bands and it makes you remember why you once fell in love with the genre. There are new aspects of the sound to discover even if you listen to it the third time and it is pretty impressive how Koen van de Wardt managed to create one consistent piece of art, though the songs were written in quite a long period of time and influenced by the different places and musical eras he went through. But what makes Close Your Eyes to exit a great debut is the emotions it transmits –it`s distanced but warming in some way, not just because of Koen van de Wardts mellow voice. Usually writers are told to find a great and unique start and ending for their stories. With this album KLANGSTOF seemed to follow that rule and did great sequencing of the songs. The hightights are the first instrumental Intro-like song Doolhof and the last song Islands, a grower that makes sure you memorise Close Your Eyes to Exit. (Lisa Eberhart)
SPOTIFY

---