Allison's Gate – 'Trials'
It's nice when records appear without fuss sometimes, without long gnawing promo campaigns. That's just what happened when Allison's Gate, aka London musician Carolina McPhail dropped the Waves EP, a collection of songs recorded over the last year, on Bandcamp a few weeks ago. Trials is the standout from that record: more tightly written and less deconstructed ambience than the rest of the EP. It's the half-ghost of a more conventional song, simple guitars stretched into pale strangeness by the airy recording. Strikingly affecting, like a dream translated into sound. Waves is out now. (Austin)
---
Swimming Girls – 'Back Of Your Car'
Oh, sweet youthful imagery, you never seem to go out of style. As adulthood takes a tighter grip around you there is an increased desire for simpler settings – pools, parties and making out at the backseat of some car. No worries, just sweet and delicat escapism. Yes, count me in, especially with a track like Back Of Your Car. The latest single from Bath-based four-piece Swimming Girls is that sort of sweet indie-pop delicacy that instantly manages to get a fixed spot in your heart. If you happen to be in the warmth sound of the 70s and 80s and like your pop with a certain melancholic notion than this could easily become your favourite tune this spring and probably also beyond. It's a goddamn hit. (Norman)

---
Hater – 'Rest'
There's something about the sound of Malmö-based four-piece Hater that instantly speaks to me. Maybe it has something to do with that dreamy and sun-drenched melancholia the band around charismatic singer Caroline Landahl transports in their music. It's a gentle, romantic notion part with simple yet effective DIY spirit you usually only get from American bands like Beach Fossils and Alvvays. This band captures the very essence of this sound and makes it feel as if your sweet and innocence adolescence isn't going to end anytime soon. Hater have been quite productive last year, releasing a debut album called You Tried in the spring time as well as a follow-up EP called Red Blinders in December. Rest is from the latter one and it's tender hypnotising atmosphere is just the sort of sound that will carry you through the final days of winter (soon) and hopefully also all the way through spring and summer as well. I'm pretty sure by then we already have new material from that talented outfit. (Norman)

---
Heartbreak Satellite – 'Are U Ok?'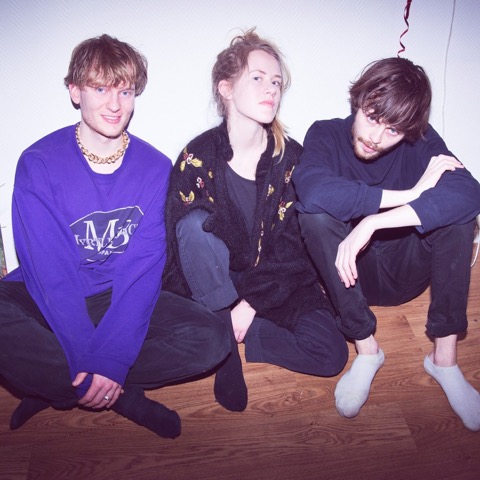 Heartbreak Satellite's Ragnhild Jamtveit (Pom Poko), Håkon Kjenstad (Tuvaband), and Tobias Pfeil are based in Berlin, Trondheim and Oslo, though it was Copenhagen their band came together: 'We were all in a weird place in our lives and got together in Copenhagen where Tobias lived at the time with the idea that we were going to make an album. Every day we made at least two songs in Tobias's tiny studio and recorded them. It was a very intense week, we all lived in Tobias's bedroom, and the music we made became very different from what we had made before…'.
Their debut single Are U OK? is an irresistible splash of colour and energy, cartoonist synths paired with Jamtveit's anxious vocal and all brought together into a stargazing chorus. It's experimental and exquisite pop, and there's more to come with a debut album on the way. (Austin)
---
Sarah Klang – 'Mind'
Things are going pretty smooth for Swedish artist Sarah Klang right now, especially in her home country. Following a nomination for the Swedish Grammi awards her just released debut album Love In The Milky Way just went to Number One in the charts and I think it's just a question of time before the rest of the world falls for her magic spell. And when I say 'magic' I actually mean 'incredibly sad' as Mrs. Klang isn't in for a smooth ride, that much is for sure. Her music delivers mesmerizing melancholia and raw emotion, paired with Country-infected folk. It sounds and feels as if First Aid Kit, Lana Del Rey and Adele's saddest moments have teamed up and a song like Mind perfectly describes that vibe, especially in combination with the music video.
The track is an ode to her boyfriend, their shared long-distance relationship and the difficulties of handling it. The fact that it's her real life partner who slow dances along with Klang in the music video gives the song just the amount of authenticity it needs. No wonder that we also included this one in NOTHING BUT HOPE AND PASSION's emotional Spotify playlist full of heartbreak ballads. It's just too tempting to not fall for it, isn't it? (Norman)

---
NBHAP's Daily Tunes from February 2018
Find all of those songs and plenty of other new music in the following playlist which – obviously – gets updated daily.