Tired of getting stuck in the mud of Glastonbury? Or getting lost in the crowds of Roskilde and Hurricane? Yeah, we get you. And you can't shake off the feeling that the festival battlefield in Western Europe continues to produce countless new events (with mostly the same line-up anyway) while smaller once have to close their gates. Festival profits are at an all time high, but line-ups are starting to become a bit predictable. Luckily there are some great alternatives, and you don't have to travel all over the world to experience new and exciting open air events this summer.
Eastern European Festivals are the only hype of 2015 you need to follow. Often set in a beautiful environment with just the right amount of well-known and up and coming acts, these festivals often attract open-minded crowds who are actually there for the musi. We've got nothing but love for Eastern European Festivals in the past and, especially this summer. Here are our top picks for 2015.
---
---
FOR Festival
Where: Hvar, Croatia
When: 23 – 25.06.2015
FOR Festival combines an intimate setting with some of the biggest names in music. Last year's line-up included KLAXONS, and HAIM, playing to an audience of just 2.000 attendees.
Boasting a more up-scale atmosphere on the beautiful island of Hvar, FOR Festival is perfect for those who are looking for a festival that is a bit more relaxed. Attendees typically stay in one of Hvar's trendy and chic hotels, and caters to those who want to party, without the nightclub vibes.
---
---
Flow Festival Ljubljana
Where: Ljubljana, Slovenia
When: 26 – 28.06.2015
The first 'outsourced' version of Finland's Flow Festival will take place in a former tobacco factory in Slovenia's beautiful capital city, Ljubljana. Tobačna has played an important role in Slovenia's history, as it was the country's first industry. This industrial complex has now evolved into a creative city, home to the Poligon Creative Center and various other startups and artistic communities.
Only an hour from the jagged peaks of the Julian Alps, and equal distance from the warm sandy beaches of the Adriatic coast, Ljubljana sometimes feel like it has been taken straight out of a book of fairytales. This year's killer line-up at Flow Festival, features headliners like BONOBO and PET SHOP BOYS. We enjoyed last year's edition in Helsinki pretty much and are looking forward to a successful start in the East.
---
---
Hideout Festival
Where: Zadar, Croatia
When: 28.06. – 02.07.2015
Croatia has experienced a bit of a British invasion in recent years, resulting in festivals popping up left and right, and Hideout Festival is arguably one of the best. One of the more personal and intimate summer festivals, Hideout takes place on Zrce Beach on the Island of Pag.
Imagine loads of beautiful people hanging out on boats amongst the beautiful Dalmatian Islands. Sounds a bit like a celebrity tabloid, doesn't it? It's actually the setting of one of Croatia's best festival, Hideout, and you don't need to be rich and famous to be a part of this picture. Entering into its fifth year, Hideout has got some top-notch acts, like English super-group EATS EVERYTHING and DUKE DUMONT.
---
---
The Garden Festival
Where: Tisno, Croatia
When: 01. – 08.07.2015
One of the first to get on the Croatian electronic festival train, Garden Festival takes place right outside of the town of Tisno. Overlooking the crystal clear waters of the Adriatic Sea, Garden festival is perfect for those who are looking for chilled relaxed atmosphere. Artists play in a natural amphitheater and various other stages, including a beach stage, so attendees don't have to choose between dancing and enjoying the picturesque coastline. Of course there will be boat parties and all night dance-a-thons at the legendary open-air nightclub Barbarellas.
---
---
Creepy Teepee
Where: Kunta' Hora, Czech Republic
When: 11 – 13.07.2015
Perhaps one of the best-named festivals, Creepy Teepee takes place in the town Kunta'Hora, which is located in central Czech Republic. This semi-remote town is sprinkled with beautiful Gothic architecture, and plenty of room to explore. Creepy Teepee is perfect for those who are looking to get weird and try something off the beaten path.
Curated by the DIY promotional collective A.M 180, this underground festival is more of a community gathering and is definitely one for the curious. Don't expect big headliners here but lots and lots of hidden musical treasures.

---
---
EXIT Festival
Where: Novi Sad, Serbia
When: 09 -12.07.2015
One of the most popular festivals in the world, Serbia's EXIT is a force to be reckoned with. Held in the 18th century Petrovaradin fortress overlooking the Danube, festival-goers can explore the hidden passageways and catacombs that lead to over 16 stages, including the infamous Dance Arena, famous for it's all night dance parties. We had a great time there in 2013 and 2014, so NOTHING BUT HOPE AND PASSION is looking forward to the 2015 edition as well.
After years of silence and just in time for their 20th anniversary FAITHLESS will be going back on tour and will be headlining this year's EXIT. Heavyweights MOTÖRHEAD and THE PRODIGY are about to show up as well. If that's not enough to get you to book your ticket right away, EXIT now offers a one-stop shop for festival hoppers. The EXIT Adventure package includes a pass to both EXIT and Sea Dance.
---
---
Sea Dance Festival
Where: Budva, Montenegro
When: 15 – 18.07.2015
For fans of electro music, Sea Dance Festival is the place to be this summer. Living up to its name, this Eastern European festival is a party in paradise. Festivalgoers can enjoy all day shindigs along the Adriatic coast, which go well into the night. This year's lineup looks promising, with a RUDIMENTAL and SOUL CLAP making an appearance. Sea Dance is a part of Serbia's EXIT festival Adventure; perfect for those who just can't get enough of the Balkan summer heat.
---
---
Colors of Ostrava
Where: Ostrava, Czech Republic
When: 16-19.07.2015
In 2002 Colors of Ostrava took over the former blasting furnaces of Dolní Vítkovice, and has since then been awarded the Czech Angel award for Music event of the year. 2015's lineup will include heavy-hitters like KASABIAN and BJÖRK, and offers festival enthusiasts an eclectic collection of artists, from folk, rock, jazz, and newcomers in the alternative scene.
In addition to four days of music, Ostrava offers their attendees theater performances, lectures, and workshops. Last year's visit was packed with highlights and so might be 2015.
---
---
Sziget
Where: Budapest, Hungary
When: 10 – 17.08.2015
22 years ago a group of students gathered together with the hopes of starting a community to celebrate arts and culture. From humble beginnings, Sziget Festival has grown into one of Eastern Europe's most beloved festivals, and has won the title of Best Major Festival, twice! Headliners include groups like GOGOL BORDELLO and FLORENCE + THE MACHINE, which play alongside hundreds of other acts from all genres of music. There will also be a special showcase for traditional Roma music. It's impossible to speak about Eastern European Festivals and not include this legendary happening.
For one week, Sziget takes over the historic city of Budapest, offering festivalgoers non-stop music and other cultural activities, like live theater and exhibitions. It also doesn't hurt that this festival takes place in one of the most beautiful capital cities in Europe.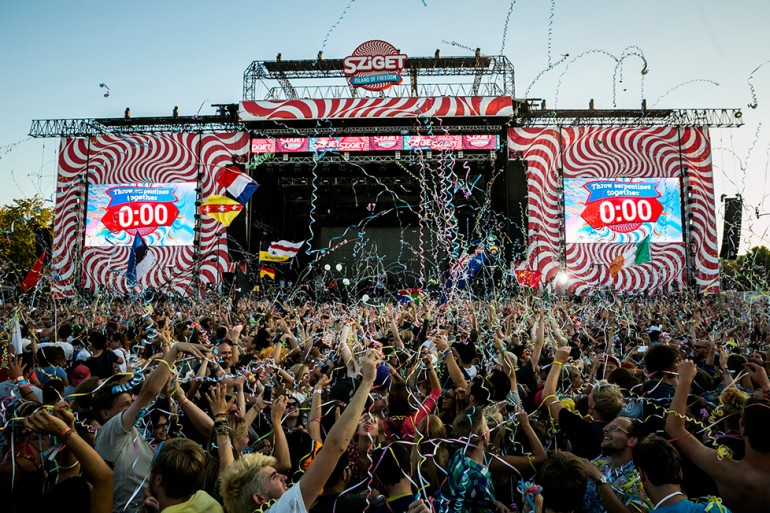 ---
---
Tauron Nowa Muzyka
Where: Katowice, Poland
When: 20 – 23.08.2015
Little known outside of Poland until recently, Tauron Nowa Muzyka was voted best small festival in 2014 and has since then attracted an international fan base. Taking place between two former mine shafts in Katowice, Poland, Tauron Nowa Muzyka festival has played a major role in the regeneration of the Upper Silesia region. A dance festival for everyone, this Polish getaway offers three days of parties and top-quality electronic music, in addition to music and art workshops for adults and children. A truly hidden treasure in this list of Eastern European Festivals.
---
---
OFF Festival
Where: Dolina Trzech Stawow, Katowice, Poland
When: 07 – 09.09.2015
Poland has become a leader in European summer festivals, and OFF Festival offers an alternative option to the heavily electronic festivals spread throughout Eastern Europe. SUN KIL MOON and GIRL BAND are just a couple of the confirmed acts for this year's lineup and the festival often takes place during major historical events, like Chopin's Birthday.
OFF generally promotes up and coming talent, and also offers exhibitions, lectures and film screenings. Read last year's recap from NOTHING BUT HOPE AND PASSION's visit and see for yourself how much fun we had.
---
---
Soundwave Croatia
Where: Tisno, Croatia
When: 06. – 10.09.2015)
Acts like FATIMA, and SLUM VILLAGE will be the soundtrack to this chilled out Croatian holiday. A combination of clubbing, boat parties, and art, Soundwave brings some of the best international acts to the Dalmatian coast for 5 beautiful days. When festivalgoers aren't dancing into the early hours, they have the chance to explore the surrounding islands, and take advantage of some beach side activities.

—