Germany recently celebrated the 25th anniversary of the fall of the Berlin Wall, as some of you might know. It's definitely one of the few better occasions for this nation to celebrate. The opulent event in front of the Brandenburg Gate saw multiple performances by plenty of established acts which might seemed a bit strange to foreigners and definitely needed an explanation or two. There were four men in their forties acting as cool rap gang (DIE FANTASTISCHEN VIER, Germany's hip hop pioneers), a crumpled old man with hat and sunglasses who could barely sing (UDO LINDENBERG, an immortal legend of German rock) and finally a bald guy acting crazy while spinning a few nubs connected to his MacBook (That's PAUL KALKBRENNER, you might have heard of him).
All in all, a local music scene is always hard to understand from the outside. It's usually quite strange and unique and difficult to get if you didn't grow up in one nation's cultural environment. German music is slowly but steady getting a bit more attention. Well, of course you got notorious acts like RAMMSTEIN, teenie-poppers TOKIO HOTEL and a handful of electronic musicians. But with a new exceptions in the past (NENA's '99 Luftballons' is not forgotten) international success was always bound to English language. Kind of sad for a nation who had Schiller, Goethe and Brecht.
As the headquarters of NOTHING BUT HOPE AND PASSION are located in the heartland of Germany's creativity we are quite aware what potential new acts are currently making a buzz right here. Even if some of them are not yet ready to enter the commercial market (and others are not even interested in making an attempt) there is definitely a lot of potential aside the big mainstream acts. Potential that might be even interesting for you if your German isn't that fluent. So we compiled ten great acts, 8 from Germany plus 2 from Austria and Switzerland which we think deserve international attention. The bands on the following ten pages definitely know their ways with the often difficult German language and are ready to carry it to international heights with a lot of self-confidence and creativity. Herzlich Willkommen!
---
Bilderbuch
What the name means: picture book
Where they come from: Vienna
What it sounds like: The uber-cool long awaited '21st century hipster update' of Falco (you know, Rock Me Amadeus)
What it's all about: Basically sex but also style. And a lot of pop, humour, Viennese charm and one hell of a charismatic frontman by the name of Maurice Ernst. They sing about fancy cars, sexy girls, soft drinks and the horror of spitting yoghurt on your blouse. They take fun seriously and they actually bring 'glam' back to the German language. Supergut!
---
Messer
What the name means: knife (or 'knives')
Where they come from: Munster
What it sounds like: Germany's answer to INTERPOL but with way more 'punk' than 'post'
What it's all about: Despair, anger and frustration. Fear eats the soul. Bassist Pogo McCartney (!) plays like a berserk while singer Hendrik Otremba screams songs about dejection, resignation and teen angst at its best. These are the recipes good post-punk is made of.
---
Schnipo Schranke
What the name means: Sounds like a fantasy name but 'Schnipo' actually means 'Schnitzel' + Fries (aka 'Pommes) with 'Schranke' ('barrier') being a common term for taking ketchup and mayonnaise with your meal. Got it?
Where they come from: Hamburg
What it sounds like: Lo-Fi Riot Grrl chansons with a love for vulgarity.
What it's all about: 'Come into my arms, come into my mouth' sing Daniela Reis and Fritzi Ernst in the track Intensiv. Any more examples? The duo's track Pisse was one of Germany's indie hits of the year, including lines like 'Tell why it tastes like piss when I kiss you down under?' It's the musical ambivalent of the famous book/movie Wetlands, it seems. And even if you don't understand every dirty detail it's still quite catchy pop music, we must say.
---
Neonschwarz
What the name means: neon-black
Where they come from: Hamburg
What it sounds like: Rap with intelligence and attitude
What it's all about: From political frustration to just having a good-time. NEONSCHWARZ are one of the better examples of current German hip-hop which seems to constantly evolve into multiple directions. From hateful gangsta-rap (HAFTBEFEHL) to teenie pop (CRO) the German rap scene is packed with basically everything you desire but also plenty of crap. The collective from Hamburg marks a lovely exception.
---
Die Heiterkeit
What the name means: the exhilaration
Where they come from: Hamburg
What it sounds like: Germany's answer to WARPAINT, with less distortion and more charisma
What it's all about: The first LP by the grumpy-looking women was dominated by reduced and cold discourse pop, this year's record Monterey delivered almost shoegaze-like warmth, a lot of irony and musical ideas. Talented and with attitude. We have the right to find that a bit sexy, right?
---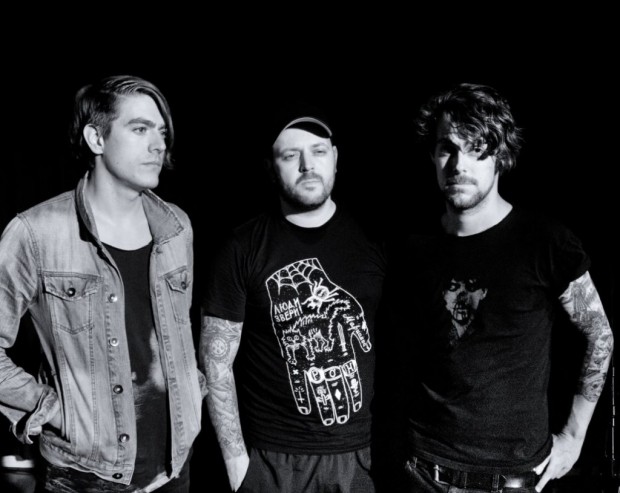 FJØRT
What the name means: well, obviously… fjord
Where they come from: Aachen
What it sounds like: Emo/ post-hardcore with a lot of heart and passion
What it's all about: The Facebook page of the trio characterizes their sound as the 'taste of iron' which is quite fitting for FJØRT's devotional anthems. Tender moments meet the sheer power of brute guitars and the screaming vocals of singer Chris Hell. He's giving everything as if he's aiming for relief and a moment to breathe. It actually doesn't matter if you understand a word or not. It's the universal language of passion.
---
Die Höchste Eisenbahn
What the name means: literally 'the highest railway' but it's also a German saying, comparable to 'It's about time.'
Where they come from: Berlin
What it sounds like: Soulful pop with a slice of 80s wave in it.
What it's all about: Songs about life, love, growing up and every day struggles. The two main singers, Francesco Wilking und Moritz Krämer tell stories everybody can relate to although you often don't know whether to laugh or to cry. Sometimes even both. It's got a quite funky and soulful note which is highly rare in combination with the German language.
---
Deichkind
What the name means: kid from the dyke
Where they come from: Hamburg
What it sounds like: Over-the-top techno rap with pumping beats and dirty synthesizers.
What it's all about: They are actually one of Germany's most popular live bands at the moment, usually playing as headliner in front of thousands of people. Their songs are highly ironic socio-critical exaggerations about society's decline (á la 'work sucks', 'partying is awesome'). Their shows are theatrical extravaganzas, almost like a musical. They rap about affrays and boredom and make the masses go nuts. Some followers are really just dumb, others see the satirical aspect while the band stopped taking it seriously years ago. A new album arrives next spring. Yippie-Yippie-Yeah!
---
Trümmer
What the name means: ruins, wreckage
Where they come from: Hamburg
What it sounds like: Germany's very own EDITORS (from their early days)
What it's all about: The sound of TRÜMMER is an emotional post-punk rollercoaster, packed with almost dystopic desperation of a generation which clearly stopped believing in social justice and our current system. The trio from Hamburg craves for hope in hopeless times while the voice of singer Paul Pötsch is filled with fragile power. In a fair world this band should be the voice of every German teen in its early twenties. Well, they're getting there.
---
Klaus Johann Grobe
What the name means: what it says
Where they come from: Zurich
What it sounds like: Spaced-out 21st century Krautrock-pop
What it's all about: The Swiss duo brings back the good old psychedelic times of CAN and Co., although they are not afraid of making their lush little pop gems also accessible for bigger audience. And since they are about to support TEMPLES during their forthcoming UK tour we're really not worried about a certain language barriers. As long as you let it flow everything is cool

—