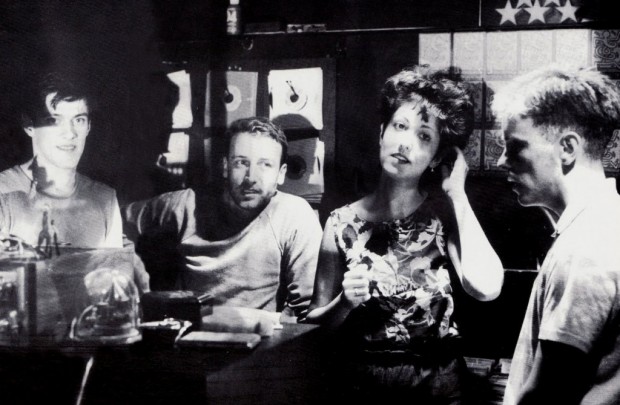 Who thought it would actually happen? Well, ok, basically nothing's happened so far in terms of the long awaited NEW ORDER comeback album. But it will happen, probably next year, exactly ten years after their last one. The band already played new material during their recent shows and just signed a deal with legendary independent label Mute Records. A new album is just a matter of months; it will be more electronic as front man Bernard Sumner already hinted. Seriously, who needs bassist Peter Hook anymore who left the band on bad terms seven years ago?
So, NOTHING BUT HOPE AND PASSION thought the timing might be right to remind the world of the musical importance of the band. Seriously, we don't need an abstract of the band's history right here. From the ashes of JOY DIVISION straight into the club with Blue Monday. We all danced to this song before, even thirty years later. Same goes for Bizarre Love Triangle or Temptation. We heard True Faith in the radio on every nostalgic-driven radio station, we rocked out to Crystal and maybe enjoyed the cheesy football anthem World In Motion back in 1990.
Yes, NEW ORDER was always a 'single' band, especially in the 1980s. Plenty of stand-alone releases are the proof of that. But there are plenty of other great songs, hidden on their albums or singles. Instant hits you should know. Today, we give you an overview on twelve of these hidden pop musical gems by the British legends.
'Age Of Consent' (1983)
The opening-track of 1983's Power, Corruption & Lies might be the band's most well-known non-single. Not only was it featured in multiple movies but it also received cover treatment by a lot of acts from the BUZZCOCKS to ARCADE FIRE. 'I'm not the kind that likes to tell you / Just what I want to do.' The song somehow also marks the band's final emancipation from their old JOY DIVISION sound.
'This Time Of Night' (1985)
Let's face it; Bernard Sumner might not be the best lyricist in pop history. It doesn't actually matter sometimes. This tune off 1985's Low-Life album is an atmospheric piece of grooving 80s wave-pop. For everyone who thought THE CURE were a bit too gloomy.
'Who's Joe?' (2005)
Even almost one decade later we still don't know who Joe actually is or what he's actually doing. It's kind of funny how often Sumner uses the lyrical fragment 'What you're doing' in his songs. Still, this one truly is a highlight of the band's last album to date.
'1963' (1987)
Okay, nerds. Technically 1963 has been a single, we know. At least it was released in a remixed form in 1995 to support the band's Substance compilation. Still, the original version from 1987 was a b-side to True Faith. A great tune and definitely one of Sumner's finest lyrical works so far. It's about a theory that John F. Kennedy originally intended to have his wife murdered by Lee Harvey Oswald instead of him so he could be together with Marilyn Monroe. How romantic… well, somehow.
'Paradise' (1986)
'There's no place where we can't go / There's no place where I have been. There's no limit I can show / There's no level in-between.' Everything seems possible in this uplifting opener of 1986's Brotherhood. Who are we to disagree?
'Turn My Way' (2001)
Remember when Billy Corgan was not a weirdo but one of the 1990s most influential musicians? NEW ORDER even invited him to join the band on this powerful anthem from their 2001 comeback album Get Ready. It's an ode to the refusal of an ordinary life. 'I don't wanna be like other people are/ Don't wanna own a key, don't wanna wash my car.' Outsiders of the world unite.
'Young Offender' (1993)
The band's 1993 album Republic was a quite special release as it sounds like no album from the 80s or basically the comeback ones from the 00s. NEW ORDER's only longplayer of the 1990s is a joyful piece of Ibiza house pop, produced by Stephen Hague and this danceable piece shows that the band still got it.
'Your Silent Face' (1983)
Besides of the infamous Blue Monday, the 1983 album Power, Corruption & Lies didn't have any further single released from it. Kind of strange since it's one of NEW ORDER's finest longplayers. The tender Your Silent Face is another example. Just listen to this synthesizer pattern right here.
'Vicious Streak' (2001)
Forget about all the groove and disco beats, these guys are always good for tender ballads from time to time. This sweet and gentle piece of easy floating synthpop from their Get Ready record is the perfect example. You just want to get lost in it.
'Vanishing Point' (1989)
Bernard Sumner clearly had an adventurous life with a lot of ups and downs. Vanishing Point themes the low points of that life while still providing a quite danceable house music foundation. 'My life ain't no holiday. I've been through the point of no return / I've seen what a man can do / I've seen all the hate of a woman too.' Good times sound different.
'Face Up' (1985)
'Your hair was long, your eyes was blue / Guess what I'm gonna do to you?' Face Up might be the exact opposite to Vanishing Point. It really is a feel-good song although it's not clear if Sumner's love interest will ever answer his plea but we can't hide our smile while listening to this tune.
'Special' (1993)
'It was always special / It was like water down the drain.' Sumner's bittersweet ode to the ever changing character of life is one of the highlights from 1993's Republic. It's a gentle pop song that's bathing in a huge amount of synthetic strings but comes with really touching lyrics as Sumner resumes: 'I try to remember but nothing is the same.'
—