The Big Moon – 'Walking Like We Do'
Sounds like … vibrant harmonies for a brighter tomorrow.
The flowering season of guitar-driven indie pop may well be behind us, but the London-based four-piece The Big Moon are taking once more a good stab at breathing new life into a challenged form. Already having made a big fuzz back in 2017 with their Mercury Prize nominated debut record Love In The 4th Dimension, the ever so charismatic British quartet is back with their much anticipated sophomore record. Shining through our frosty clouds like warm rays of light, Walking Like We Do, just like its predecessor, delivers melodious and upbeat harmonies that playfully leave impressions of a youthful and carefree spirit.
The mood is certainly bright and the joyous melodies just seem to glide out of lead singer and frontwoman Juliette Jackson. Her enchanting voice, framed by straightforward guitar riffs, accentuated piano elements, warm synth sounds and groovy beat structures, builds the backbone to the pieces of the record. This quality holds true for the opening song It's Easy Then, that smoothly weaves sparse piano chords and mellow rhythms into an otherwise voice-oriented tune. With more groove at its core, the following Your Light reverberates as an atmospheric and cheerful piece about the hardships of conquering darker times. "I wanna speak but I'm wondering how / And I wonder since when was my voice a foreign object in my mouth" Jackson sings in the song's bridge and reveals an almost surprising thoughtfulness that underlies the gleeful and upbeat vibe of the piece. Tracks like solemn piano-carried Waves or the more tranquil Dog Eat Dog silence the rush of mostly energetic songs for a bit, but remain rather the exception in an otherwise dynamic musical atmosphere. Asked about the record, Jackson states that "'Walking Like We Do' is about being strong in the face of uncertainty, about standing tall even though you're completely lost and not being afraid of the future because it just keeps on coming". Well, that is certainly a mindset to embrace, right? (Andreas Peters)
Stream It: ► Spotify / ► Apple Music / ► TIDAL
---
Alexandra Savior – 'The Archer'
Sounds like … an artist taking control of her own vision.

Success has many fathers, failure is an orphan, and the things in-between have the most curious family trees of all. Alexandra Savior's debut album The Belladonna Of Sadness had a strange melting pot of origins, from a major label signing an 18-year-old singer assuming they were getting a Katy Perry-style figure, Alex Turner and Arctic Monkeys' producer James Ford hopping in as collaborators and years of delays and wrangles. The album that emerged in the end, Belladonna, was much better than it had any right to be, but at the end of its cycle Savior found herself at the end of a crashed wave, label-less and back at college in Portland wondering where to go next.
Happily, Belladonna had won her some fans, and 30th Century Records signed her up and sent her to New York to record with Sam Cohen. And the album that emerged, The Archer, sounds like a young artist confidently and wholly picking up the reigns of her creative vision. From opening Soft Currents, we see Savior spreading her wings from Belladonna's studied darkness, on a song that ranks as one of the most beautiful she's ever written. The opening line also stands out – "Seven years, I've had seven years of bad luck". Belladonna often tended towards songs about other people, with Savior content to stand in the shadows as the narrator. Here, she steps into the first-person light, placing herself at the centre of her own stories – a sign of a more confident writer. Musically, if you're a fan of Belladonna, you'll be a fan of this one – plenty of songs on here share stylistic space with songs from that album, like the burnt-out Saving Grace and the murk-rock of songs like The Phantom, as well as her ear for a killer lyric – "You ate me right up, you spit me back out, you bit my head right off with your tiny little mouth, and I licked the blood from your lips". But things are generally more adventurous, with the production of the songs taking bolder steps, from touches like the mumbling vocal undercurrent on The Phantom, or the bravery of leaving songs like The Archer and Soft Currents relatively untouched, which brings the strength of their songwriting to the fore. Standing on her own two feet, Alexandra Savior delivered a success that's entirely hers. (Austin Maloney)
Stream It: ► Spotify / ► Apple Music / ► TIDAL
---
Georgia – 'Seeking Thrills'
Sounds like … an album to put on making the best of the last morning moments before the party is over.
It's been almost five years since Georgia introduced her sound to the world with a self-titled debut album. Seeking Thrills feels like a natural development: a clearer focus on deconstructing pop music and Detroit techno while placing it into the London landscape. There is a progression from drum-heavy, introspective rhythms to a more unbound, striving sound that allows its lyrics and 909-phasing elements to speak for themselves.
The album opens with Started Out, an electro-pop bonbon with a catchy verse speaking directly to a generation wanting to overachieve while being underestimated. The video sets up the albums' intention; it shows several people dancing alone in a room that could be in an elementary school with the only stage direction being "Just move to the song". Followed by About Work The Dancefloor and Never Let You Go, which were both released as singles 2019 and because of their striking synths and '80s determination have already gathered momentum in clubs through various remixes by Krystal Klear, Happa, and MK. By choosing to leap right in with three singles at the start of the album, the singer/drummer reveals an important fact about her second album – the pride in having gained confidence – which holds the record's different influences together. Mellow featuring another London underground great, Shygirl, as well as Feel It released in 2017, are the most obvious hints to Georgia's earlier explorations on her debut, though replacing its gravity with fun and playfulness. The MIA comparisons might subside with this record but with Ray Gun the listener cannot deny them completely. The percussion-led, well-chosen breakbeat and clear, high-pitched pronunciation blend beautifully, nodding to her predecessor. The reliance on her vocal skills is new territory which the artist embraces on Ultimate Sailor and Honey Dipping Sky. Both tracks expose a skill that too many songwriters lack which is the charm of simplicity instead of boastful, literary display. Seeking Thrills captivates with its unpretentious lyrics, variety of rhythm, and the desire to leave it all on the dancefloor. It is equally staying true to a certain sound, following up on musical themes set in 2015 as well as exploring a new path, making room for potential possibilities in years to come. (Anna-Katharina Stich)
Stream It: ► Spotify / ► Apple Music / ► TIDAL
---
Stormzy – 'Heavy Is The Head'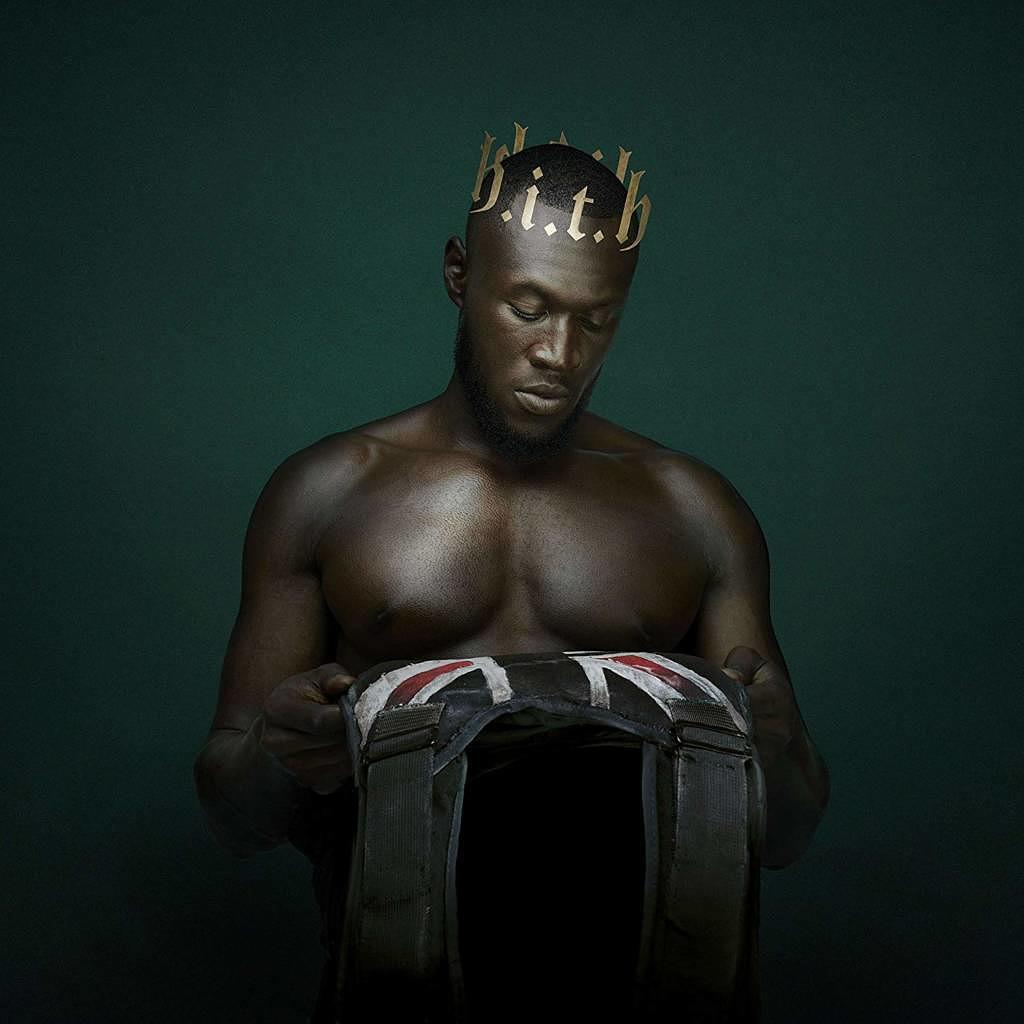 Sounds like …  a man defining the voice of young Britain once again. 
With just being in the midst of his twenties, one could mean that Stormzy has had a bigger impact on the UK's youth than most official politicians. Naturally, his long-awaited second album Heavy Is The Head was released right the day after the election in December. It was a long-planned coincidence of course, but it seems as if he wants to prove that 2020 wasn't Boris' year, but his. HITH emphasizes, that he and no other should be crowned King Of Grime. Like its predecessor Gang, Signs & Prayer, HITH doesn't lack any wit, flow, honesty or sharp social criticism. By examining his rise to fame, childhood and love life the Croydon-born rapper shares a very different story to the one that was told both by tabloids and British music media. On One Second he raps:  "I am not the poster boy for mental health / I need peace of mind, I need to centre self / The cover of the NME that shit made me resent myself".
While he may not be Britain's patron for mental health or Black Youth, he doesn't stop to show the bigger picture within his lyrics. While the 16 tracks of the record were recorded in 16 different studios, HITH musically lacks the golden threat that GS&P had. The spirit of aggressive urban rap lives on with Audacity and Big Michael, while smoother tracks such as Rainfall or Do Better keep Stormzy's unique talent to blend in R&B and even gospel melodies. The most remarkable track on the record is the most simple one though. Lessons is dedicated to his ex girlfriend Maya Jama and his way of apologizing for infidelity during the relationship. It doesn't capture Stormzy while at his highest, but probably the lowest that he was feeling while reaching the peak of his career. Heavy Is The Head shows the new King Of Grime more unfiltered and raw than before. And these qualities make him the artist who will shape the voice of pop culture for the years to come. (Louisa Zimmer)
Stream It: ► Spotify / ► Apple Music / ► TIDAL
---
Easy Life – 'Junk Food'
Sounds like … reviving the playful joys of making music with cheeky youthful optimism.
What did you dream of in your early twenties being young, wild and free? How about Sangria, Space Ships, Los Angeles and hot and heavy affairs? Just living the easy life right? Well, here is a band for you. Easy Life embodies everything their band name already implies. The British five-piece are letting their wildest fantasies roam free on their debut album 'Junk Food Mixtape' with seven tracks soaked in youthful optimism and playfulness. These guys are certainly having fun and are not keeping that a secret. With sunny vibes and positive energies they are the refreshing rays of sunshine in the dreary skies of musical melancholia we look upon these days. But don't be fooled, just because they are having a blast doing it does not mean their talents are any less to be reckoned with.
Throbbing bass lines, smooth saxophones, crunchy drumbeats and groovy synths come together throughout the record. Nice Guys shows the knack the band has for cheeky lyrics and catchy RnB tinged grooves. Indulging in a teenage fantasy the video to the hazy track shows the band surrounded by girls lusting after them. Sangria on the other hand, is a soulful contemplative ballad of the sorrows emotional dependency. Lead singer Murray Matavers' rapped verses are the perfect contrast to the smooth croons Arlo Parks brings into play. The elaborate composition of the single leaves no doubt about these young musicians' talents. Easy Life shows that we do not need to drown in the millennial Malaise, which continuously keeps sneaking its way into. After all aren't we still 'too young to be getting too deep'. (Liv Toerkell)
Stream It ► Spotify / ► Apple Music / ► TIDAL
---