Bright Eyes – 'Down In The Weeds, Where The World Once Was'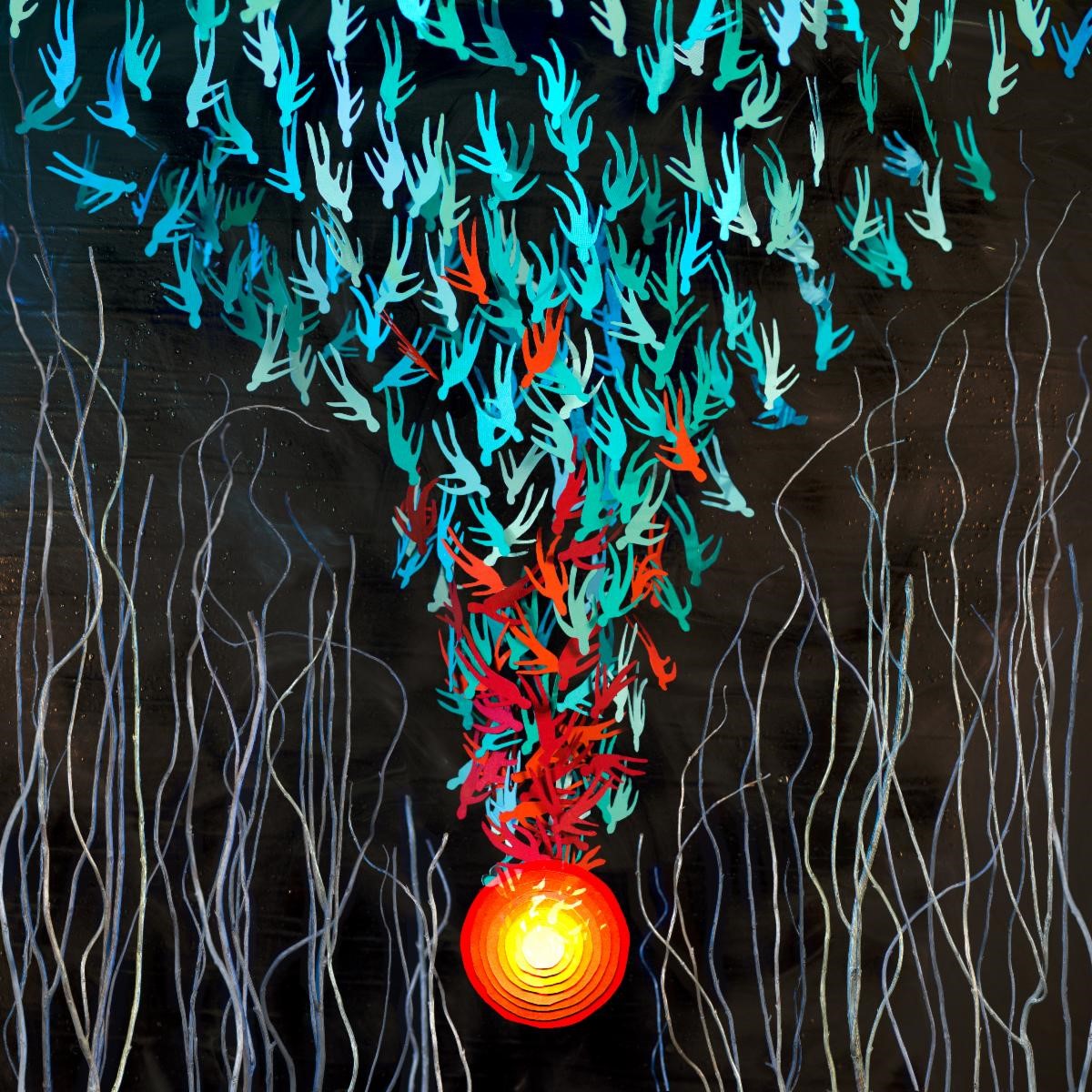 Sounds like … a cacophonous universe of melodies lost and restored.

Out of the indistinct chatter billowing through the background of a piano horn composition, suddenly a voice makes itself heard: "I think about how much people need – what they need right now is to feel like there's something to look forward to. We have to hold on". Thus begins the smeared scenery of Pageturner's Rag, the opening track to Bright Eyes' tenth record Down In The Weeds Where The World Once Was. And while the follow-up Dance And Sing rings through the speakers, it feels as though the renowned trio around Conor Oberst, Mike Mogis and Nate Walcott never put a hold on releasing music as a long-famed band project. 
Nine years without a record can be a long time to look forward to, but it definitely helps fuelling the sense of nostalgia that encircles the aura of the 2020 re-imagination of Bright Eyes. Essentially a bold demonstration of their artistic force to create enduring pieces of a folkloristic allure, Down In The Weeds Where The World Once Was unfolds a stunning lyrical universe that spans visual worlds between the apocalyptic abyss of modern day despair and the relentless pursuit for a hope that looms through that darkness. Dance And Sing features Conor Oberst's brittling voice that meanders through symphonic blues and folk set pieces, as he rekindles the bright spirit of times past. Mariana Trench is marked by roaring synths, before it assembles all its anxious rhythms into a forceful stream of jazzy brass fireworks. The subsequent One And Done then almost calms it all down in an instant of time. Melodic bass, soft piano leads into the mellow verse structures, but then strives towards its dramatic build-up, fuelled with a sense of a world lost in the reign of doom for good: "This whole town looks empty but we knew it wouldn't last / Behind bulletproof windows they're still wiring the cash / Whatever they could scrape up, whatever that they had / There's a lot of mouths to feed through this famine". Persona Non Grata then is full of melodic straightforwardness, as well as the spirited Tilt-A-Whirl. As the mellow dramaturgy of Comet Song marks the finish line of Down In The Weeds Where The World Once Was, the sense of reconciliation kicks in as well. "We have to hold on", seems to be the message at last. And Bright Eyes have delivered an enduring canon of songs underlining that motto. (Andreas Peters)
Stream It: ► Spotify / ► Apple Music / ► Bandcamp
---
Alex The Astronaut – 'The Theory Of Absolutely Nothing '
Sounds like … a much needed spark of joy in the indie rock cosmos.

On her charming debut, australian singer-songwriter Alex The Astronaut marries elevation and nostalgia. Helping her are her acoustic guitar, a lot of triumphant sing-along choruses, and a hefty helping of Britpop. There is something charmingly Blur about the chorus of opener Happy Song, and an almost post-punkish charm to the plucky guitar on follow-up Lost. In her lyrics, the artist formerly known as Alex Lynn employs the sort of observant storytelling that has made fellow australian Courtney Barnett a household name, but where artists like Barnett or Nick Cave often employ a sort of deadpan detachment to express regret or sadness, Alex The Astronaut keeps her head up and her melodies bright.
There is an almost childlike aura of positivity and defiance in her lyricism and her melodies that is hard to resist.  Whether she declares the Grinch death on Christmas In July or finds beauty in nature on the regretful Banksia, a feeling of defiant happiness and bold positivity floats across the album like morning dew. Some may find the fistbumping attitude grating, but it is a welcome antithesis to the murky defeatism that suffuses a lot of indie rock. Musically, Alex the Astronaut keeps it simple with acoustic guitar and gentle piano leads, though there is the occasional flirtation with indie rock on tracks like Lost or I Think You're Great. It's a sound that is strangely modern, a hotchpotch of influences and sounds rearranged for the needs of a very idiosyncratic talent. (Nils Heutehaus)
Stream It: ► Spotify / ► Apple Music
---
Bully – 'SUGAREGG'
Sounds like … a confident attitude clashing with guitar amplifiers.
Don't mistake Alicia Bognanno's roaring atmosphere for frustration-channelling anger management in musical form; it's just all the energy and newly gained confidence in her that needs an outlet and Bully is still the perfect way of doing it. More than ever, the third album by her alter ego is a testament of that stubborn 'fuck-it-all/ I'm doing my thing' attitude and sees Bognanno turning Bully into a solo adventure, something that was already sensible on 2017's Losing. Bully is Bognanno, these songs are her vision and she's far more than the visual trademark look of this project. SUGAREGG was recorded with Grammy-winning producer John Congleton and bursts of energy that is once again delivered in the most charming and reckless way by the songwriter. Add It On opens the record with a furious grungy spirit that makes sure Bully is still pretty much Bully. Her aggressive vocal performance still makes her the louder more aggressive sister to female colleagues like Soccer Mommy and Snail Mail but songs like Every Tradition and Where To Start also show that the songwriter is able to combine catchy hooks with those noisy guitars. SUGAREGG also follows her proper treatment for bipolar 2 disorder which filled her music and art with plenty of doubt and paranoia over the past years.
Now, Alicia Bognanno openly addresses these issues and stepping back form the band and following other musical adventures (she wrote songs for the 2019 movie Her Smell, starring Elisabeth Moss) let to new confidence and a new perspective on her music. So, while she also addresses the heavier sides of life, there's also space for light-hearted vibes on SUGAREGG. Stuck In Your Head and Let You spit a lot of fire and raw emotion while songs like the lush Prism and the relatively laidback Come Down show a more melodic and tender side of the Bully cosmos. SUGAREGG shows the grunge goddess motivated and eager for contentment in the best way and she remains a force to measure with, that much is remains for sure after playing these twelve riot gurrl anthems. No compromises, no slick experiments, not your everyday indie rock sweetheart – it's a pleasure to witness Bognanno on her stubborn path which reaches new heights on this furious record. (Norman Fleischer)
Stream It: ► Spotify / ► Apple Music / ► Bandcamp
---
Cut Copy – 'Freeze, Melt'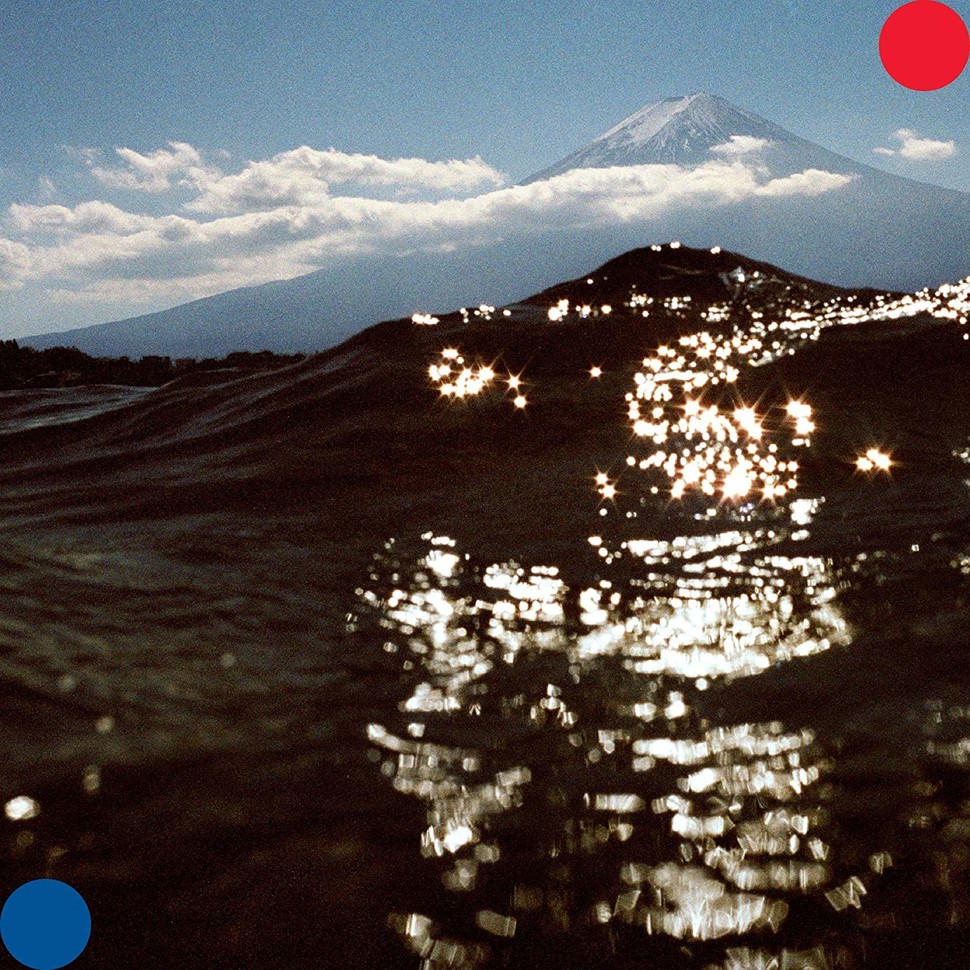 Sounds like … the Australian synthpop veterans take a journey inward.
After almost two decades in the music scene Australian synthpop outfit Cut Copy has become a constant source of high quality sounds from that field and although they established a long lasting career in the indie music field they still seem to fly under the radar which truly is a shame. Dan Whitford and his fellow bandmates have been pushing their vision constantly forward, creating tons of catchy and grooving dance pop gems over the years but their sixth album takes a surprisingly different turn. Freeze, Melt sees a shift in sound, away from the sun-drenched partly psychedelic pop tunes of the past towards a more mellow and subtle sound. Whitford moving temporarily to Copenhagen had a huge impact here as the European winter perfectly matched with his increased interest in ambient music textures. Songwriting and sound of this new Cut Copy record ultimately changed in the course of time, even when the bandleader returned to the rest of the gang in Australia. Freeze, Melt is a more reduced and laidback affair, compared to previous Cut Copy records. Getting Swedish producer legend Christoffer Berg (The Knife, Robyn) on board surely helped to shape that sound. Instead of pumping beats and big choruses it's about textures, sounds and an overall more introverted feeling on this album.
Cold Water opens the record with a gentle synthesizer build-up that gives the repetitive sounds and Whitford's vocals all the space they need before Like Breaking Glass and Love Is All We Share head for more traditional pop territory although they are doing it in a very ballad-like way which is not entirely new in the Cut Copy cosmos but hasn't happen in such a straight forward way before. The Australians allow themselves more experiments on this record and it's quite refreshing. The acoustic guitar loop that starts Stop Horizon is such a moment and it manages to carry the entire track right until the laidback groove starts towards the end. Running In The Grass speeds up the tempo a bit but remains in a hazy state. Towards the end of this quite short album the songs Rain and In Transit are not even using traditional rhythm structures anymore. No kick drum, no snare, just synthesizer patterns wobbling around. Brian Eno would be proud of these guys. It's a surprising progressive move by the long lasting electro pop formation but one that ultimately results in their most exciting new album in many years as it takes their sound to a totally different level. (Norman Fleischer)
Stream It: ► Spotify / ► Apple Music / ► Bandcamp
---
Girl Friday – 'Androgynous Mary'
Sounds like … a musical de- and reconstruction of millennial struggles.
Here is another indie rock gem packed with ferocious feminist energy. The LA-based four-piece Girl Friday is releasing their debut LP today. Androgynous Mary is a nuanced indie rock effort by four distinguished musicians. Walking in the tradition of distorted 90s post-punk, the band reinterprets the genre to fit the struggles of their generation. Starting off on the track with the telling title This Is Not The Indie Rock I Signed Up For, Girl Friday confront the industry's expectations. What appears to be a well-composed mid-tempo ballad, completely falls apart towards the end of the song. The improvisational energy of the free-form jam shows that the musicians move within their element and are comfortable breaking out of the comfortable.
The tendency to construct, de-construct, and then to reconstruct is what makes Androgynous Mary a promising debut. Vera Ellen, Libby Hsieh, Virginia Pettis, and Sierra Scott all have the same slightly dystopian blood of the millennial generation pumping in their veins. They channel this energy into loaded post-punk and express the feeling of stress and alienation in the face of modern times many young people are met with. The Sonic Youth reminiscent, Public Bodies for example is a twist on the toxic capitalist machinery, feeding off the labor of human bodies. Girl Friday are not really the uplifting party banger that their name might make them out to be but a quartet of reflected musicians channeling their fury and anxiety into passionate indie rock. Fuzzy guitar riffs, bass-driven tracks, hazy vocal harmonies, and the courage to shout out their anger distinguish Girl Friday from the "indie rock they did not sign up for". (Liv Toerkell)
Stream It ► Spotify / ► Apple Music / ► Bandcamp
---