Christian Lee Hutson – 'Quitters'
Sounds like … introspective indie folk gems with a twist.

Fans of indie folk music will most likely have come across Christian Lee Hutson in the past thanks to his noteworthy album Beginners (2020) which was produced by Phoebe Bridgers. Two years later on Quitters, we get to hear just another collaboration between the two best friends with Hutson inviting Bridgers back on the producing chair along with indie icon Conor Oberst. Two names that won't need an introduction that seem to be a truly perfect fit for what Hutson was looking to accomplish on the beautifully introspective, but playful follow-up album. A collection of thirteen songs that set out to stretch beyond the carefully crafted acoustic soundscape Hutson is known for. Always carrying a bag full of nostalgia with him in his often wistful narratives that seem casual and subtle for the most part, but express a wry sense of humour and a love for details at the same time. Wrapped in haunting, intriguing melodies, all of these components permeate the album from the beginning to the end and elevate Hutson's introspective songwriting throughout what feels like a darkish, bleak setting with little rays of light bursting through the exposed anxieties of the 31-year-old Los Angeles-bound singer-songwriter. While looking back on his childhood on acclaimed Beginners, Hutson now seems ready to tackle the responsibilities and realities of a new decade in his life on Quitters – slowly expanding the basic framework of his former creation.
Quitters is another taste of Christian Lee Hutson's love for fingerpicking indie folk as much as it is a space for him to unfold his poetic vein and at the same time celebrate his progress as a songwriter who is not afraid to gently open the door to new sonic paths. Bridgers and Oberst skillfully guiding him towards these new territories whenever the songs allow it. On his second album to date, Hutson felt so comfortable with this idea that he also chose to record the entire album on tape which nicely adds to the nostalgic vibe the songs are giving off. His native home of California rubbing off on the composure that is Hutson's trademark once again on the new songs that work so well with the mostly sparse instrumentation that is used. Not all of the songs can pull off this casualness over the course of the album without losing a bit of their radiance in the darkness, but Hutson is able to deliver elements of surprise on more than one occasion, for example on the brilliant Rubberneckers that offers playful guitars, a slowly built-up sonic explosion on the equally remarkable Strawberry Lemonade as well as Nate Walcott's (Bright Eyes) spheric trumpet tones calling the listeners from a distance on Age Difference. There is much more to explore on Quitters than expected at first if you listen closely – whether it is the occasional string arrangements or electric drum loops. If the cover artwork implies anything, then it is the fact that there always seems to be a bit of mystery in Christian Lee Hutson's contemplative nature once you are fully immersed in his work. (Annett Bonkowski)
Stream It: ► Spotify / ► Apple Music / ► Bandcamp
---
ÄTNA – 'Push Life'
Sounds like … braids of bright synth pop, retro electronica, and underground techno beats.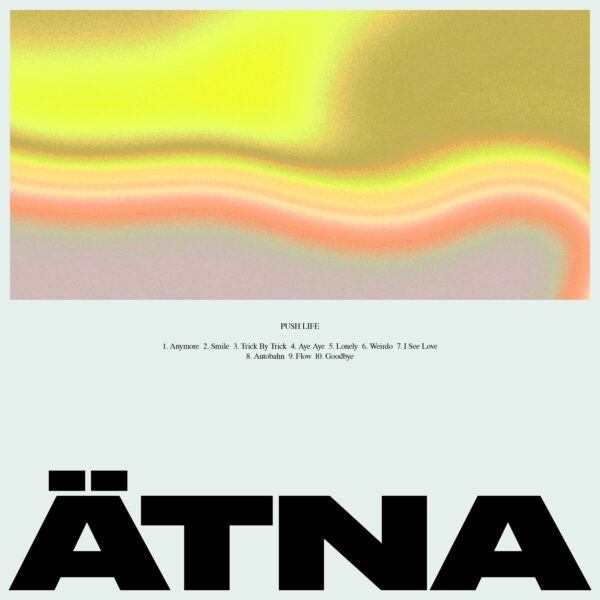 ÄTNA make music to bounce to on a pink exercise ball in a concrete desert, to exorcise your darkest demons in leather harness and confetti gun. Push Life is the second album of the Dresden-based Duo and pursues their musical vision of – well, something that the English language does not bend to. Inéz Schäfer and Damian Kappenstein in accordance with the album title, push the genre to its limits. Glittery future pop with a pulsating vein of shady underground electronica, Push Life holds surprised on each track.
But from the last record we already learned that ÄTNA is not just a musical project. The music videos add an essential touch to the tracks. Trick By Trick pokes fun at the show-off music video culture and shows Inéz riding a toy-sized Porsche. Lonely transforms from a minimal synth ballad to the beat of your neighbors techno party seeping underneath the doorstep. ÄTNA live in extremes. Between underground grit and luxury bling, the duo shift shape more than once on Push Life. (Liv Toerkell)
Stream It: ► Spotify / ► Apple Music
---
Pillow Queens – 'Leave The Light On'
Sounds like … soothing indie-rock compositions.

After the tremendous success of their debut In Waiting in 2020, entailing big shows and festival appearances, playing James Corden, making music their full-time occupation and getting signed by Royal Mountain, Dublin's Pillow Queens did the exact opposite of what a rising indie-rock group is supposed to do: Instead of reaching for the stars and putting a blast on their budding means of expression, they went for introspection and meditation on their sophomore Leave The Light On. While their second LP marks a sonic departure for the band, it is a record to keep the glowing flame in the dark alive, it is a companion for the lonely and inward hours and yet is still incredibly fierce and full of expression.
That comforting spirit manifests as early as on the opening Be By Your Side, which kicks off with  walls of gloomy bass and rhythm, only to burst out its hopeful edge, underlined by roaring electric guitars. It doesn't take long to be drawn into this fascinating sonic pool of light, as alluring songs like Hearts & Minds quickly show. Interpreted with seaming ease and yet a cohesive and anthemic force, this one especially catches a special attention, standing as a noisy counterpart to overall more introspective tunes such as House That Sailed Away, No Good Woman or My Body Moves. "Is it cool if I hold onto / Every inch of you / Till my skin turns blue", the latter one exhales in a heartfelt and shattering passion that makes you at once want to sing along and sink into an ocean of thought. And in the end, it might be that compassionate core of the songs of Leave The Light On, that heaves Pillow Queens on a whole other artistic level. (Andreas Peters)
Stream It: ► Spotify / ► Apple Music / ► Bandcamp
---
Confidence Man – 'TILT'
Sounds like … an overdue party relief; fuelled by love, nostalgia and fat basslines.
Following two years of pandemic crisis, personal lock- and meltdowns, a raging war in Eastern Europe and the overall frustration of living in late-capitalistic doom and gloom one can't help but noticing an increased desire for escapism and stress relief. It's for that desire a band like Confidence Man lives for, because their joyful and euphoria-driven dance-pop delivers exactly that: an antidote for all the despair, something to make you smile and remember that not every aspect of human existence is miserable right now. Well, and even when times are tough, we can still rave together, right? Having made themselves a name as a furious live band in the past four years leading couple Janet Planet and Sugar Bones along with sound magicians Clarence McGuffie and Reggie Goodchild return with a follow-up to their entertaining 2018 debut album. And while Confident Music For Confident People was already quite a joyful experience, the follow-up turns things to eleven, if you know what I mean. TILT is a full-blown dance experience, delivering floorfilling anthems with dignity and delight. "This is my house, the house that I built with my own two hands / And if I so desire I will burn it down," states Janet Planet right in the opening Woman and sets the mood straight for what's about to follow. Quite quickly we're in 'hands up' party territory.
Feels Like A Different Thing takes this notion even further – a pumping bassline, the almighty 'Amen Break' and an entire gospel choir are present here. Confidence Man know how to deliver the whole 'over-the-top' feeling of 90s dance music with … well, true confidence. If you happen to love the sound of that era and grew up to it like me you'll find everything in there … massive basslines, house pianos, breakbeats, bright trance synths and lots of 'wait, I heard that before somewhere' moments. It's not a total surprise since the band spent a lot of time hanging in the studio with a few renowned musicians from that era, like Gregg Alexander (yes, the guy from of New Radicals), Simon Carmody and U2 producer Andy Barlow. Rumour says that there are even uncredited cameos by Noel Gallagher and The Edge on the record. From start to finish, this album slaps – whether it's tight house party vibes (What I Like), trance-infused pop (Holiday), funky disco pop (Angry Girl) and a bit more chilled moments (Push It Up). TILT pushes the boundaries of the already pretty crazy Confidence Man concept even further. It's a furious and joyful affirmation of life's pleasures and therefore it's indeed a must-listen experience for all of us this spring that long to shake a bit from that heaviness of the past years off. (Norman Fleischer)
Stream It: ► Spotify / ► Apple Music / ► Bandcamp
---
Susanna – 'Elevation'
Sounds like … musical dance of classical music, poetry, and contemporary experimentation.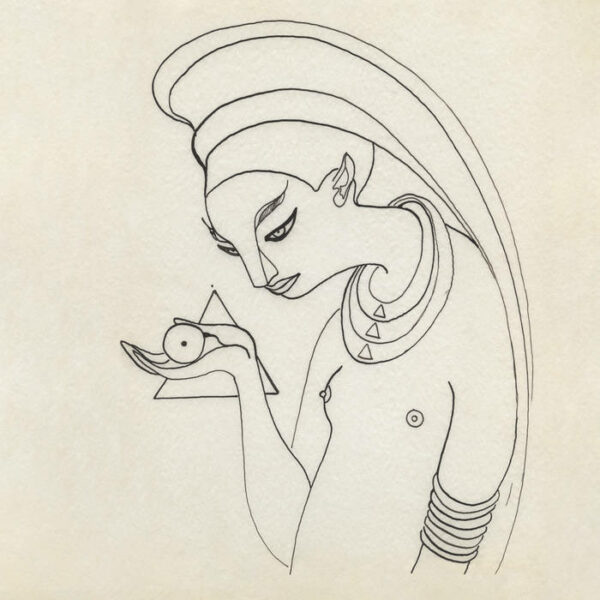 Elevation is something that happens without my doing. The moment of elevation is a passive one, I let my weight be lifted by another force. It is a fitting title for the new record by the Norwegian singer Susanna. With layered vocals sometimes classical sometimes experimental, and slowly unfolding soundscapes, the album creates a cosmos outside of gravity. The unconventional sense of time and space that Susanna expresses in her music can be heard on Rose-Pale Dawn. The minimalistic five-minute long track consists of few elements but in its breathy exhale combines electronic distortion that almost sounds like field recording with classical flute melodies.
Susanna's musical inspiration rests on the long tradition of classical music, poetry, and artists but makes the tradition contemporary by adding her individual experimental touches. On several one-minute-long interludes, she recites lyrics in French underlaid by church-reminiscent choirs or spoken into an echoing hall. Piano and vocals come together on the title track to a melodic ballad. Elevation impossibly is heavy and weightless, the depth of Susanna's compositions invites you to let go for a moment and if you trust the Invitation to the Voyage, she will carry you softly. (Liv Toerkell)
Stream It: ► Bandcamp
---