MGMT – 'Little Dark Age'
The duo's fourth full-length is another adventurous piece of psychedelic pop – and quite possibly their finest release since that legendary debut album.
It somehow feels as if MGMT are constantly fighting a battle against the misapprehension of what people think they should actually sound like. Over the course of the past decade it turned out that the in-your-face pop of Kids and Time To Pretend was actually the exception, not the rule and ever since their debut album Andrew VanWyngarden and Ben Goldwasser have to fight against a somehow wrong perception. MGMT were never interested to create easy-going indie pop anthems, yet they are still capable of writing them if they want to. Little Dark Age, their first full-length in almost five years underlines that. Compared to the self-titled predecessor the duo does indeed open its sound to more traditional song structures again, making Little Dark Age their most accessible release since the almighty Oracular Spectacular.
She Works Out Too Much delivers the fitting direction at the beginning and unveils funky 80s groove with saxophone support. A more synthetic vibe is undeniable on the record, especially in the cold title-track or the extremely catchy Me And Michael. However, Goldwasser and VanWyngarden also leave enough room for their beloved psychedelic detours in songs like the romantic James or the almost five minute long instrumental Days That Got Away. MGMT love to play with the listener's expectations, that much is for sure. That's why you'll find a gloomy notion right next to a certain tenderness on songs like When You Die or the gentle closing track Hand It Over. Restless, adventurous and highly talented – this band isn't interested to please you but by celebrating it they actually achieve the opposite. Yes, the contradiction is keeping the fun alive for MGMT. (Norman Fleischer)
Song to get you started: Little Dark Age
Stream it now: ► Spotify / ► Apple Music / ► TIDAL
---
Son Lux – 'Brighter Wounds'
Mastermind Ryan Lott gives a deep insight into his personal experience in ten intense songs.
'I can't bear another day like this // I had wanted a better world for you.'
These are lines that get directly under your skin and reverberate in your head for a long time. They are part of Forty Screams, the opener of Son Lux' new record Brighter Wounds. A personal and intimate album which is affected by singer Ryan Lotts recent emotional experiences: the birth of his son and the loss of a close friend. Two contrasts that encounter each other: birth meets death, joy meets sorrow, health meets disease. Transferring these contrasts into Son Luxs music, the album starts with a whispering that develops itself into screaming (Forty Screams) and is followed by an almost pathetic synthie hymn (Dream State). Afterwards follow some calmer songs, among others the minimalistic R'n'B track Labor which deals with the dramatic reanimation of Ryan Lotts son during his birth.
To end the album, Son Lux chose the song Resurrection in which everything is doubted first to be seen more positively in the end – maybe there is still hope for us, maybe a resurrection after the current instable times will follow, where everything is much better than now. No more political wrongness in the world (especially in the US where the band lives), no more war, no more hate. Brighter Wounds is a journey through Lott's personal ups and downs that are accompanied by Rafiq Bathias unique guitar sounds and Ian Changs special drumming style. Although the record is much more personal than its predecessors Bones and Lanterns, Son Lux maintain their specific music style that combines Lott's exceptional voice with an imitable sound which is pretty hard to describe. Probably because it unites so many different musical elements. Son Lux music can be anything – and that's exactly what makes the band's sound that exceptional. (Miriam Wallbaum)
Song to get you started: Dream State
Stream it now: ► Spotify / ► Apple Music  / ► TIDAL
---
Susanna – 'Go Dig My Grave'
Not your normal record, but the artist's strange adventures capture something powerful. 
Now on her twelfth album, Norway's Susanna is nothing if not productive, and lives up to no creative impulse other than her own. Whether it's collaborations with Jenny Hval (Meshes Of Voice) or eccentric pop music, her artistry is always distinctly her's. This album is another that it's difficult to see anyone else coming up with: as part of a freshly-minted quartet with harp player Giovanna Pessi, accordion player Ida Hidle and fiddle player Tuva Syvertsen, Susanna has collected ten songs from sources wide (modern classics, old traditionals and her own work) and put together a curious, unique record.
Though pulled from a wide variety of sources, a common thread runs through these songs of a deep sadness and emotion, shared DNA  that can be found in the traditional The Willow Song right through to Joy Division's Wilderness, that's even present in the Baudelaire poem she sets to music (Invitation To The Voyage). Those songs are stripped down and rebuilt in baroque, austere elegance and grace by the quartet. Though it doesn't always work (Lou Reed's presence hangs so heavy over Perfect Day it's difficult for anyone to pull off a cover that doesn't just make you want to turn on the original), when it does it stuns, like on Wilderness, where she pulls out and enhances the original's natural folk occultism.  It's a strange record, and most people probably won't listen to it more than a couple of times. But those that do fall for it will fall in deep, and lose themselves in an album rich enough to captivate forever. (Austin Maloney)
Song to get you started: Wilderness
Stream it now: ► Spotify / ► Apple Music / ► TIDAL
---
The Wombats – 'Beautiful People Will Ruin Your Life'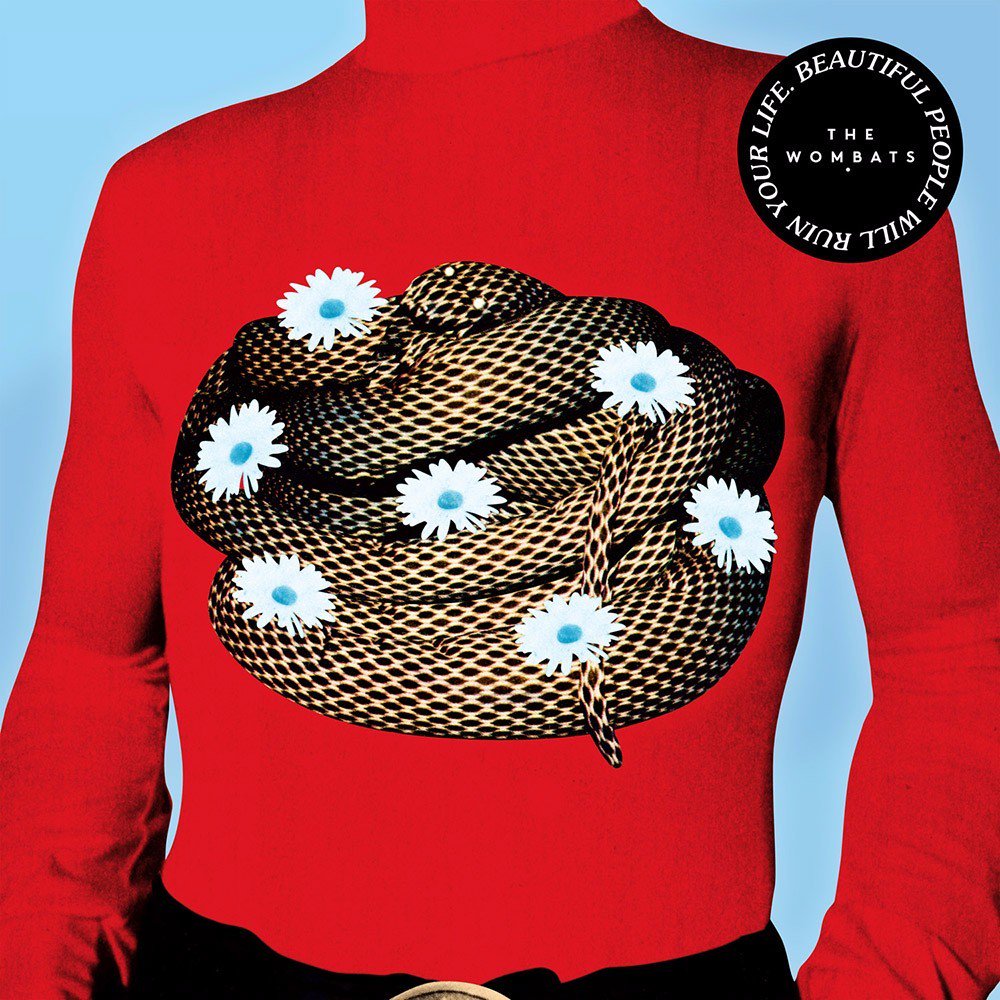 A little bit more mature, partially a bit more gloomy but without loosing their typical ease.

The last Wombats album Glitterbug (2015) handled a lot of different themes: the exciting chaos of a new town and a new love, with all its issues. On Beautiful People Will Ruin Your Life, singer Matthew 'Murph' Murphy is married, L.A. became his home and he tried to fight the chaos, the party and problems, wich failed, as he says. So the album connects to the predecessor insofar as it deals with the singer's personal life and love life in L.A., which he now tries to create more mature and serious, but it won't always work like that.
This exact feeling is also reflected in the sound of the album, it goes up and down; dark seriousness, e.g. I Only Wear Black, changes to jauntily pop parts you wanna get college girl drunk to and sing along, like the opener Cheetah Tongue. Besides all the melancholia, they still create beautiful and tragicomic images in sounds and words, as they always did and what you've come to love them for. The whole album vibe is perfectly transported by its first single Lemon To A Knife Fight, which Murph wrote after a real fight with his wife. You can only lose, but who cares, you can still dance to it, right? Sounds like a familiar theme for the The Wombats who managed to make an album which sounds cooler and more adult without losing their humorous charm. (Elia Schick)

Song to get you started: Lemon To A Knife Fight
Stream it now: ► Spotify / ► Apple Music / ► TIDAL
---
Niklas Paschburg – 'Oceanic'
The young composer's full length LP turned into a conceptual ambient record showing the different sides of – as the title hints – the ocean.
Niklas Paschburg's influences from genre pioneers like Nils Frahm or Ólafur Arnalds peak through the entire record. To leave a remaining impression on the listener he didn't hesitate to dig in his own discography as well and pick features from his first EP, like its title track Tuur Mang Welten, elaborate it with atmospheric synthetic soundscapes and re-release it on Oceanic. The record takes you on a 42-minute journey through the sea, displaying the different shades of the great unknown: The calm and the rough, the smooth and the harsh, the comforting and the threatening. From the first track Pier to the last Appear, Paschburg's conceptual thoughts work out. Beautiful wavelike piano lines mixed with sound samples, that he recorded himself while spending several months at the Baltic Sea, and decently used noisy distortions are layered one by one to create strong images from mild coast breezes to stormy seas. The underlying minimalistic electronic beats are just enough to feel the song's pulse and leave space for the piano to unfold.
The twelve songs on Oceanic are easy accessible and don't challenge the listener by drifting in a too arty or avantgarde direction. Although the piano melodies stay mostly linear and one-dimensional, Paschburg manages to create a fitting atmospheric whole. Even though still lacking a portion of adventurousness and unpredictability to fully catch up to the pioneers of the Neo-Classic genre, Oceanic is an overall remarkable and intensive debut LP, leaving plenty of space for further development. (Abhilash Arackal)
Song to get you started: Spark
Stream it now: ► Spotify / ► Apple Music / ► TIDAL
---