London Grammar – 'Californian Soil'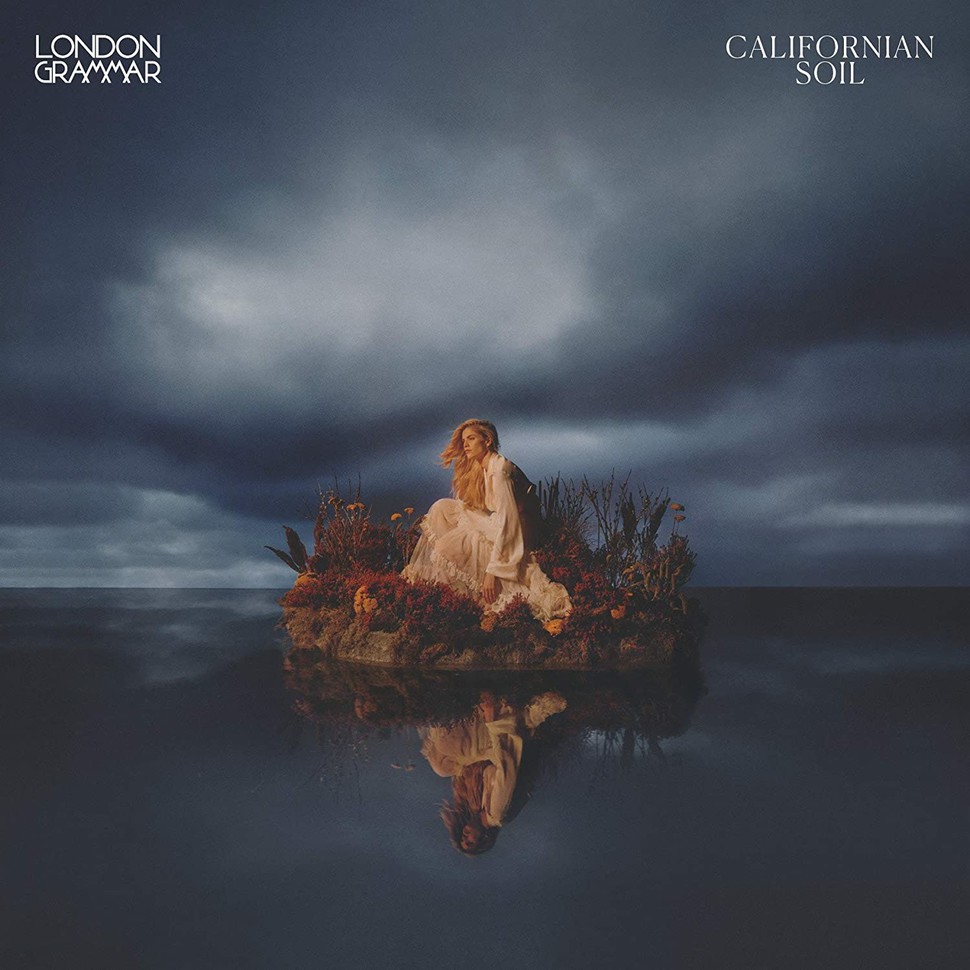 Sounds like … a strong sonic epiphany, dancing between vulnerability and empowerment.
Having acquired the reputation British dream pop trio London Grammar has, for the third record, following 2017's Truth Is A Beautiful Thing, it was either up to the band to "release an album that's exactly the same, or experiment and try and be brave", according to band leader Hannah Reid. The wordsmith and front singer did only have the latter thing in mind, that much is clear after listening to the stunning Californian Soil. Freeing herself from the flattened hierarchy of the three-piece as it was before, she took a bold step into the limelight for this production, declaring herself as the central voice and firm leader of the group. And the message she has to deliver is one of determination and fortitude, born out of vulnerability and anguish.
After a solemn and swelling introduction, as ethereal as it can get, the title track Californian Soil kicks in, and it does so in a forceful and demanding manner. "And I never had a plan / But I'm glad I found you here", Hannah pours her heart out in a haunting piece about "a lost woman finding herself". It is a record about "the female experience", and in particular, Hannah's misogynistic experiences in the music industry, quite frankly. However, this message doesn't come with a hammer, but is delivered in songs soaked in wistful lyrics and engulfing spheres of sound. With a lot more dance-pop and electronic upbeat charm than one might expect of a London Grammar record, Missing and Lose Your Head underline the newfound progressive ethos and add a promising perspective to the otherwise gloomy terrain the lyrics dig in to ("Can you see all those parts of me / Broken across the world?"). 
That celebrated dualism of music and text then even more comes to display on How Does It Feel. Initiated by solemn synths and Hannah's vocals, significantly reverberating against the minimalistic skull of the song's structure, the tune quickly changes into a raving and urging attire, charged between poles of wavering passion ("Pure emotion, let it burn / Like fire, do you yearn for a change?") and sentiments of loneliness and despair ("How does it feel, now that I'm gone? / How does it, how does it feel to get low? / How does it feel, now you're alone?"). It's with incredible subtlety that the idea of America as a symbol  of a broken beautiful idea is eventually implemented, as an outer bracket that holds together the songs from Californian Soil up to the closing and cathartic America. If this tune sounds conciliatory in any sense, then only because this record has hope for you in the end, no matter the harsh the realities that led to this prospect: "And I hope that you find it, all that you need / I hope that you stay young and wild and free".(Andreas Peters)
Stream It: ► Spotify / ► Apple Music
---
Low Island – 'If You Could Have It All Again'
Sounds like … a rush of warmth and wistfulness you can groove to.
There is something odd about writing the words "Low Island" and "debut album" in the same sentence. If You Could Have It All Again is in fact the Oxford band's first full-length release, yet it builds on four EPs, elaborate creative collaborations and a sound that was always too big for one genre. Think of an immersive mix of dance/electronic and indie, laced with acid jazz and funk, that charms like pop until it doesn't – which seems to be the point. Opener Hey Man, for example, begins with a single note that pulsates like an alarm before the arrival of Carlos Posada's muted falsetto. At around the one-minute mark, the rest of the band (Felix Higginbottom, Jamie Jay and Jacob Lively) start to join in, only to stop and re-start, in fits and swells, as if they were warming up on their own time. When they finally do sync up for the lush payoff, the song ends. To put it another way, the first track is more of a statement than a first taste, along the lines of: We could make a pure pop album, but we're not going to.
The surprise comes not only in the music, but in its contrast to the lyrics. The shimmer of Don't Let The Light In distracts from a more somber tone, only exposed in the bare-boned reprise – possibly the most haunting moment of the album ("Now you're etched in the air / A perfect silhouette / And I can't undo it"). In Your Arms is not so much a love song as a last goodbye, and its unexpected, off-kilter shift recalls In This Room, one of the band's moodier EPs. As for live-show staple I Do It For You, the refrain ("Everything I do / I do it for you") might be less earnest than it sounds, though with a groove like that, who cares? Because with the exception of a few tracks, the album is an invitation to move. Whether it's a stubborn head-bob to Feel Young Again or flailing abandon during Who's Having the Greatest Time, Low Island seem to know that even the most guarded have to let go sometimes – and that only comes with experience. (D.B. Miller)
Stream It: ► Spotify / ► Apple Music / ► Bandcamp
---
Andy Stott – 'Never The Right Time'
Sounds like … gloomy, twisted soul searching via abstract electronic soundscapes.
It's been ten years since Andy Stott's critically acclaimed debut album Passed By Me offered a fascinating antidote to the slick club culture of the early 2010s. The Mancunian producer wasn't interested in pleasing the typical four-to-the-floor-mentality and although music journalists quickly labelled his music as 'ambient techno' (or partly also 'dub techno') the sound of Stott was always freed from such categories. Instead he managed to build a musical world of his own with his albums and EPs. There once might have been a common techno foundation for his music but ten years later that sound has shifted into a dark and trippy twilight zone and it looks like Andy Stott isn't interesting in leaving it anytime soon. For a brief moment, however, it looked like he would. 2019's It Should Be Us was a more straight-forward affair and in early 2020 he already had a new album ready and an offer on the table to produce a mainstream artist. Well, that didn't happen and instead of making that next step, the shy producer withdrew from music for a certain time. Luckily he didn't stay away from his passion for too long but decided to approach it in a different way. Instead of working with fixed ideas he began to record hours of raw material; slow horns, sibilance, delayed drums, wondering flutes, field recordings. The track ideas grew out of the sounds.
Never The Right Time captures this raw vibe in a pretty spectacular way and marks a return to form for Andy Stott. Always Not Gone opens the album in a gloomy, captivating vibe. We hear noises in the distance, randomly popping in like ghosts in an empty factory hall. It hypnotizes the listener before a melancholic guitar riff and the haunting vocals of longtime collaborator Alison Skidmore give the track an almost optimistic and hopeful ending. Over the course of these nine tracks Stott experiments with various track ideas. The title-track circles around slow grooving breakbeats while Repetitive Strain unravels hart hitting yet quite playful synth patterns. Answers takes a short detour into club territory at the beginning but slowly moves into a different cosmos. It's a pleasant experience to witness this journey of self-renewal and reinvention although the music itself isn't always the most pleasant one. The tracks hide their beauty under lots of reverb, distortion and weird twists that might challenge the untrained listener but once you give in to this world it's packed with so much beauty and fascinating sounds that you won't take your ears from it. Andy Stott still sounds unlike barely any other electronic music producer these days; he's a creatively stubborn individual that's not interested in following the easy path. These first ten years have been a wild ride and I'm more than curious to see where the next decade is taking him. (Norman Fleischer)
Stream It: ► Spotify / ► Apple Music
---
Son Lux – 'Tomorrows III'
Sounds like … a conclusion with an open end.
Back in 2020, the avant-garde music trio Son Lux started to release their music in a new way: they created a greater concept, which involves not only one LP but three. The trilogy is called Tomorrows and the last part – Tomorrows III – is released today. Like the title already implements, the whole concept revolves around the future. Not only the music – which consist of futuristic and experimental elements – but also the lyrics investigate the unknown tomorrow and explore things we could change today to make the future better than current times. On all the LP's, Ryan Lott, Rafiq Bhatia, and Ian Chang question their surroundings, test their personal and musical limits, and reflect their own identity assembling it in new ways. Just like the music, which feels like a collage of sounds constructed in innovative schemes.
Whereas Tomorrows I feels like an experimental journey through various genres and soundscapes, Tomorrows II takes some clearer and more focussed parts and the concluding piece, Tomorrows III, unifies and settles both predecessors. Although the album starts with the avant-gardist opener, Unbind, the following pieces are calmer and seem to finalise the search for a world full of innovative sounds and unique genre connections. The trio even steps out of their musical bubble and invites three other artists on board – the American musician Kadhja Bonet, the composer and clarinettist Holland Andrews, and the Los Angeles based singer Kiah Victoria. They draw the music into other directions and add a special twist to the album which the trilogy's other parts lack. After two records full of musical experiments and challenging sounds, Tomorrows III lines up perfectly. It continues Son Lux's personal and musical journey by creating a hopeful conclusion to their creative quests. This conclusion fuses the predecessors without bringing the reflections and experimentations to a full stop. The tomorrow will always be unknown and uncertain. And there is no end in change and personal growth. (Miriam Wallbaum)
Stream It: ► Spotify / ► Apple Music / ► Bandcamp
---
Ex Olympic – 'XO'
Sounds like … between cinematic soundtrack and singer-songwriter. 
The Capetown-based producer and composer Nikolaas Van Reenen sets his foot into the world as a solo artist with his debut LP XO. Under the alter ego of Ex Olympic, the musician who has previously collaborated with several other bands and written scores for film and TV, digs into a personal musical niche. Driven by honesty and nostalgia, the record explores the most human experiences like existential dread, indecision, and heartbreak. In a one-person-show kind of stunt, the artist does everything himself, from the production to singing.
The pained experience of these utterly human experiences is conveyed in the brooding vibe of the songs. Closer (Part 1) features an almost orchestral, soundtrack reminiscent instrumentation. The dramatic piano chords fade into the hushed vocals of the singer creating and even soundscape, to be taken over by gloomy strings. Closer (Part 2) is the other piece of the puzzle and contrasts its predecessor like night and day. The energetic, distorted instruments wake from the sleepy nostalgia of the other track and catapult into a different mindset. Yet, with dynamic shifts and a return to the more stripped back song, the musician brings the almost-instrumental song back around to fit into the scheme for the record. XO is shaped by the personal experiences of the artist, his background in film music, and his collaborations, but still manages to set him apart and stand on own feet. (Liv Toerkell)
Stream It ► Spotify / ► Apple Music
---