Christine And The Queens – 'Chris'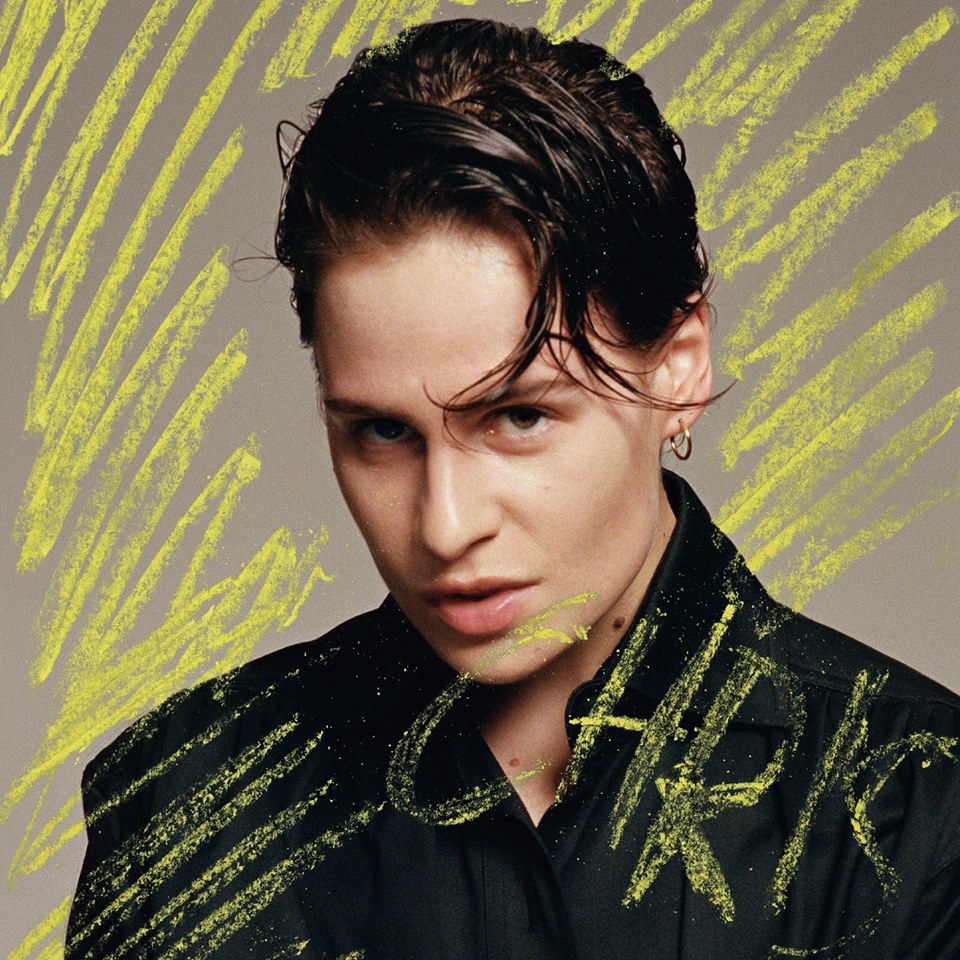 The second full-length by the distinctive French artist aims even higher and underlines her ambitious run for pop music's new leading lady.
From today's perspective the career lift of by Héloïse Letissier appears to be both – logical and consequent but the French pop superstar worked quite hard on it, following the release of 2015's debut LP Chaleur Humaine. Following critical praise in her home country she constantly took the idea of Christine And The Queens though the whole world, re-recorded her songs in English, released new music videos, toured endlessly and put the word out wherever she can. With the release of this follow-up record Letissier suddenly found herself in the A league of global pop and Chris is an album that manifests that new confidence and status. Chris is not only the name of her second full-length, it's also the name of her 'alter ego' and self-conception, allowing her music to take a gender-bending perspective on things. It's a catchy approach to break down our current conception of these things.
'Especially in France, I felt like I had to do shitloads of explaining about being queer,' Letissier explains, 'It lacked nuance most of the time – I was saying I was pansexual then the headline was, 'She's bisexual!' And that sums up the themes of the record pretty well. Christine And The Queens are not about making a specific feminist album, it goes beyond that and Letissier turns these messages into really sweet pop songs. Tracks like the singles Girlfriend and Doesn't Matter are instant hit that channel the funky pop approach of Prince and Michael Jackson and take them into the here and now. Comme Si and Goya Soda are keen to not avoid her French roots which makes the sound even more charming. Christine And The Queen combines profound songs with slick production, delivering a state-of-the-art pop record you really should not miss. (Norman Fleischer)
Song to get you started: Doesn't Matter
Stream it now: ► Spotify / ► Apple Music / ► TIDAL
---
Villagers – 'The Art Of Pretending To Swim'
Expect the unexpected from Villagers. Again. We're talking about the really good kind of surprise here. Synthesizers, samples and a groove are only a few ingredients of Villagers' latest stunning work that we're immediately seduced by. 
The truth is – there is no one quite like Conor O'Brien aka Villagers when it comes to the craftsmanship of songwriting paired with a great deal of sensibility and an equally marvelous use of language and soundscape. His latest studio album The Art of Pretending To Swim is another proof of his distinguished work that sees the Dublin based musician evolve his creative spirit in a way that feels intimate and adventurous at the same time. From the emotional depth and highly introspective angle of his preceding album Darling Arithmetic to the more rhythmically playful and groove based beauty of The Art of Pretending To Swim, Villagers mastermind Conor O'Brien's ability to come up with heartfelt songs full of emotional as well as sonic warmth remains irresistible.
Subtlety and ambition have always been the cornerstones of O'Briens previous albums which he continues to put on display on The Art of Pretending To Swim once more without treading water. In fact, he sets out to new waters that are sonically even more eclectic. The use of his Moog-synthesizer creating a lot of the lively vibe we can hear throughout the whole album. However, it does not overshadow the exquisite sonic details and beautiful arrangements that make Villagers' fourth album a cohesive and highly interesting listening experience on many levels. Faith, one of the various lyrical themes on the album, often steps forward just enough to hold out its hand, gives us a feeling of security and reminds us why the strength within us is sometimes bigger than we think, even when everything seems to fall apart around us. The Art of Pretending To Swim isn't an album that lets itself indulge in these moments of emotional fragility or self-doubts. If anything, it has an overall freeing character that offers a lot of ground for exploration. What a relief to know that albums like this one still exist in these often shallow waters of pop music. (Annett Bonkowski)
Song to get you started: Long Time Waiting
Stream it now: ► Spotify / ► Apple Music  / ► TIDAL
---
William Fitzsimmons – 'Mission Bell'
The evolution of heartbreak by William Fitzsimmons: Mission Bell is a lesson in how we grow with our relationships, even if they end badly.
Thinking about what a lovely lad Mr. Fitzsimmons is, it's cruel to even think it but: As a listener one almost wishes that his heartbreaks may never stop. Unforgotten is his 2008 masterpiece The Sparrow And The Crow on which Fitzsimmons dealt with the disintegration of his first marriage. Ten years later, it would be ironic if it wasn't so devastating, he's dealing with the end of his second marriage. But things have changed. With kids involved, the whole, fucked-up story of what happened in the course of making this album and Fitzsimmons having aged, Mission Bell is not about the bottomless bleakness, juvenile anger or a male ego that's been hurt. It's about dignity; not pointing fingers, but giving in to the sadness that 'sometimes love just ain't enough'. Or as Fitzsimmons laconically sings in Angela: 'Maybe we'll find out that we're just not made for each other/ but baby you're the best thing that I've ever found'.
The new tone of William Fitzsimmons' ruminations on his failed relationship, the blame he equally takes for it, also resonates within the music. Where his former songs strongly relied on his voice and solo acoustic guitar, tracks like the aforementioned Angela or Wait For Me come in a full band sound. Mission Bell was recorded live on tape, deliberately reducing the help of overdubs. Which results in a nice mixture of intimacy, immediacy and the traceable effort to make the songs sound big enough. That way, f.e. the electric Americana guitars and upbeat of Wait For Me are turning the songs title more into a demand rather than a desperate sigh. Fitzsimmons managed to add layers to the black and white he used to represent in his songs. That's what he kept telling around the release of this record: Especially in human relationships, there's no black and white. It's all grey. And with Mission Bell, strangely, one is reminded that it can be quite colourful sometimes as well. After all the comfort he gave us for the hard times, it's about time William Fitzsimmons returns to a happy, satisfied place soon. I'm sure he'll still have a lot of beautiful music to make out of that. (Henning Grabow)
Song to get you started: Angela
Stream it now: ► Spotify / ► Apple Music / ► TIDAL
---
Metric – 'Art Of Doubt'
Emily Haines and her band finally return to form with their most furious 'on point' record in years.
Celebrating your 20th anniversary as a band seems to be a fitting moment to shake up things a bit. Canadian indie-rock institution Metric did exactly that on their seventh full-length. For the first time since their 2003 debut Oh World Undergrund, Where Are You Now? guitarist Jimmy Shaw wasn't involved in the production of the album but handed duties over to Justin Meldal-Johnson who previously worked with Nine Inch Nails, Beck and M83. And the band around Emily Haines really needed that fresh spirit after 2015's Pagans In Vegas felt as if they hit a dead end creatively. It wasn't entirely bad but when especially in comparison with their former greatness on Live It Out (2005) and Fantasies (2009) you sensed a certain stagnation. Art Of Doubt, however manages to be both – a continuation and an injection of fresh blood. Haines and her fellow musicians are ready to attack again, that much seems to be sure.
Dark Sunday delivers a rocking start and a catchy melody before Love You Back shows a catchier side of the group. The current political climate also shapes the sound and content of Art Of Doubt. It's the rebel yell of the Metric microcosm. The tracks are more upbeat rocking than on their last releases although the four-piece is keen to not ignore their high affinity towards pop music. Honestly, nobody makes a lyric like 'Is this dystopia?' sound sweeter than Haines in the fancy 80s-infected Die Happy. The tension and urgency to, well, simply 'do something' is sensible all over the place in pieces like Now Or Never Now and the title-track. Ballads are a bit less prominent on Art Of Doubt which helps to keep the pace up. Just like in their heydays Metric manage to combine a certain stubborn indie rock spirit with gentle radio-friendly pop melodies. Not many bands are still capable of handling this balance that well and I haven't heard a song like Dressed To Suppress from The Killers in forever. Maybe the time of Metric isn't over yet as their best album in a decade shows that you can still count on this gang. What a pleasant surprise. (Norman Fleischer)
Song to get you started: Dressed To Suppress
Stream it now: ► Spotify / ► Apple Music / ► TIDAL
---
Beak> – '>>>'
Formerly Geoff Barrow of Portishead's side project, on their third album, Beak> prove they are much, much more than that. 
Despite this being only Beak>'s third record, amazingly the band have been around for a decade, building their aura of hypnotic motorik psychedelic music over 2009's debut > and 2012's >>. This slow and patient approach to releasing their music, however, is pretty consistent with the music itself as Beak> take steady jams and create magic with them, such as on Brean Down here.
>>> is arguably the band's best set of songs yet, soundtracking your favourite post-apocalyptic sci-fi thriller you haven't seen but need in your life. The band flit between Neu and Can inspired drone songs like Alle |-ü Sauvage or RSI to Beatles-esque chamber pop, as the strings on Harvester attest. The trio even find room to squeeze in and out and out pop song – though in their classic chopped and screwed style – on King of the Castle before finishing on the spooky ballad When We Fall which has a deathly, finite feel appropriate to closing this excellent record. Beak> have been staggeringly consistent throughout their career and >>> is no different. (Adam Turner-Heffer)
Song to get you started: Brean Down
Stream it now: ► Spotify / ► Apple Music / ► TIDAL
---