---
---
Animal Collective – 'Painting With'
Release-Date: 19.02.2016
Label: Domino
ANIMAL COLLECTIVE, Maryland's quintessential swirl of colour, are back in the world. A new record, Painting With, was premiered over Maryland Airport's loudspeaker system, and then subsequently drummed into the eardrums of anyone lucky enough to wrap themselves around a sneak-preview – if they could find one.
This record pulls us away from early screaming experimentalism and psychedelics infused tribalism, through Post-Pavilion's euphoric declaration that synths are ludicrously good fun, into the concise rhythmic interpolation of a new set of sonic priorities. It's not a new band. It's still very definitely ANIMAL COLLECTIVE. That said, in this record the squeezed contemporary bass sounds brush up against crushed percussion, while relentless sing-a-longs become a clear indication that this band isn't making shorter, poppier tracks such as Vertical, or new single Golden Gal, just because their label forced them too – instead, it's because they didn't know how, and set about working it out. (Sam Slater)
NBHAP Rating: 4/5
---
---
Wild Nothing – 'Life Of Pause'
Release-Date: 19.02.2016
Label: Captured Tracks
We live in an age where dreamy 80s-infected shoegaze pop/rock might be THE big hipser sound of the moment. From DIIV to MAC DeMARCO, from ARIEL PINK to DUCKTAILS: as long as its smooth, psychedelic and in any case dreamy the kids are up for it. In that movement John Alexander Tatum and his alter ego WILD NOTHING are pioneers. Tatum took some time off since his last album back in 2012 and his third full-length, Life Of Pause continues right here where Nocturne ended. WILD NOTHING have always circled about the idea adding a bit more pop to the familiar recipe than its competitors. THE CURE, DAVID BOWIE, 80s FLEETWOOD MAC – everything can be found in excerpts in the sound of Life Of Pause as well, making it a joyful exeprience for all those who are suckers for that sort of soft and sweet wave pop.
From the gentle bells and beat-driven opening of Reichpop to the surprisingly rocking Japanese Alice – Tatum takes his songs far more out of the shoegazing fog than on previous releases. Just take the album's title-track which is basically as pop as pop can be, or at least should be. Still, there's enough space for floating psychedelic pieces like Alien and Adore. In the end, WILD NOTHING's newest full-length isn't that different from its predecessor. The epicness of To Know You pretty much sounds like the logical continuation of Paradise. Everything remains the same in the sun-drenched and soft microcosm of Mr. Tatum. That makes you question how many incarnations this strange sub-genre actually needs. Well, as long as the result is as pleasing as Life Of Pause  the hype doesn't need to be over. And with such great pop songs on his hands Mr. Tatum shouldn't be worried at all. (Norman Fleischer)
NBHAP Rating: 3,9/5
---
---
Isolation Berlin – 'Und aus den Wolken tropft die Zeit'
Release-Date: 19.02.2016
Label: Staatsakt
Oh, hey. Have you already woken up? It is Friday around lunch time and there is a new record out everyone is talking about, at least in the German indie scene. It is the debut of ISOLATION BERLIN and the album is called Und aus den Wolken tropft die Zeit. The first record of Tobias Bamborschke and his fellow lads is one for the he she its, it's a release between thunder and blitz as we cannot get away with the fact that a compilation that comprises their earlier songs, Berliner Schule/ Protopop, is released the same day – and you should hear both, of course. The double release shows an interesting development: While ISOLATION BERLIN's early work often depicts and focuses on the metropolis and its deficiencies, the songs of their debut concentrate on the 'self' and its metropolitan life.
Basically, it is the combination of the band's meaningful lyrics like 'Alle wollen dasselbe, doch nur für sich allein / Ach, wenn wir nicht so hungrig wären, wie glücklich könnten wir sein' (All of us want the same, but only for themselves / Oh, if only we weren't as hungry, how lucky we could be, 'Verschließe dein Herz') with a sound that can best be described as a mixture of rough indie rock, punk and noise as well as funk elements that makes Und aus den Wolken tropft die Zeit so bitter sweet, outstanding, and relevant. Bamborschke's singing (and thankfully) shouting gives the rough sound and its witty lyrics an additional immediate touch. And that is indeed the record's crucial point: In terms of their music, ISOLATION BERLIN do their own thing, at times they might sound like a hint from the past, but the protagonist's voice and lyrics transport the songs into the here and now. This is what makes Und aus den Wolken tropft die Zeit probably the most 'current' record of the here and now among the local scene. It's got such an immediate sound that it almost embraces its listeners. Hi, ISOLATION BERLIN. (Chris Hegholtz)
NBHAP Rating: 4,8/5
---
---
Jack Garratt – 'Phase'
Release-Date: 19.02.2016
Label: Islands Records/ Universal
JACK GARRATT – a name that's hard to pass by anymore. Slowly but surely the man with the drum machine has been making a name for himself. Mostly due to his one man live show performances solely accompanied by his drum machine, electric guitar, piano and loop pedal that really make a concert one hell of an experience. And the man has been awarded accordingly. Receiving the BBC Sound of 2016 – previous winners including ADELE, SAM SMITH and JESSIE J – as well as winning the BRITS Critics' Choice Award it's already been a great start to 2016 for the musician. Phase is a well mixed blend of both very catchy and up tempo songs such as Worry, Breath Life or Chemical – the style most people are familiar with while listening to JACK GARRATT – but also softer and more romantic songs that display a whole other side to the musician.
Some of those more tranquil songs include tracks like Surprise Yourself or I Know What I Do. It's those surprisingly mellow tones that really sink in and stand out. Best example is strangely enough the last track on the new record. Called My House Is Your Home, the song is an acoustic track with only GARRATT's soulful voice and piano which makes up a rather peaceful bluesy ending. The album might not be as clean cut as expected but has just the right amount of roughness to it. And then there's the definite comparisons to the likes of JAMES BLAKE or CHET FAKER that can't be ignored while listening to the LP. But being at the start of it all it's definitely something that GARRATT can work on for future albums (and we're sure there is a promising future ahead). All in all, it's a prime album with an excellent blend of club pleasers and heart felt lyrics – all with that JACK GARRATT signature electronic vibe. (Marla Geesing)
NBHAP Rating: 3,3/5
---
---
LNZNDRF – 'LNZNDRF'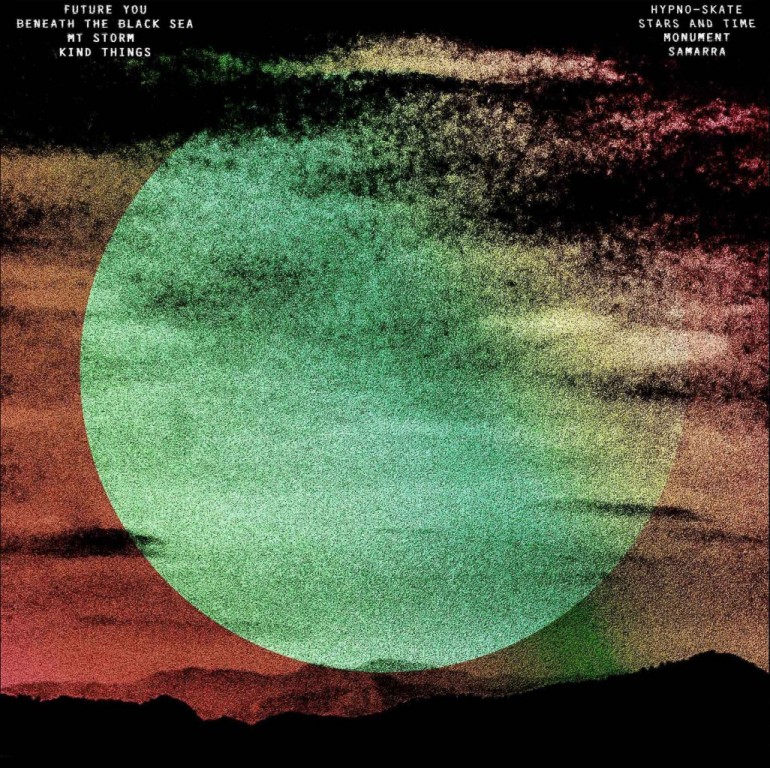 Release-Date: 19.02.2016
Label: 4AD
Let's be honest, most of the time when a side project appears, it is nothing more than a volatile distraction. A pleasant one if you are lucky. With their self-titled debut album, LNZNDRF come at you with a nonchalance that sees the trio pulling off one lenghty track after another that sprays a vibe similar to the jam sessions these songs are crafted from. Recorded over two and a half days in Cincinnati, the Devendorf brothers from THE NATIONAL as well as their musical companion Ben Lanz from BEIRUT plunge into a series of songs that are more accessible than their jawbreaker band name, but still don't feel the need to be standard in any way.
Four out ouf eight songs are even instrumental. Almost all of them like to meander around a main idea with the band exploring this paricular depth carefully that is often rooted in Krautrock. This works surprisingly well. The overall tone of the record is an adventurous one for the collective group. (Annett Bonkowski)
NBHAP Rating: 3/5
---
---
Ida Gard – 'Womb'
Release-Date: 19.02.2016
Label: Revolver
IDA GARD is releasing her third studio album this Friday and a first listen to it shows us that a strong female voice and a bunch of gorgeous instruments can make an album that defies genres. The entire album sounds like an almost childlike, adventurous expedition both through words, meaning and music. Having said that, the album carries a certain femininity and confidence that is definitely not childlike – there are probably many sides to IDA GARD and they are all present on this album.
The tracks on Womb don't let themselves be labeled in the terms of musical genres, but are all over the place. The Heat is nothing short of a powerhouse rock song, while On The Floor is closer to the singer-songwriter genre. The album also houses the atmospheric My Vittula Pt. 2 and an acapella track called He Spoke to Me. GARD's talent for playing with meaning and interpretation already became clear with the release of the album's title-song Womb in November, but are again showcased on this album. Especially with the song I Didn't Pick This Dress where GARD is vocally accompanied by Steffen Westmark who sings I DIDN'T PICK THIS DRESS / BUT I AM COMFORTABLE IN IT / IT DIDN'T ASK FOR THIS / BUT I'LL TAKE WHAT I AM GIVEN. Though it could mean a thousand things, I'd like to think GARD is playing with gender in a delicate and beautiful song. (Kim Hoftijzer)
NBHAP Rating: 3,4/5
---
---