---
---
Garbage – 'Strange Little Birds'

Release-Date: 10.06.2016
Label: Stunvolume
The alt rock icons go back to basics, releasing their 6th studio album that fore sure make us want to relive the 90s all over again. There aren't too many bands that can take the stage after 21 years together with such energy and power that it instantly transports you back to the day you first fell in love with them. Nonetheless there are a few, and GARBAGE is certainly one of them. After recently kicking off their international tour, GARBAGE is back with Strange Little Birds. Experiencing the highs and lows of reaching mainstream success and several hiatuses, GARBAGE is now releasing their new project on their own terms and record label, Stunvolume. For those of us with a serious case of 90's nostalgia, Strange Little Birds offers that signature sound that will take you straight back to 1995. As always, their latest record is expertly produced, tapping into a diverse landscape of sounds – from pop, industrial and grunge.
Of course, the lyrics aren't short of the raw darkness that has always made GARBAGE feel like they are describing our innermost thoughts and secrets. Yet this time there is a softness that comes along for the ride. For the girl that's only happy when it rains, there is a light shining through the clouds. Leading lady Shirley Manson describes their latest release as the 'most romantic' one, and attributes this album to getting back together on their own terms – returning to the 'beginner's headspace'. The album's opening track, Sometimes, comes in heavy. Right away Manson takes us to the core with the lyrics 'sometimes I want to destroy'. As the song goes on she steps back a bit, and allows herself to be vulnerable: 'Sometimes I feel so jealous/sometimes I feel insecure', she sings. There is something wonderful knowing that one of the most iconic female singers of the 90s also needs to soften the edges. On 'If I lost you', Manson is anxious, she's frustrated and she's emotional. 'Sometimes I believe I might die if I lost you'. Like everything GARBAGE has ever produced, Strange Little Birds isn't easy listening. It's loud, it's raw and it's very much from the heart. But on this album they let us get a little closer. Perhaps it was riding out the storm and finally settling somewhere that has let GARBAGE make, yet again, a challenging original album that could only come from years of experience of being true musical icons. (Amanda Gray)
---
---
Big Deal – 'Say Yes'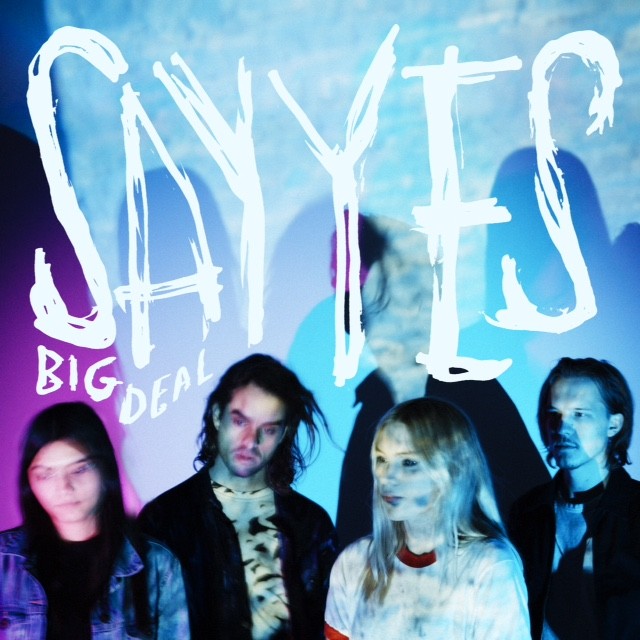 Release-Date: 10.06.2016
Label: Fat Cat Records
Love comes, love grows, love goes. Relationships can be a rollercoaster ride quite often and unfortunately an unlucky end seems inevitable. The story of BIG DEAL comes quite close to such a dramatic one. Californian rocker (Kacey Underwood) meets well-educated British girl (Alice Costelloe). They fall in love with music, themselves and the idea of what they could be together. Their tender first LP Lights Out from 2011 documented that naive feeling of having a crush for each other, spending warm summer days together while not thinking about the future that much. The follow-up June Gloom intensified that feeling, presented a new rhythm section and made BIG DEAL sound noisier and more furious than before. But far too often the decline following the peak is inevitable and that brings us to Say Yes, the third full-length by the duo which is now basically a quartet. Prior to its release, Underwood and Costelloe ended their relationship (which they kept pretty private anyway aside from the music), lost their record deal with Mute and almost their entire music when their apartment was robbed.
What's left to do in such a situation? Right. Fuck it! Say Yes! Costelloe, Underwood and the rest of the gang play more furious and uncompromising than before. Hold Your Fire and the grungy Avalanche start the album as a statement of strength and stubbornness. And although the new BIG DEAL record might be the noisiest so far, the tender melancholic aspects of their music still shine through from time to time. The title-track combines shoegaze-infected early 90s sweetness while the two protagonists painfully state 'I won't tell you everything works out right.' Reflective sadness and angry defiance go hand in hand on this release, best documented in the core piece Veronica which starts like a summerly midtempo ballad but turns into a furious hurricane at the end. Desperation grabs Costelloe as she asks 'What song could I sing to make you understand?' No, there's not much left of the Lights Out tenderness here. Instead, a powerful tension took hold of BIG DEAL, resulting in grooving material like V.I.T.R.I.O.L. and Don't Forget. The band described their three full-length releases as one big concept album about the rise and fall of love. The epic finale Idyllwild feels a bit like the natural conclusion of this affair, a reflective acceptance of the inevitable and it might be one of the band's most powerful songs so far. If this actually marks the final chapter of BIG DEAL it would be a satisfying finishing point and if not I surely can't wait for the future. (Norman Fleischer)
---
---
The Temper Trap – 'Thick As Thieves'

Release-Date: 10.06.2016
Label: Infectious Records (Europe)
For the size of its population, Australia manages to squeeze some solid acts out of its borders. One of the gems, THE TEMPER TRAP, is finally back at it again, putting out their third studio album, Thick As Thieves. It's been just over four years since they released their last bit of music. Their sound hasn't exactly evolved much in this gap, but we're also not pegging that as a negative. The record is what you'd expect: a solid lineup of uptempo, feel good tracks bound for radio success and festival bangers. It's music meant to catch an audience and keep them around wanting more.
Burn, Alive, and Fall Together – the three tracks that THE TEMPER TRAP teased the album with – give a pretty solid picture of the rest of the record. The songs are poppy but not overdone, and fall very much in line with their debut album, Conditions (think: tracks Fader and Love Lost). Though the record isn't pushing any major boundaries for them, it is their first album since parting ways with former guitarist Lorenzo Sillitto, which we discussed with them in an interview a few months back. THE TEMPER TRAP also worked with externals for the first time, bringing in a handful of writing and production collaborators to fill out the album. They worked with the likes of Justin Parker (LANA DEL REY, BANKS), Ben Allen (ANIMAL COLLECTIVE) and Damian Taylor (BJORK, THE KILLERS) to make the best setup for a pop-rock album. (Sasha Chebil)
---
---
Weval – 'Weval'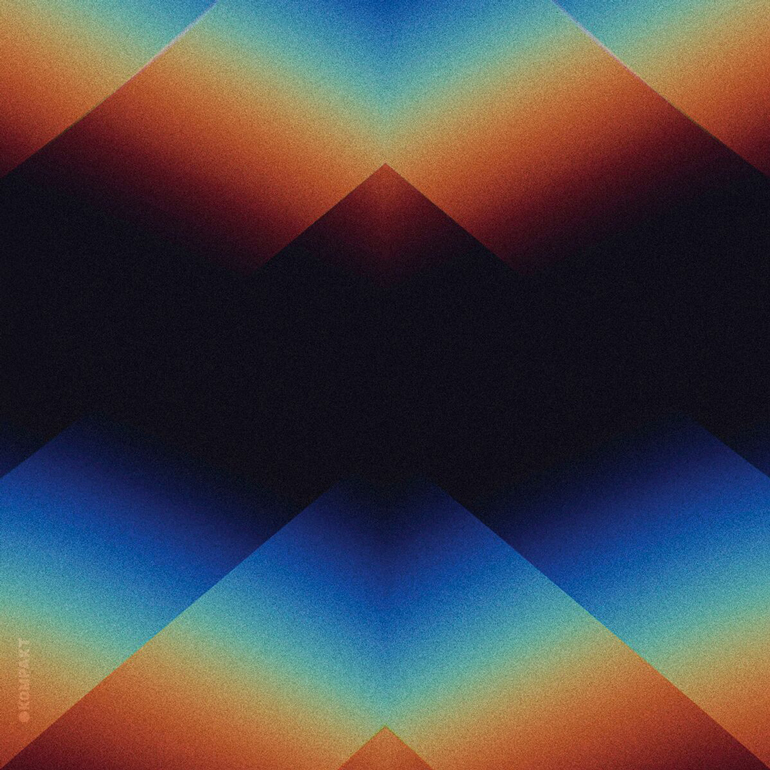 Release-Date: 10.06.2016
Label: Kompakt
WEVAL is a mixture of many different influences that results in a monochromic classy soulful electronica – far from powerless on the dancefloor. The Amsterdam duo pushes the edge of production with their minimalist but incredibly powerful tracks. Their sound has a large room to express itself, and the brazing synth are impaled by dancy rhythms in a MODERAT-style. WEVAL self-titled first full length isn't a song album, despite vocals being so important in their signature sound. More than often, the voice is only an instrument, a sampled texture, that tells a story by intonations and fusing colors and not by words. For this first full length, they position themselves not as outsiders, but as a duo that has made a name for themselves over the past two years. They notably released three EP that led them to headline festivals and demonstrate why the simplest and most refined ideas are always the best to communicate with. We had the chance to see them perform only a few weeks ago at the Nuits Sonores festival in Lyon. It is an environment where WEVAL is excelling because despite going for a dark melancholic electronica, it is before everything a music designed to be shared and to dance with.
The album in itself is quite a great success and manage to draw a coherent story – which was a hard task as their sound is too united to be really efficient at storytelling. The chord progression is always very simple, but they find other ways to be creative. They're playing with the thin unconscious equilibrium that make their sound classy – through textures and structures – and they're doing it with an astonishing confidence. Nonetheless, they could quite easily shift in a bad-tasted area. Their most difficult challenge in the future will only be to keep everything going without something new – an idea or an influence – unbalancing their chemistry. WEVAL self-titled works and much more than that is an unavoidable piece of the year, mainly because they've done it so confidently that it finishes in bright glimpses of optimistic perspectives for their futures with You Made It (pt.1 and pt.2) and Years To Build that we can't not believe in them. WEVAL has challenging adventures ahead, but most likely they'll shine and make the most of it as every ephemeral things in the world should do. (Bastien Perroy)
---
---
Alexis Taylor – 'Piano'

Release-Date: 10.06.2016
Label: Moshi Moshi Records
ALEXIS TAYLOR is the man of numerous projects. He is not only the lead singer of HOT CHIP – with which he released Why Make Sense last year on Domino – but he's also involved in ABOUT GROUP and he has released several solo albums. This new one, Piano, is the follow-up to Await Barbarians released two years ago and which we really loved. These solo projects are always the chance for ALEXIS to reveal a bit more of himself, trading the groove and the energy for the intimacy and the soul. Piano is no exception and is even more private in its minimalist setup: a single piano and the whispers of a peaceful ALEXIS.
The virtuosity of the album isn't in the way it is played, but in the way it is felt. A song like Just For a Little While is written by the brother of Vince Sipprell – one of ALEXIS TAYLOR close friend who took his own life during the recording sessions. In the following song Don't Worry, ALEXIS tries its best to find ways to deal with that. The album is also composed of some covers such as the CRYSTAL GAYLE song Don't It Make My Brown Eyes Blue, proof that ALEXIS TAYLOR values more the honesty than the narrative in its project, being more sensitive about his soul's desires.
You'll feel this lack of narration only if you try to approach this piece as a story. It's simply not the case, because when you go naked you simply don't want to project a tale – you just want to express a certain kind of humanity. You might find it boring, and if that's the case you'll be more happy with the HOT CHIP discography. But if you find a way to let it go, a way to have a listen when you're ready and when your environment permits it, you might also find one of the most emotional albums of the year. (Bastien Perroy)
---
---
Band Of Horses – 'Why Are You OK'

Release-Date: 06.06.2016
Label: Interscope Records
A decade ago the first record of BANDS OF HORSES was released, after the band's conception in 2004. Back then they helped shape a new kind of melancholic indie-rock that was popularized by film and TV shows such as The O.C. and became part of a new teen cult in the mid 2000's. Today, it's time for the fifth studio album Why Are You OK to hit the stores. Much has changed since then and some hasn't. The melodies as still as bittersweet as they were ten years ago. But BANDS OF HORSES are no longer four grungy kids living with their parents. Different musicians have come and gone. Creative mind and lead singer Ben Bridwell has remained as the consistent driving force behind the band. Today the members of BANDS OF HORSES make a living out of being musicians and lead family lives.
Bridwell let his new role as a father of many daughters deeply influence the new record. It's more down to earth lyrically, touching upon universal emotions and putting emphasis on simplicity. On the other hand this record feels more grand musically – a bit more voluminous, a bit more electronic and a bit more rock'n'roll. While the lead single Casual party is experimenting with lo-fi speech recordings, songs such as Country Teen take the sound back to the folk roots of the band. It's a perfect combination of the old and the new, which only a band with a long tradition and history such as BANDS OF HORSES can achieve. (Nora Hiller)
---
---
Augustines – 'This Is Your Life'

Release-Date: 10.06.2016
Label: Caroline / Pias
AUGUSTINES come back with a new album called This Is Your Life. The New York trio wrote this new chapter in various countries, including collaborations with artists as far away as Senegal. The AUGUSTINES are able to express a perfect mix of electronic and rock, projecting them in a upper dimension. This third album is the follow-up to Augustines and Rise Ye Sunken Ships – but takes a more diversified path. The Forgotten Way Revised is a beautiful bittersweet song that tastes like THE NATIONAL powerful melancholy. When Things Fall Apart is a wonderful dance song where LCD SOUNDSYSTEM fight against FUTURE ISLANDS. The opening track Are We Alive? is a forceful rock song with a heady chorus.
There's also time for contemplation across some ballads. Landmine is a touching guitar-voice ballad while May You Keep Well is a spiritual ode. This Is Your Life is a very good album: it is various and contains very beautiful songs that make you travel from one landscape to another. Slowly, and without noticing, you've finished your listen and your first thought is to get your head back inside it again. Clearly, AUGUSTINES are at their best in this new step of their career and have exciting years ahead. (Fernando Rennis)
—