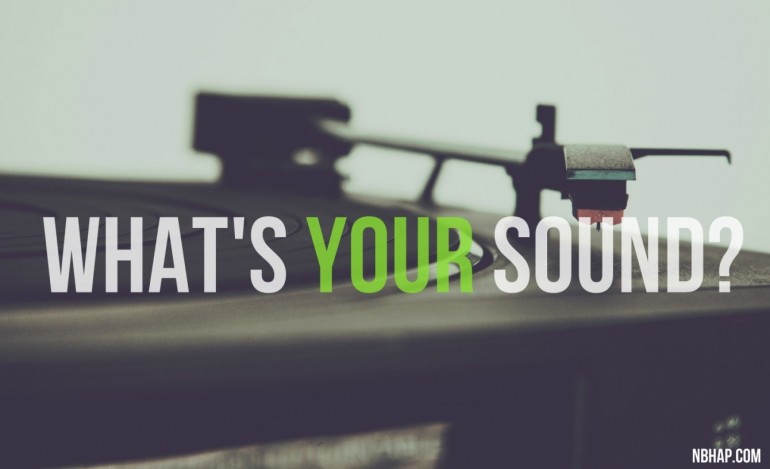 NOTHING BUT HOPE AND PASSION has always cared about new talent, quality music and giving those a platform who deserve the attention, but even our mail inboxes are stodged way too often. However, we've always tried to find new ways to write about fresh and exciting music and thanks to the power of SubmitHub it's now in your own hands.

What's Your Sound? is the possibility to showcase your music, present it to our readership and a larger audience in general. Using what artists submit to us via our SubmitHub profile the NBHAP staff will pick five thematically related tracks and present them in a weekly installment. We don't just want to throw together a bunch of music without context; instead, each new installment will have its own umbrella theme, giving artists a possibility to tell us about how their music relates to the bigger picture, while encouraging you to dig deeper and discover similar bands as you read along.
---
---
Christmas is only a few days away, and most of us are already mentally preparing to spend a few calm days with their beloved ones. It's the perfect way to find inner peace for yourself after this tumultuous year 2016. And what would quality time be without the right music? The five tracks we present today perfectly fit the contemplative days we are looking forward to. This time we invited each artist to tell us a bit about what kind of role music plays during Christmas.
---
---
Kalon Rae – 'Icarus Lullaby'
KALON RAE is a London-based artist with a unique contemporary style, fusing anthemic pop with cinematic, indie and urban influences. His Christmas single Icarus' Lullaby was inspired by Matisse's The Fall of Icarus.
Icarus has been the epitome of arrogance for thousands of years. But I wondered if he actually did want to reach beyond the stars because he was looking for a better world.
The song resonates with the contrary emotions that Christmas evokes – a shroud of melancholy and nostalgia that envelops the expectations placed on us: that Christmas equals happy moments, time with loved ones.
---
---
Shields – 'Wonderful Christmastime'
SHIELDS, who have released their debut album How Can We Fix This? back in February, have strangely been off our radar this year. Carrying the torch of their disbanded colleagues THE MACCABEES with innovative alt-pop instrumentation and delicate harmonies, the Newcastle-based 5-piece band have recorded a cover of PAUL MCCARTNEY's Wonderful Christmastime. All fans of THE BEATLES, the video's recording was a good excuse for them to wear Christmas jumpers and drink some mulled wine, as well as a way for guitarist/synth-player David Williams to reminisce about his childhood when his dad played the PAUL MCCARTNEY track frequently.
I wouldn't describe myself as a scrooge character, but I generally not a fan of most Christmas songs. I'm currently making a playlist for Christmas day and I've only included a Vince Guaraldi Trio album, from Snoopy, to bring the musical Christmas spirit.
---
---
Gerhardt – 'Suzie, little Child'
GERHARDT is a Dutch artist and musician. Since his early twenties, he has been a career musician who has played many different styles and expressed himself in many different ways. Recently his third solo-album What Lovers Do has been released.
The album is a chronological depiction of that fever called love. All the songs connect to tell the story of the mysterious distance between two lovers. But the album also has this cyclical quality, where the last song of the album effortlessly flows back into the first.
Suzie, little Child is the third single taken from GERHARDTs new record. It's a slow and moody track that fits perfectly to the Christmas days with its melancholic background choir, a short saxophone solo and the minimalisitic black and white video.
---
---
filous – 'Let It Snow'
FILOUS is a nineteen-year-old Austrian producer who began to deconstruct tracks by his favorite independent artists to flip them into alternately exhuberant and wistful dance remixes. Dabbling with and mastering every instrument that intrigues him, FILOUS evolved from a naturally gifted instrumentalist to precocious beatmaker artist. His rework of the classic Let It Snow is a relaxed but also danceable piece that is in no way inferior to the original.
Music on christmas is nostalgic! It reminds me of family reunions and eating cookies. Music on Christmas really is such a big part of the festivity for me.
---
---
Marika Hackman – 'Winter Wonderland'
If you've been following NOTHING BUT HOPE AND PASSION for a while you should know talented British songwriter MARIKA HACKMAN by now, following the release of her acclaimed debut We Slept At Last last year. Just before the holidays begin, the talented artist released a special winter EP called Wonderland for which she made her own interpretations of well-known Christmas tracks. But we already told you that, right? One of them is the famous song Winter Wonderland. MARIKAS version of the old Christmas classic is a bit slower, darker and moodier than the Original, but equally beautiful.

---
---
If you're interested in listening to more up-and-coming artists, be sure to check out NOTHING BUT HOPE AND PASSION's Daily Tune Playlist on Spotify, featuring all tracks we recently covered. And of course, share your music with us via SubmitHub.

For other more frequent news don't forget to follow NBHAP on Twitter and Facebook as well.
—