I (Chris Hegholtz, editor's note) still remember the first time I saw Xul Zolar perform live. It's been on my birthday and I had the chance to enter a now allegedly inconspicuous room that for many years housed the legendary Kling Klang studios of Kraftwerk. The Cologne-based band played a short live set as part of a concert series that took place in the newly restored former home of Düsseldorf's electronic pioneers. The event series Live at Elektro Müller resulted in a triumphant success as it allowed contemporary acts to breathe life into a place that maybe more than any other stands for progress.
As I was watching the concert of Xul Zolar going ahead at these holy halls, friends and strangers alike clearly shared a sense of admiration for what the band does, namely to combine pop and electronics in a very clever and catchy way without losing an experimental appeal. The music, however, is held together by Ronald Röttel's dirge-like vocals that have always been more of an additional instrument within the band's overall sound aesthetic.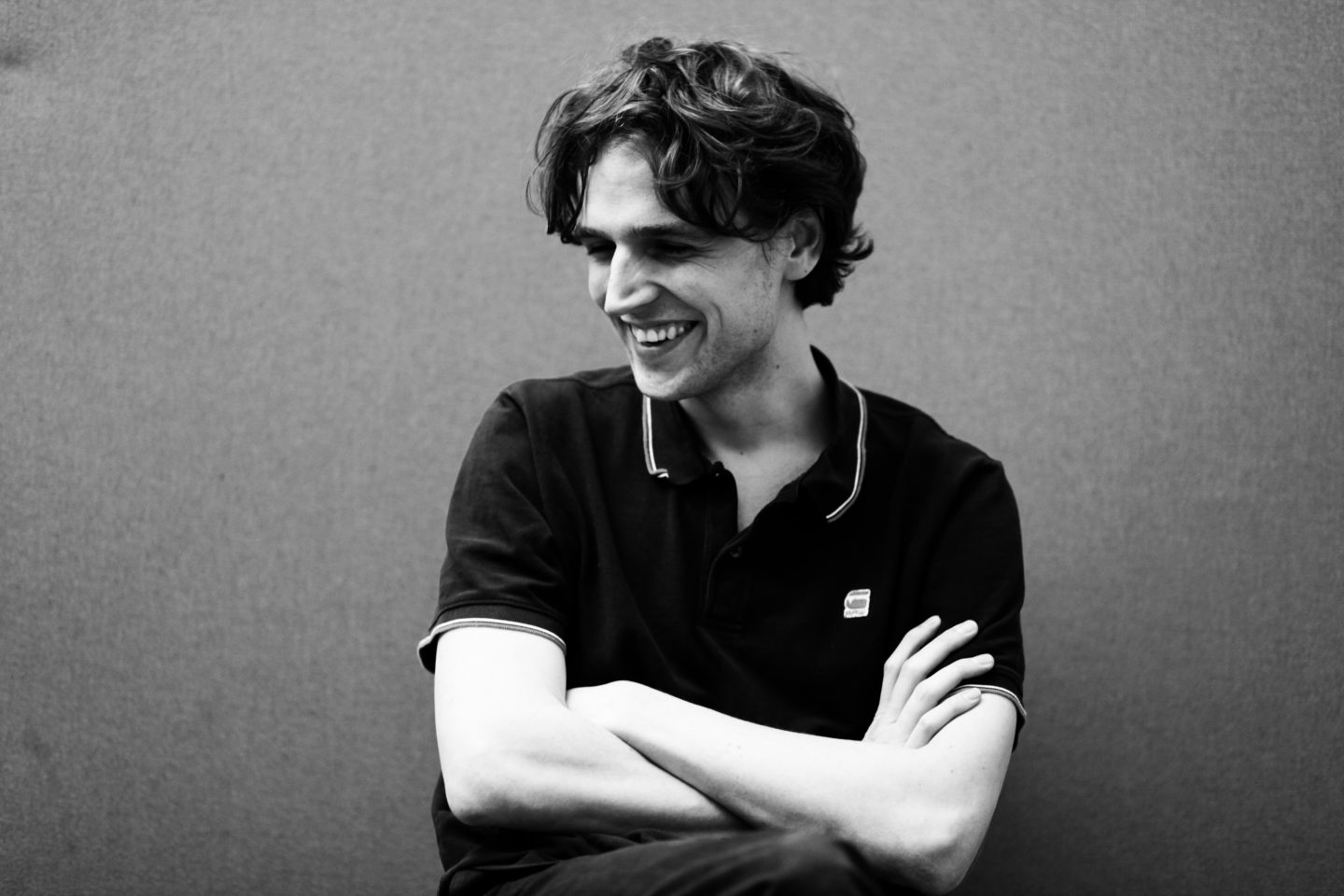 Still, not only does their sound let the band seem interesting, but it is also their outward appearance as well as self-presentation onstage. Especially Ronald and guitarist Marin Geier embody a look that in a way is reminiscent of early Joy Division promo shoots: minimalist and smart. The moment they enter the stage, their communicative tool is the music. Little do they talk, little do they move. It's the music that speaks to the audience. And almost three years onwards from their performance at Elektro Müller, there are plenty of new tunes to be discovered and to be talked about as Fear Talk, Xul Zolar's debut album, has been released in early 2018. As we will learn, a lot has changed for the band ever since then.
It is a cold but clear day as we leave the bus somewhere outside the city centre of Cologne. The first thing we notice is a huge cemetery to our left while to our right a series of tombstones is set up for sale. Nothing here really conveys the impression that the reason for our attendance is indeed a happy one. After being around for more than six years and the release of various EPs, Xul Zolar finally put out their first full-length record Fear Talk. Today, the band invited us to their rehearsal room in order to speak about the time they spent recording the album.
From fear to love
When Marin shows up, he instantly realises that we are slightly puzzled by the location that we are stranded at. 'It's become difficult to find a good space to rehearse. This place was suggested to us by a friend and it's really beautiful. The owner wanted to provide some space for creative people to work in', he tells. Xul Zolar rehearse at the property of a large-scale carpentry. It allows the band to have enough space to house and practice their instruments, just hang around and discuss band affairs or make use of a kitchen when they want to have dinner. When we enter the generous rooms, we are greeted by a small Buddha known to belong to another Cologne act who released their debut album Happy Freedom last year. 'We share this place with Woman', Marin adds.
The story of both Xul Zolar and Woman is more intertwined than one might actually think, as they are the only two acts signed to Asmara Records. With the small label aiming at having full energy available for each of the two records, the Cologne band delayed the release of their own album in favour of a 2017 release of Woman's Happy Freedom. And so both albums hit the street consecutively with a time difference of seven months. In the meantime, Xul Zolar had accomplished an internal line-up change. Dennis Enyan, whose duty it also is to play bass for ABAY, joined forces with the band and helped it to become a quartet. The addition of a new member seemingly shaped the sound of the Cologne act. Not only does the band look more complete on promo shoots as well as onstage, but also their live and studio sound underwent crucial changes and now appears more mature.
How does the band experience the release of Fear Talk after having been an integral part of the so-called Cologne scene for so long? 'Some time ago we feared that there would never be a whole record', Marin concludes. 'Writing an album is quite a challenging thing to do. And as it is so often the case with challenges in life, I guess we feared the challenge itself the most.' The question soon arises whether or not the band still fears anything now that the album is done. 'We don't fear bad reviews or anything like that. Basically speaking, it's more that we sense a basic fear or uncertainty symptomatic of millennials. It's connected to issues such as getting a job, earning money or one's role in society', explains Marin. Be that as it may, Xul Zolar fortunately overcame their fear of not being able to write a whole record. Therefore, the vibe of the band has noticeably changed. 'It's different now. I feel kinda relieved and happy now that the record is out', drummer Dennis Hofmann clarifies.
As we learn, Fear Talk is not inevitably fear talk. 'There's a twist to it, because the title track is actually a love song', Ronald says. 'Once it ended up on the album and we decided to make it the title track, the term instantly became incredibly charged with meaning. It's exciting that the term is able to associate and link so many different layers.' It turns out that creating the album meant not only overtaking inhibitions, but finding a way to work together in a changed setup following the release of the Tides EP, explains Dennis Hofmann. 'After we had managed to arrange those tracks live, we found ourselves in a new situation – I was suddenly part of the creative process.' However, their first attempt to write songs together as a three-piece in a studio was unfruitful as Ronald recounts: 'It completely escalated and didn't function at all – we only wrote one song there. We soon realized that communication becomes so strong that we become inhibited and unable to be creative.'
Overcoming one's inhibitions
The solution, according to Ronald, was to work separately and flesh out ideas until they are ready to be heard by the others. 'That alleviates the pressure and the feeling of being pent-up while at the same time forcing you to work hard on it. Such a kind of distance is very important to me.' This kind of workflow soon became the defining characteristic of the production process. 'We seldom worked on the album all together, but of course we always had the material of the others', explains Marin. 'One of us did something with our producer, then somebody else came on board. This necessarily focussed our communication on the musical aspect. We were confronted with what others had done and tried to find an answer to it.'
'What was central to the recordings was allowing ourselves to speak as musicians. We didn't map out everything beforehand, but rather tried to play as it comes natural to us in the moment. We did try to incorporate jam aspects, but of course that occurs within this corset of computers and backing tracks we have.' (Ronald)
Producer Marvin Horsch played a vital part in the process, pushing the members of Xul Zolar to both leave their comfort zone and trust their instinct as musicians. 'We all come from entirely different genres, yet still we tried to use what came from within ourselves but wouldn't necessarily be associated with this kind of music', Dennis Hofmann explains. With Horsch's assistance, the band consecutively peeled down layers, opting for more prominent individual parts rather than a dense mosaique of sounds – a process that didn't come without its own challenges. 'There was indeed resistance during the production of the album that needed to resolve itself and which was different from the EP', Ronald recounts.
'The EP was about pushing all elements as far as possible into the background and conceal them, to make them merge into a complete equality of all elements. With the album, it was resolved by Marvin sometimes forcing us to concentrate on our performances – such as trying to get me to sing properly, for instance.' (Ronald)
Listening to the record gives the impression that Fear Talk did indeed alleviate some of the concerns the band had harboured beforehand. What is more, it seems like it also gave answers to questions that occurred before and during the production of the album: 'What is Xul Zolar all about, what are we good at, which of our skills make sense in combination with the others?' And according to Ronald, he too saw a radical change taking place: 'It was letting go of a paradigm: of trying to reduce a song as much as possible to a set of few melodic and harmonic elements and attempting to recreate the moment of a chorus in every minute of a song.' Instead, Xul Zolar were finally following the flow. 'During the creative process we noticed that these songs are becoming more and more band-like and this is where it unconsciously leads to', Dennis Hofmann concludes. 'We took it from there and said 'this is happening, we need to push it further'.' And so they did.
All Photos taken by Felix Weichelt for NBHAP.com