Spring in Germany and Hamburg shows itself from it's best side: Grew clouds, continuously dizzel rain and a harsh wind blowing in from the North Sea. 'Schmuddelwetter', as the natives call. Nothing new here North-Germany.
On this day, Damon McMahon, the face behind Amen Dunes, is in town to play a show at beautiful Hafenklang, a venue located right next to the Hamburg harbor with a view on the huge cranes and container ships docking there. We had a chance to meet Damon for a short Interview to talk with him about music. Not the music of Amen Dunes, but what records, songs and artists had an impact on him and made Damon McMahon to the 'strange person', as he calls himself, that he is. To do so, we displayed some CDs in front of him and let Damon sink in.
Bob Dylan – 'The Freewheelin' Bob Dylan'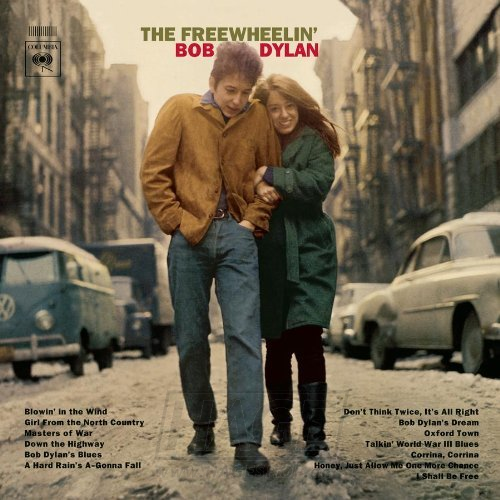 A little obvious but a good way to start this talk, since Bob Dylan is a hearable influence throughout the different records of Amen Dunes: 'My dad turned me on to his records. I guess what I really like about him was his voice. There was some kind of magic just in his voice.' Purposely or not, one could say the same thing about the vocals in Amen Dunes songs. 'Girl From The Countyside might be the first Dylan song I've heard.'
But it was not only Dylan's way of singing and the sound of his voice, but also the poetric style of writing, that fascinated McMahon. Besides music, literature played an important role in Damon's life and affected his songwriting in an indirect way. Authors like William Faulkner or Virginia Woolfe left a remaining impression him. 'I care a lot about words.'
The Doors – 'The Doors'
'I'm a big The Doors fan. I think that The Doors are a really underappreciated band. In the states, people who think they are sophisticated with music would criticize the band for being too over the top.'
Like the The Doors, Amen Dunes records have a psychedelic, even transcended character. Sixties psychedelic-folk band Love is one of the reasons, this sound is so prominent in his records.'Love was kind of the first drak-psych band I heard when I was a little kid. It was a big influence on me.'
Kendrick Lamar – 'To Pimp A Butterfly'
'I don't actually like Kendrick Lamar' was Damon's first reaction after showing him Kendricks groundbreaking record To Pimp A Butterfly from 2015. 'I know it's very controversial, everybody likes Kendrick Lamar.'
Hip-Hop played a big role in Damon's youth. 'When I was a kid, Hip-Hop was what I grew up on. One of the first records I ever got was a Geto Boys tape. And then New York stuff like Eric B. & Rakim and the first Nas record as well as A Tribe Called Quest.' With this musical past, it's even more surprising that Kendrick Lamar dosen't catch Damon's attention. 'I guess because I've never been moved by his music. To me it kind of sounds conservative, musically speaking. He's very good at it, but it's too clean. And he takes himself too seriously – that's one thing I don't like about him. I would prefer Kanye West. Kanye is more free.'
Despite his interest in hip hop from an early age on, political issues, that artists like A Tribe Called Quest addressed in the past, don't play a crucial role for Damon in his day to day life. 'I'm very a-political. But I'm very socially conscious.' The global political affairs seem too rigid and often too complex to have a real insight.
'I focus on my politics within ten feet. You can't change the big politics. But you can change yourself.'
Fugazi – 'In On The Kill Taker'
'Oh, Fugazi. For sure! When I was 13 I got Repeater. 13 Songs and Repeater. It was two records on one CD. Fugazi was the first time I heard that kind of music. I guess you could say Hardcore or dry, aggressive music. It was the first time I heard that style being cool. I was 13, that was really new to me.'
But it was not only the musical energy and roughness that drove Damon to Fugazi . Especially their social involvement with the DIY spirit as it's core left a remaining impression. 'Fugazi is special band. I think they were so cool, because they cared. They're really inspired artist. They motivated to do something. So many bands, especially now, make music because they want to be cool or they want girls to like them and stupid shit like that. This band was so genuine.'
Föllakzoid – 'III'
Föllakzoid from Chile, Amen Dunes' psychedelic label mates on New York-based label Sacred Bones played several shows with Amen Dunes in the past. 'I never listened to their music though', Damon admits with a laugh. Despite releasing on Sacred Bones since his second record Through Donkey Jaw in 2010, he doesn't feel like being part of any kind of community or label family. 'I keep for myself. I'm not really part of any kind of music scene.'
Pharmakon, the industrial-noise project of New York-based musician Margaret Chardiet, is one artist on his label, that he highly appreciates. 'Pharmakon is an artist I really respect. She's really good.'
Oasis – '(What's The Story) Morning Glory?'
'When I first heard them as a kid, I didn't think it was good. But as time goes on this band just keeps getting better with age.'
Even though following a more traditional and sincere approach to music, Damon is a big fan of Oasis, the 90th britpop heroes, with their rockstar behavior and the ongoing Liam and Neol clinch. 'That's cool man. That's just drama. As a fan, it's fun to see the drama. This band is so special because they are like Fugazi, they've been so serious. And they have a really careful style. It's very punk. It's classic rock, but it's very punk. Catchy and very fresh – still to this day.'

The Beatles – 'White Album'
'That's my favorite Beatles Album.' Damon says as he carefully undfolds the cover and takes a intense look at the inlay. 'At the end of the day, my favorite bands are The Beatles, Bob Dylan and The Rolling Stones. I mean, that's the best music. If you listen to popular rock music, why do you need to listen to anything except for this? And that's what Oasis is like. They're like the only band you need to listen to as The Beatles. When you make Rock'n'Roll you only need a few influences for your music.'

A favorite list consisting of The Beatles, Bob Dylan and The Rolling Stones already hints that Damon is a traditionist when it comes to his musical taste. Contemporary music rarely catches his attention. British Post-Punkers Sleaford Mods and Singer-Songwriter Lauren Auder, who supported Amen Dunes on some shows of his recent tour, are some of the few.
'I don't really listen to music at all. I'm a strange person. I don't think of myself as a musician and I don't think of myself as part of a community. I don't identify with music.'
But making music is a something Damon was called to do. Something he can't explain, but a thing coming from deep inside of himself. 'It' something I have to do. It's emotionally important to me.'
Damon McMahon is quite distinct in what he likes and what he dislikes. To him believability, authenticity and genuine emotion is the core of every good record, despite genre, style or decade. 'I have two categories: Music, that affects me emotionally and music I listen to as research. And the stuff that affects me emotionally is very limited. It's stuff like this. The only thing that bothers me are bands not sincere, you know. If they are not doing it for any real reason, if they just do it to have a laugh. I mean these band you mentioned, there is reason.'