The New York based musician just released her self-titled sophomore album. Already the cover hints at the stark contrasts we will be confronted with. The punchy orange background meets its complementary color in the purplish-blue hat towering on the head of the singer. In the same manner, the recent work forms a step forward from Vagabon's previous release, which tended to a more indie rock orientated style of music. With her self-titled sophomore release, Vagabon explores electronic territory inspired out of the necessity of being on the road without privacy for her and the guitar. 'The shift of style was not intentional', she says as she sits down next to me in the warm inside of Berlin's Kantine am Berghain. 'I was not in my practice space where I can play the guitar loudly, so I had to stay quieter. Also, I wanted to push myself and see what else I could do.'
And so, Vagabon overcame her second album slump gracefully with a very different, yet deeply personal work. The artist poured her heart and soul into the album, but also acknowledged the risk that moving onto a completely new territory posed for the fan base she had established with her debut. 'I feel that autonomy as an artist is very important and I have to be able to do what makes me feel excited. If I do not feel it, nobody will. So I gladly took the risk and made this album because I can!', Tamko beams with creative confidence.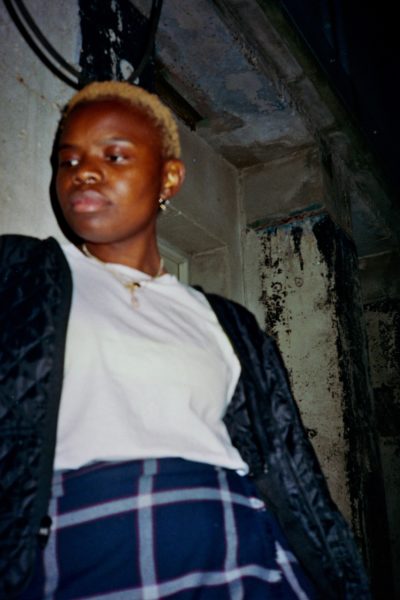 All The Women in Me
Vagabon originally to be called All The Woman In Me, lives up to both titles and embodies the essence of Tamko's spirits in all of its different characters. It is not only different personas but, of course, also different genres. Like that, the experimental Please Don't Leave the Table follows the danceable Water Me Down and the acoustic guitar ballad In A Bind. 'The record was about exploring the music that I like, the music that I don't think I know that I could make,' Vagabon adds.
Inspirations for the record flowed together form a variety of sources, from modern electronic artists to roots African singers. Lætitia Tamko also elaborated her song-writing skills. 'Please Don't Leave the Table I am Still Eating' is musically engaging, as well as, lyrically. 'Leaving the table while someone is eating, I feel, is a powerful image for the feeling you get when you are left behind or when someone thinks you are too slow. It paints the image, which drew me to the line, of two people having dinner – a very intimate moment – and one person getting up. It is the perfect metaphor for disconnection.'
Home Soon
Contrary to that Home Soon describes the utter connection one feels with a place they call home. On the single Tamko aches for a return to her home, accompanied by nostalgia-evoking synth layers. The singer who is originally from Cameron has found a second home in New York City. 'It is a home away from home,' she says about the place. 'I moved to the States for the first time when I was nine but I don't think I fully settled until I was 13. Of course it was not easy but my family and me went through the journey together. Being a child is always hard and moving of country does not make it easier. Especially, when you are into different things because as a kid we are trying to figure ourselves out while simultaneously figuring other people out.'
For her music, New York certainly proved to be rich soil and the artist grew in the creative environment. 'The city is definitely my home away from home. There is this saying that when you have lived in New York for more than ten years you are a new Yorker – so yeah I feel like I have arrived. It is a magical place. It will beat you up but yet make you feel so inspired and hungry for better.'
Keeping in touch with the roots
To her original home, the singer does not return as often as she would like to. 'I haven't been home in a while', she smiles, 'but I plan to be home soon.' Staying in touch with her heritage is an important issue for Tamko. She listens to many artists from West Africa, which also melt into her own compositions. 'I do not work it into my music intentionally but I listen to it a lot so it reflects into my understanding of music making. The way I play the guitar sometimes originates from those influences, I think.' So that made me think. Here at NOTHING BUT HOPE AND PASSION the focus does lay on English language music even though we have been making a pretty good effort to incorporate other artists from around Europe. Yet, African music is a thing the page lacks. So, there is a guide to four essential artists from a person who knows their way around.
'Ali Farka and his son Vieux Farka are incredible', Vagabon tells me. She even shared the stage with the latter. Also Francis Bebey is an important influence for the artist, his African electronica proved of special importance for the latest album. 'And of course there is the legend', the singer adds. 'Manu Dibango, who was a huge pioneer in Makossa Music, which is the music that comes from Cameron.' Digging into her heritage, Tamko found musical and lyrical inspiration. The music that has accompanied her throughout her life sticks with her. 'I am not in search of the same feeling,' she says about what emotion she finds in other styles. 'I am just looking for any emotion. Music does not make everyone feel the same. That is the beauty of it. Everything you listen to evokes a different feeling.'
Four essential inspirations for Vagabon
Ali Farka Touré
Vieux Farka Touré
Francis Bebey
Manu Dibango
Resonating deep into her family roots, are the gospel choirs her grandmother sang in. 'I was around the church a lot as a kid.' She explains. 'This type of music is just magical. It is definitely the type of music that you feel like you are coming alive to. The melodies and harmonies are exceptional,' Tamko dreams of the genre. Vagabon herself did not do gospel, yet was always incredibly moved by the spiritual chants and ceremonies. The intensity that they bear by uniting different people to one powerful voice, is immense. 'I also get that feeling of being alive when I play on stage. There, I feel like I am home and like I am doing what I am supposed to be doing. With any type of creative work you go through phases of self-doubt and of creative confidence.'
'I feel right, I am confident about my new work.'
Later on stage, the musician radiates exactly that level of self-confidence. Skipping between old and new songs, Lætitia switches effortlessly between the electric guitar and the synth-pad, while her vocals fill the entire room.
Vagabon is out now via None Such Rec/ Warner.