Feng Suave, are the Dutch artists Daniel and Daniel. And "yes", they joke "half of the population in the Netherlands is called Daniel". The musicians are about as chill as their music suggests. Stumbling into the office a couple of minutes late, hair intentionally fuzzy, they radiate effortless coolness. Between the hazy vibe of Australian psychedelic surf rock and glistening indie pop, the image fits the music. The band name, by the way, originated from the Chinese lifestyle of Feng Shui and a bottle of "ultra-suave" conditioner from Portugal (a more or less literal translation would be "soft wind"). Feng Suave just released their second EP and it is about as smooth as the band name gives away. We caught up with the musicians to speak about Warping Youth, coming of age, and the constant fear of hair loss.
Meet Daniel & Daniel
Daniel and Daniel are both sitting at home in their respective parents' house during our interview over zoom ahead of the photoshoot in Berlin. Daniel De Jong going by Dan and Daniel Elvis Shoemaker going by Elvis made the conversation easier, even though the band jokes that having the same name does often lead to confusion among journalists. The duo have been playing together for a while now finding common ground with the style of music they want to make. Dan is in charge of vocals and guitar and Elvis plays everything from guitar, to bass, and keys.
Even though the native tongue of the two musicians is Dutch they never really considered writing in any other language except English. "We only touched upon doing Dutch Hip Hop as a joke, but English is the way to go man," Elvis laughs. When listening to the music Feng Suave put out, the use of the English language instead of the sharp-edged Dutch words, makes sense. The soft vibe of the words fits the smooth instrumentation."The kind of music we are interested in has always been in English, so it was natural for us to also write in English, too. Another thing is that we do not want to limit ourselves to a certain audience. By writing in English we have a broader audience," Dan explains.
"But we would love to sing in Portuguese!" Elvis adds. As the band name implies, the two musicians have a big love for anything in Brazilian Portuguese. "This is a fantasy we have. I think somewhere in the back of our minds we would want to be in Rio de Janeiro, writing songs in Portuguese – just a little dream of ours."
Warping Here
Feng Suave have ambitions to travel far but for now Dan and Elvis are still making music in English. However, even within one language, the evolution from the last self-titled EP to Warping Youth is obvious. Where Feng Suave was an upbeat, playful ode to the simpler life of the early twenties from loveless flings, to heartaches, Warping Youth is a more restrained musical effort. The lyrics are concerned with serious topics, like coming of age or reminiscing about the carelessness of childhood days. "Yes, there is definitely a more melancholic vibe to the new EP," the musicians agree. Yet, the feeling of melancholy, the inherent sadness, is often embedded in the instrumentation, like on I'm Warping Here. The dreamy instrumentation and the groove hide the underlying melancholy of the lyrics and makes the songs even more touching because don't we all know that feeling? Like the bitter sweetness of leaving a place behind that you have mixed feelings for, or the nostalgia of the last day of summer vacation?
"Maybe it's just getting to the point where you know it's gonna feel like this from now on", Dan croons, his vocals clear and on pitch as ever. The perfect falsettos and the soaring depth, we already knew from the last EP but on Warping Youth Daniel sings from a different emotion, the existential topics of the lyrics weighting on his voice.
On Dozing and Half Moons
Luckily, the EP was finished before the world went on Covid-19 break. "We wrote most of the songs in our rooms in Amsterdam and then came together and worked on what we wrote", Feng Suave tell me about their writing process. The opener Half Moon Bag is the only one that was written, in "this very room" Elvis tells me gesturing at his childhood room on camera behind him. The metaphorical single wittily observes that the "planet earth can't fit inside a small blue half-moon bag under your eyes" struggling with the feeling of attaching so much meaning to things like "eating greens" and staying health when our existence on the planet is so small and insignificant in the end. The abstract cover art looks somewhat like a pillow and when I ask the boys what their interpretation of it was, they say it could represent a heart or – getting existential real quick – the emotional and psychological weight we carry around with us. "It is a little bit of a guessing game", they laugh, "but we did not design it, we just bought the artwork from Flora Mottini the way it was because we liked it."
Toking Dozing is grappling with similarly large and existential topics, like the feeling of impotence in the face of current age issues. Elvis's reverbed guitar parts seem to be in conversation with Dan's smooth vocals creating an incredibly catchy melody that will not leave your mind for at least a couple of hours (be warned).
Putting in the Work
Warping Youth might have a more serious and mature vibe than the previous songs, but the musicians have not lost their goofy energy and fool around during our shoot in Berlin, cutting grimaces and striking funny poses between the shots. The energy Dan and Elvis give off is refreshingly self-ironic. Feng Suave more than anything seems like a true friendship effort of two musicians enjoying each other's company and having the same sense of humor – and, of course, common musical ground. Staying in the countryside with their parents during the pandemic, they could go on visiting each other and taking long walks. "We usually do not have a real schedule anyways so it was not as hard for us to adapt as it would have been had we been working a normal job or going to school. We make our planning for the day each day, so that stayed the same. It sounds pretty cool, but not having any structure can actually be very exhausting."
Most of us got a little taste of how tough it can be to work without having a structured day over the last couple of months. So, don't be fooled by the band's laid-back vibe, the musicians work hard every day to get where they are, which is especially hard when you have, like they put it "writer's block by default". It is about showing up and putting in the hours even when it is hard, seems to be their motto. "When we write songs, it is an effort to do exactly that rather than just jamming around," they say about the songwriting process.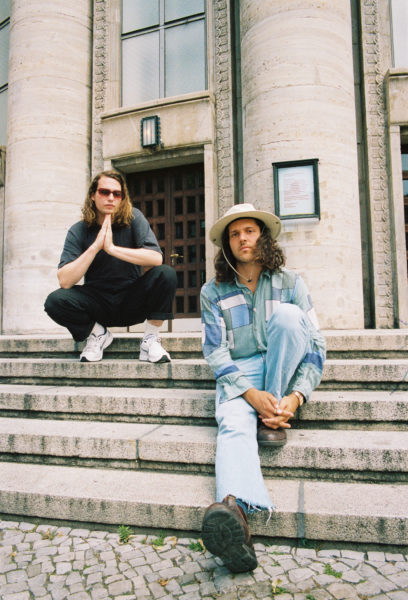 Musical Memories
The dedication of the two musicians to their craft is obvious but regardless they tell me, they got rejected from the music conservatories they applied to. "We definitely tried getting into a music school, but none of them wanted us. Well, joke's on them!" Elvis grins. Now Feng Suave are free to make their own rules, removed from the schedule they would have had to follow at any school. And it is working out pretty well for them so far. "I think even if we had gone, we would have quit by now. Of course, there is a lot we would have learned but it is not worth sacrificing the creative freedom we have now for that," Dan goes on.
For Elvis it was clear from the first guitar lesson on, that music was something he wanted to get into. The first song he learned how to play, is the single Saturday Night by Dutch singer Herman Brood, which made Dan burst into instant laughter when he heard. "It is basically just one chord", Elvis laughs and picks up the guitar form next to his desk to casually strum the simple pattern, he still remembers. The first thing Dan learned to play on guitar was the solo of Smells Like Teen Spirit, he tells us. "Oh man, you always just one-up me", Elvis shakes his head.
Looking Ahead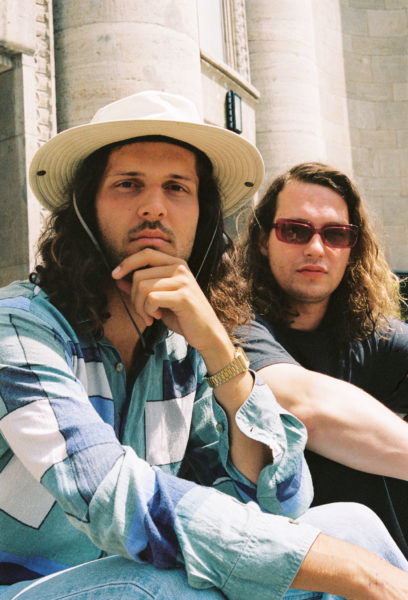 So, for now Feng Suave are on a pretty good way. The young musicians have two successful EPs out and are already working on another one during the pandemic. Eventually an album is on the list as well but at first another EP – "another one", Elvis laughs putting on a mocking Donald Trump impression. And they have just announced the postponed tour dates for next year. It seems that when they are not tortured by the fear of coming of age and melancholy, like on People Wither, they are pretty well off. Only the worry about the fabulous wavy hair that has become their trademark look is ever present. "The family tree is not looking good", Elvis says. "It is not looking good for us, I kind of want to write a song about it. But we are only 24 so I think we have a couple of good years left."
And even if their perfect wave leaves them at some point, they already have plans for the future. When the hair is gone and they are sick of making music, Feng Suave will retreat to Italy to make furniture. Sounds random? Yes, I thought so too, but the musicians have a full-on plan laid out already. "Somewhere in Northern Italy, making furniture by hand, taking like twelve months for one piece – that is our big plan for the future. But at first, we want to get where we want to be musically, which is still a couple of miles down the road, but I think we are getting somewhere."
All Photos by Liv Toerkell. 
Warping Youth is out now via Filter Music Group.