Bonobo – 'Fragments'
Sounds like… mapping out territory.
After the success of Migration in 2017, Bonobo is back with a vengeance. Simon Green has established himself as an excellent live act, DJ, producer, and collaborator on a wider scale than most musicians dealing in the electronic sphere and past releases left big shoes to fill for himself. Luckily, Fragments delivers an all-around satisfaction for fans hoping to find the known balanced with the yet-to-discover.
Fragments as its title suggests is a collection of sound experiments from the past two years – some discovered through working with harpist Lara Somogyi, multi-instrumentalist Miguel Atwood-Ferguson which melt together on Elysian and many others, but also through the artist's own standstill away from touring. The record's timing and sequence carry the wishful feeling of a night-out where the exact song comes up that is needed in the moment. There's the old school Shadows, accompanied by Jordan Rakei, Rosewood's excellent sampling, and my favourite banger Otomo featuring O'Flynn who shares a London and Ninja Tune soul with Green, early on the record setting the tone to an exciting tempo that is held in intensity by Tides which lets Jamila Woods' vocals shine. With the second half of the record, Bonobo presents the edgier explorations such as From You featuring Filthy Frank aka Joji, Closer, and Sapien in their melancholic and restless unfolding. Fragments closes with Day by Day and the wonderful Kadjha Bonet (her second album Childqueen is a gem), and the anticipation of a whole new year to experience. The fragments of hope that fill our small and great dreams are put into song and they can only be held down for so long until they either lose importance or they multiply to give the courage to dance – here's our new soundtrack. (Anna-Katharina Stich)
Stream It: ► Spotify / ► Apple Music / ► Bandcamp
---
FKA twigs – 'Caprisongs'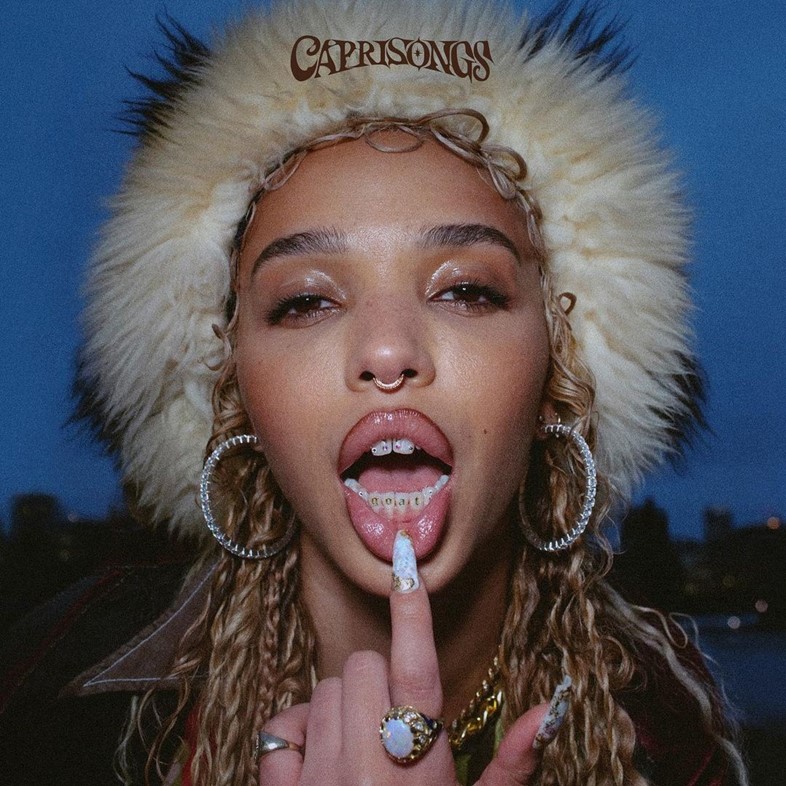 Sounds like … fun and lightness entering the dark twigs cosmos.
Usually, Tahliah Debrett Barnett aka FKA twigs isn't an artist you would associate with carefree party vibes. Over the past decade the critically acclaimed artist delivered a dark and twisted take on modern R&B, often carried by a certain feeling of melancholia and heaviness. Especially 2019's Magdalene was intense yet very beautiful affair but one that was heavily influenced by the artist's personal struggles. Three years later, FKA twigs starts a new year and chapter in her personal and artistic life by lifting the heaviness off her shoulders and embrace a more light-hearted attempt to her music. While the despair of the Covid lockdown reality played a certain part in the creation of Caprisongs this mixtape also sees her breaking free from past demons, most likely the abusive relationship with actor Shia LaBeouf against whom she filed a lawsuit. This new collection of songs is a journey back to herself with the help of collaborators and friends. It's a musical love letter to the people closest to her.
"Hey, I made you a mixtape," Barnett states right at the beginning on Ride The Dragon, directly throwing the listener into this new world. The mixtape setting suits FKA twigs pretty good, it takes the weight of an album concept from this release and allows simpler song ideas and sketches. Honda is a prime example here … or the ghostly Meta Angel that starts with lovely chatter among friends. Little skits and messages from her friends give Caprisongs an intimate and honest feeling and in-between she actually delivers some pretty great tunes you wouldn't expect from her. Tears In The Club is a catchy duet with The Weeknd and a pretty nice 'best of both worlds' hit single while the Shygirl collaboration Papi Bones surprises with pumping dancehall vibes. Oh My Love, on the other side, got an almost cloudy and dream-like vibe that suits the artist pretty well. In the press release for the record the artist puts it best by describing the mixtape as "bronzer in the sink, alco pop on the side, a cherry lolly, apple juice when you're thirsty, friends in the park, your favourite person, that one sentence somebody said to you that changed everything, a club pre-game, your bestie who is always late but brings the most to the party, meeting a friend at the airport, just togetherness." Caprisongs might be a party record but it's a classy one and luckily FKA twigs' high level of musicality and emotional honesty lift it on a fascinating different level. Everyone deserves to be happy during these times and this is the perfect album for that. (Norman Fleischer)
Stream It: ► Spotify / ► Apple Music
---
Cat Power – 'Covers'
Sounds like … one's own recurrences.
With Covers, a trilogy has formed. Cat Power's The Cover's Record in 2000, Jukebox in 2008, and now, thirteen years later, Covers are a powerful union creating something that is one of the most challenging things to perform – not one but each time it's the charm.
It is brave to cover. And it often happens in a moment of closings and beginnings The three genders of covering – a band learns common ground to find their core, a musician performs a tribute to an artist or a memory, or one truly opens their heart without using her own words – and there is Cat Power. The way Chan Marshall has the pure potential to turn other people's melodies into character is a gift. Though the opener Frank Ocean's Bad Religion doesn't catch right away and is one of the weaker renditions "Swear I got 15 lives / Balanced on my head like steak knives", caught me a second later and who could disapprove of wanting Frank Ocean to be part of the team. It's followed by meta-covering Unhate (Hate – The Greatest 2006) and Dead Man's Bones (Zach Shields/Ryan Gosling – yes that one) Pa Pa Power asking "What about power? / We won't destroy, we cannot destroy". Lana Del Ray's White Mustang, Nick Cave's I Had Dream Joe and closing track Billie Holliday's I'll Be Seeing You are the most outstanding interpretations. I encountered Sea of Love first as Marshall's cover and I never questioned it until I watched "Juno" and I wouldn't be surprised if any of the twelve songs have the same fate. I've thought I'd go into writing this and be done in an hour but well… power. Though I am still waiting for the ultimate fantasy of Cat Power covering PJ Harvey's Sheela Na Gig, one can't ask more of an artist who is fully present in her idiosyncrasy but illuminates the creator even more vibrant. Listening to Covers makes you wish to learn and feel – that's all we need right now. (Anna-Katharina Stich)
Stream It: ► Spotify / ► Apple Music
---
The Weeknd – 'Dawn FM'
Sounds like … the new king of pop isn't giving up that throne anytime soon.
You surely can't plan stuff like this. When the whole world shut down two years ago, the star of Abel Makkonen Tesfaye rose even higher and made The Weeknd one of the world's biggest pop sensations despite the whole world suffering from a global pandemic. After Hours was released in March 2020 and songs like Blinding Lights and Save Your Tears became inescapable global smash hits and somehow that broken bittersweet tribute to hedonistic nightlife culture in combination with the arty music videos and bleak livestream performances (the entire tour was postponed a few times and then ultimately cancelled) were a fitting visual support of these partly apocalyptic times. Who doesn't remember the ghostly Super Bowl Half-Time Performance in that empty stadium? After Hours was a perfect example of well-crafted, thoughtful and profound mainstream pop with a clear artistic vision, something you barely see these days. Obviously, the stakes are high for the follow-up which – thanks to lockdown isolation – arrives less than two years later. Dawn FM continues the tale of After Hours but it turns out the coke-sniffing, fight-starting, heart-breaking party protagonist wasn't in for a happy end. The after party has lead him to purgatory and while he's stuck in a traffic jam on the highway to heaven (or hell) a radio station is playing. And that station is called Dawn FM.
"This part I do alone, I'll take my lead, I'll take my lead on this road" are the opening lines Tesfaye sings, taking the listener to this final tour that will see him encounter a few existential topics along the way. The host of the radio station is Jim Carrey and although that might sound weird on paper the beloved Hollywood comedian does a great job. Countless little self-produced jingles are spread among the record, constantly reminding the listener this really is supposed to be radio station. There's even space for a commercial break. The feeling of nostalgia might be also quite conscious here. In-between The Weeknd and his collaborators (Daniel Lopatin aka Oneohtrix Point Never continues to play a crucial part in the musical supervision) deliver high-gloss electro-pop with a little dose of soul and R&B, continuing the path that brought Tesfaye worldwide fame. Groove is everywhere but things feel a bit lighter than on After Hours, the sound is slick, sharp and a bit more reduced. Following a slow grooving start with Gasoline (the pitched-down vocals make it sound like another artist) the pumping How Do I Make You Love Me? takes the sound to the club stratospheres with the hi-energy smasher Take My Breath delivering almost six minutes of dancefloor ecstasy. Later on we get sensual 80s-infected R&B in the form of Out Of Time, Here We Go Again (including a brief appearance from Tyler, The Creator) and the sexy Calvin Harris-produced e-funk beast I Heard You're Married which features Lil Wayne. By now, The Weeknd isn't even hiding that whole 80s/retro influence anymore, he embraces it and makes it sound like the easiest most obvious path for him. "All future plans have been postponed," states Jim Carrey in his closing outro monologue and somehow this strange bleak, nostalgic, catchy and hopelessly nostalgic piece of melancholic mainstream pop might once again be the perfect soundtrack for the here and now. Face the unknown and the inevitable end (I mean, we're all gonna die eventually) with joy and acceptance. It's not the worst message to take away from such an album. (Norman Fleischer)
Stream It: ► Spotify / ► Apple Music
---
Fazer – 'Plex'
Sounds like … heading beyond contemporary jazz.

Jazz is one of the genres that can take infinite forms. And while many have tried it remains beyond definition, the most defining element that I would put to different kinds of jazz is the element of freedom and spontaneity. The German quintet Fazer embrace the core of jazz on their multi-dimensional third record Plex. With two drummers who have a love for polyrhythmic music and seek their influences beyond Europe, the record touches on genres beyond Jazz like Afrobeat, Dub, and Krautrock. Driven by the interplay of the instruments Plex is a complex record and one that continues to excite with each listen.
The instrumental album shows the skill of each instrumentalist, but their main strength lies in the communication they achieve between the instruments. From the shy beginning of Prague, the dialogue of the instruments turns into a heated argument. Morning is the most stripped back track on the record and only thrives on trumpet and guitar picking making for a gentle early morning tune. The upbeat Grenadier touches on funk elements and its percussive drums and steady rhythmic bass give it a loose jam session character. Plex shows the versatile character of the five-piece with effortless ease. (Liv Toerkell)
Stream It: ► Spotify / ► Apple Music / ► Bandcamp
---