The Antlers – 'Green To Gold'
Sounds like … pure affirmation, full of gratitude but never naïve

"I set out to make Sunday morning music" Peter Silberman says about the first new Antlers-record in almost seven years. Let me clarify that we talk about the sunny, cuddly, long-breakfasts-and-silent-gestures kind of Sunday mornings here. There are no hangovers, no staying-in-bed-because-of-rain-and-why-bother-at-all-sentiments on Green to Gold. It is pure affirmation. To go and make a record like this is not without risk for The Antlers. It's been unclear whether the long pause was due to a sort of breakup/hiatus, changes in the band's personnel (multi-instrumentalist Darby Cicci is no longer part of it) or Silberman's personal health issues. What's clear is that The Antlers never were all about grieve, loss and despair but they were in danger to be expected to deliver all that continuously. Peter Silberman is too good of a songwriter and too much of a kind, loving human being to fall for that. As a result, Green to Gold is not what you would have expected from The Antlers 5 or 6 years ago. But it doesn't come as a surprise either. It manages to translate their strengths into a much warmer, less tormented sound, full of gratitude but never naïve.
The instrumental Strawflower introduces us to this "new world" while it still contains what The Antlers base their music on: Layers of guitar and piano melodies, slowly looping and intertwining, supported by Michael Lerner's drumming that's much more gently coating than stressfully pushing the song. The following Wheels Roll Home sets the stage for Silberman and is one of the several previously released singles. As it turned out, the dreamy visuals were a part the accompanying film to Green to Gold made by Derrick Belcham & Emily Terndrup. A fitting step for The Antlers. Where they used to play with the listener's imagination a lot in the past, Silberman deliberately wants his vision to be clearer now. His lyricism always was one of the most remarkable in the entire indie scene. And his manic cascades in search of capturing the inside are not gone completely but they appear much more outright these days. Stubborn Man might be one of the few tracks that also could have been on one of the earlier Antlers' records. "I can strike me down at anytime", Silberman states. But now, also, "I'm the only guy qualified to fix me up and ossify". Silberman is in a better place now, heck, he's even able to write a song about the changing of seasons and make it the 7 minutes+ title track without sounding profane. Ultimately, The Antlers are the kind of band that provide us all with hope. They've written some of the most heartwrenching, hurting music in the past and you could always tell that it came from a point of real experience. Now they've evolved to writing songs that are the blank, open and honest version of unyielding optimism and silent love that is imagineable outside cheesy clichés. It still feels very real though, never forced. So, for all of us that are amidst something Peter Silberman might have sung about 10 years ago and feel as if there is no escaping it, ever: There is actually. He tells us in song. (Henning Grabow)
Stream It: ► Spotify / ► Apple Music / ► Bandcamp
---
Serpentwithfeet – 'DEACON'
Sounds like… a quiet celebration of togetherness.
Josiah Wise / serpent is still singing about love. The success of his debut album soil lies in its honesty and focus on loves' turbulences as well as the artist's unique vocal embellishments and instrumental overlaying. On DEACON, the tone is quieter and softer, like someone who settled more into who they are and the people they want to be surrounded by. Like his first record, it is released through Secretly Canadian and it expands what the singer has established in 2018: a voice and perspective of queer people of colour in love.
One of the things that make serpent's work outstanding is the air of divinity it carries which the title of this second record undeniably undermines. Deacon comes from the Greek word 'diakonos' for helper. This goes two ways on the album – the singer himself either in the role of the helper by shining a light on his experience and sharing his gifts or the friends and lovers who helped him become the person he is today. Opening with Hyacinth which becomes a call-response track through Wise's layering of his own voice and therefore starting the conversation about love where it needs to start – with one's self, and maybe a beautiful plant. From then on, the listener gets introduced to the other character in DEACON's universe. Same Size Shoes is an R&B ode about sharing in relationships which is followed by Malik, Amir, and Derrick's Beard which each portray and praise the black men in serpent's life in different but equally soulful way. Wood Boy is pure sexual indulgence and Old & Fine embraces getting old and staying in love with someone which is an optimistic angle that not enough gay stories present. The record also ends on positive note with Fellowship co-produced by Sampha and Lil Silva which is a grateful hymn to love and friendship. The song's video shows serpent and his lover at the beach doing all the things lovers do at the beach singing: 'Maybe it's the blessing of my 30s / I'm spending less time worrying and more time recounting the love' which is the best advice to each of us in good times and in harder times. (Anna-Katharina Stich)
Stream It: ► Spotify / ► Apple Music / ► Bandcamp
---
Ben Howard – 'Collections From The Whiteout'
Sounds like … a dazzling and style-bursting sonic patchwork.
Ben Howard has never been quite keen to do what everyone would have expected him to – from the light brimming of 2011's debut Every Kingdom on to the sombre melancholy of sophomore I Forget Where We Were to the surreal ambient vibe surrounding his last record Noonday Dream, the British gentleman has continued to expand the territories of his folkish roots. And why should his fourth chapter, titled Collections From The Whiteout, should be anything else? Exactly. Produced alongside Aaron Dessner from The National, the songs on here, a whole bunch of fourteen, are indeed "collections", petite vignettes of curious and poetic observations taken from everyday life. Woven together with personal stories, these musical snapshots amount to an aural scrapbook that in fact steps a bit away from the more gloomy precursors and opens up to playful, if not erratic sonic turns in style. And it is a record that will be worth your time.
Follies Fixture brings out a somewhat subtle beginning, with synths-drenched arpeggios and Ben Howard's voice slowly seeping into the open. What A Day, following right after, is one of the more memorable tracks on the record, which brings out the full of Howard's mellow sonic potential. Soft acoustic guitar patterns and subtle drums create a sweet sonic spotlight, lacking all the dramatic aura of recent song material, but instead presenting an atmosphere ever so soft and embracing. What makes the assemblage of musical pieces on here so vivid is mostly due to songs like Crowhurst's Meme, which channels the death of amateur sailor Donald Crowhurst, a British businessman and amateur sailor who died while competing in the Sunday Times Golden Globe Race: "Well that's a riverbed sleep / What's this feeling? / And they'll murder me if I come back winning / Yeah they'll murder me". 
Whereas Noonday Dream was drenched in certain melancholic spheres, the songs on Collections From The Whiteout seem much more playful, bending Howard's own signature sound, such as on Finder's Keeper, which sounds like Thom Yorke and Bon Iver were jamming around in some locked basement. Or take Sage That She Was Burning, which starts off in a lo-fi beat atmosphere and evolves into a complex, densely knitted piece, crafted with the power of melody and introspection. Always torn between the worlds of the collected stories Ben Howard has chosen to be the framework of this otherwise style-bursting record and his own emotional deep dives seeping through the narrative, Collections From The Whiteout has to offer a lot for everyone. And it is an album that seems richer every time you decide to step into it. (Andreas Peters)
Stream It ► Spotify / ► Apple Music
---
Tune-Yards – 'Sketchy'
Sounds like … playful jazz and upbeat pop with a political message.
The duo behind Tune-Yards – Merrill Garbus and Nate Brenner – met at an art and music camp and were counsellors before they joined musical forces. Four albums over fifteen years and a marriage later, they have now released sketchy, an 11-track bundle of brightness tinged with their trademark political self-reflection. Starting off with nowhere,man Tune-Yards enter with a colourful bang-  jubilant chords and playful rhythms interspersed with multi-tracked vocals. Inside the lyrical content of sketchy you find an extension of the heavy topics the two have always preferred to tackle head-on. The song was written as a reply to the 2019 Alabama law that banned abortion and what starts off as a joyous tune builds into a sense of spiraling anger and passion, the songs message culminating in line 'If you cannot hear a woman, Then how can you write her song?'.
Sketchy is full of hip-hop and funk but follows up on Merrill Garbus' cultural awakening of sorts explored in their previous record, I Can Feel You Creep Into My Private Life. Garbus has long used African rhythms and singing styles in her work and spoke of her fourth album as a painful process of self-reflection, where she tackled accusations of cultural appropriation head-on. Sketchy however, is the aftermath. There is a sense that the couple have let go of asking questions solely about whiteness and instead have taken an approach that encompasses facing multiple societal problems. The couple intersperse topics such as gender, climate change, and patriarchy with another tune, hold yourself deceptively upbeat when touching on intergenerational disappointment, presumably primarily about climate change. Silence delivers a meditation on society's problems as well as offers a minute's silence, a respite in an album that is thematically dense, although musically playful. Their trademark sounds, Afrobeat, pop, and jazz are present throughout. For an album that tackles the uglier facets of contemporary culture, sketchy is upbeat and fresh – a welcome development on their previous sound that bodes well for the couples' fascinating discography. (Tamsin Paternoster)
Stream It: ► Spotify / ► Apple Music
---
Noga Erez – 'KIDS'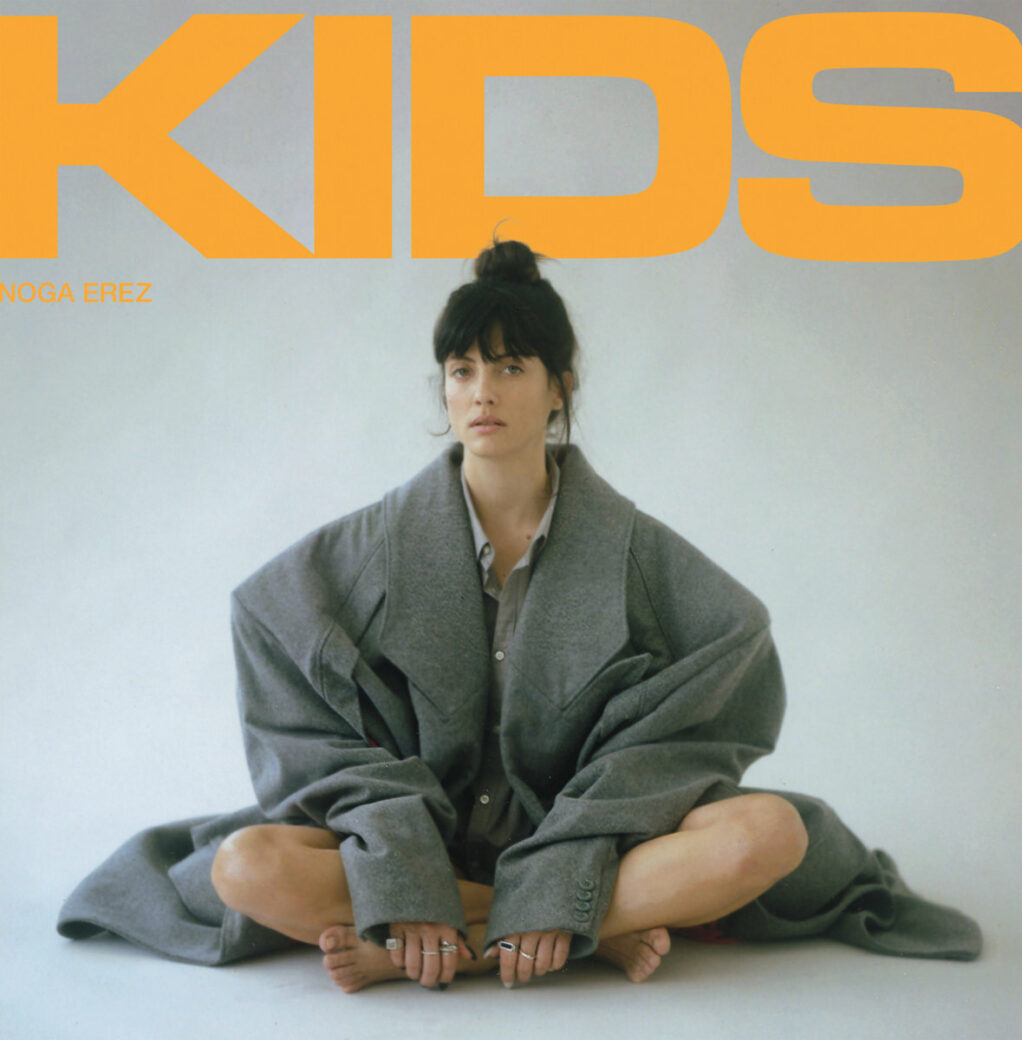 Sounds like … confidence across genres and production styles.
On KIDS Noga Erez fuses personal meditations on childhood and growing old with the political component that is inherent to her music. Following the debut LP Off the Radar in 2017, the Tel Aviv-based singer has taken the production style we have come to love to another level. KIDS shifts from rap, to RnB, electronica, and pop in the best sense of the word. Each song on the album makes it take a different turn, like an autonomously growing character that never ceases to amaze.
KIDS examines the way things are passed on generation to generation, from the ten-second opener KTD, which features conversational snippets from the singer's mother, to "nasty boys" growing into "nasty men" on the title track, and the strange normality of growing up in a war zone on Fire Kites. The heavy layers of electronic arrangements come together to a stringent song on End Of the Road and distorted vocals of Bark Loud give the unapologetic lyrics – party sung, partly rapped – a special twist. KIDS is danceable and deep at the same time and shows the unique craft of Noga Erez; elegantly shifting between genres, taking advantage of the digital production possibilities at hand without exhausting them, and the infectious confidence and cool of her persona. KIDS is an intriguing listen that keeps on the edge – throughout. (Liv Toerkell)
Stream It: ► Spotify / ► Apple Music / ► Bandcamp