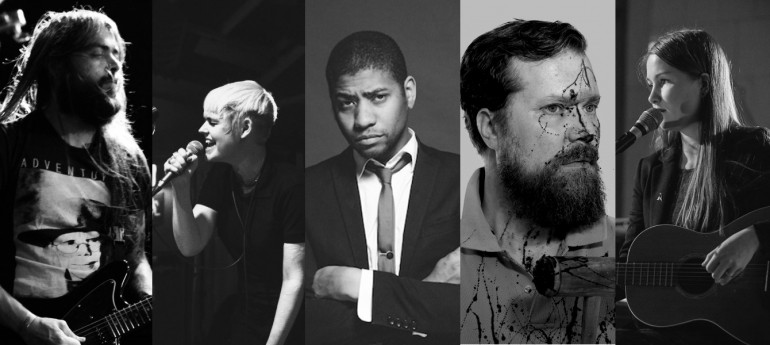 Ain't no decent musical recap of the year without a proper list of overlooked albums, right? Because even although we always try to be up-to-date in our 'Review' section there's alway a certain number of great releases that slip through our fingers. Now, that the year 2015 is almost over the NBHAP staff takes a well-deserved closer look on eleven of those overlooked albums we didn't review back then. But be sure that all of these gems deserve your attention before the year is over; trust us.
---
---
Desperate Journalist – 'Desperate Journalist'
Besides having a really great band name these guys from London delivered one of the most fascinating debut albums of the year. Somewhere between SIOUXSIE AND THE BANSHEES and the early CRANBERRIES
DESPERATE JOURNALIST
found their own version of heart-wrenching and urgent new wave rock that captivates the listener. Singer Jo Bevan is just the right sort of leading lady a band like this needs. If you happen to love the sound of the already mentioned references and are tired of waiting for a new
CURE
record we highly advice you to take a closer look to the
DESPERATE JOURNALIST
debut.
---
John Grant – 'Grey Tickles, Black Pressure'
You could easily call JOHN GRANT the GMF (Greatest Motherfucker) of all the songwriters of his generation. Three albums into his solo career, the ex-frontman of The Czars has undeniably become a master of frankness that surely doesn't come easy for him. Being blessed with the most mordant sense of humour you can imagine and the skills to write grand ballads as well as pure electronic dancefloor hymns, GRANT's new studio work Grey Tickles, Black Pressure underlines his abilty to express tenderness and warmth as much as anger and bleakness all within a couple of songs.
Despite the album title referring to the state of mid-life crisis and nightmares, the songs also evoke a great deal of new-found confidence. Returning to a studio in Dallas, JOHN GRANT once more tackles his past and turns it into an insightful, self-reflective path he is willing to walk on with the listeners by his side. Sometimes the experience is agonising and moving, sometimes it comes with an uplifting and cheeky peek that pulls you to an unexpected place. One you happily want to spend a decent amount of time at for sure.
---
Floating Points – 'Elaenia'
---
Deafheaven – 'New Bermuda'
---
Eaves – 'What Green Feels Like'
Folk singer Joseph Lyons, aka EAVES, doesn't sound like a 23-year old and his debut LP What Green Feels Like doesn't feel like a debut album. Eaves' lyrics and sound are unbelievably mature for his age. What Green Feels Like is one of the most underrated records of the year but to be fair, it's not an album you can fully appreciate if you listen to it in your daily metropolitan life. It demands a more intimate and quiet environment, only then you can really discover record's rewards.
---
Alise Joste – 'Hardships Are Ships
---
Death Grips – 'Jenny Death (the Powers that B)'
---
Algiers – 'Algiers'
The self-titled debut record by ALGIERS definitely deserves attention in 2015 as it is one of the most intense and powerful records of the year. The experimental trio from Atlanta managed to combine post punk, soul, industrial sounds and gospel elements like for instance hums in a very ambitious way and they created a sinister and dark atmosphere throughout the 40min long album. It's probably not one of these records that impress you at first listen as everything sounds very complex and uncommon – but it is undeniably worth a second listen.
What probably characterizes the band most is Franklin James Fishers infectious and outstanding voice – it is just impressive how it keeps all the influences together. Algiers is an exciting and challenging record, not only concerning the sound, also concerning the emotive and strong lyrics – A record of protest that deals with provocative  and political topics like racism. It's out now via Matador Records.
---
Gengahr – 'A Dream Outside'
At first glance, track list of GENGAHR's A Dream Outside  looks like a contents page of a fairy tale collection (Dizzy Ghosts, She's A Witch, Heroine etc.) and they took their name from a Pokémon character. These should give you an idea about GENGAHR's almost unearthly music. Their catchy sound resembles MGMT and lead singer Felix Bushe's vocals often compared to THE MACCABEES' Orlando Weeks, not a bad company to be in I guess. Band supported ALT-J when they were on tour last winter and they were off to summer festivals where they will played mostly on small stages but with this magical debut, it's not hard to imagine that they will be at higher places soon.
---
Other Lives – 'Rituals'
This May OTHER LIVES came up with their third LP Rituals via PlayItAgainSam. If you expect another lovely Indie Folk Record from the Oklahoma based band I have to disappoint you. There are still loads of string sections, pianos, drums, guitar strums, sonic layers and the gentle vocals of Jesse Tabish, but Rituals is a much more modern record with electronic elements that lives from great arrangements and accurate production. Rituals is a record about distance with several patterns and repetitions. The cinematic and kind of hypnotising 2 Pyramids is definitely one of the greatest songs they've ever done and also one of the greatest songs of 2015. You should enjoy the dreamy, atmospheric LP from the first until the last second as songs float perfectly into each other, preferably on headphones.
---
The World Is A Beautiful Place & I Am No Longer Afraid To Die – 'Harmlessness'
I suppose one or two of you might look at that bandname and think: Geez, someone help these emo kids. Spot on! And still totally wrong. In fact, indie rock (in its oldfashioned sense) has probably never sounded more vital than this in 2015. Take the musical complexity and political stance of the original emo/post-hardcore movement, the emotional crafts of OC indie and some leftovers of CONOR OBERST's Omaha scene and you'll get a condensed version of THE WORLD IS A BEAUTIFUL PLACE & I AM NO LONGER AFRAID TO DIE. With their second album after 2013's Whenever, If Ever the Connecticut-based collective celebrates something they refer to as a maximalist idealism: 'to exist in harmlessness, doing no harm to those around you.' That says it all. They're bold but tongue-in-cheek, they have a refreshingly direct and easy ethos and musically they carry it out in a complex, incredibly catchy way. In all the latest emo and post-emo efforts, this band stands out. So forget about CONOR OBERST runining his voice with a DESPARACIDOS reunion, stick to these guys instead.

—