It is Friday around noon, and I am sitting in a café gazing out on the street. The day is as dark and grey, as you would expect it from about any in end January Berlin. Bony branches of the naked trees pierce the skies, stale brown on milky grey. The bright red head of Suzan Köcher almost seems out of place in this setting but then again, it might fit too well because that is just the color the scenery needs. On the hunt for the perfect thrift gem the singer from Solingen is walking in front of me with a fierce step. Keeping up with the pace of her Bordeaux cowboy-style boots, is her bandmate Julian Müller, who is just as eager – maybe even a bit more – to expand their already 5000-piece strong record collection.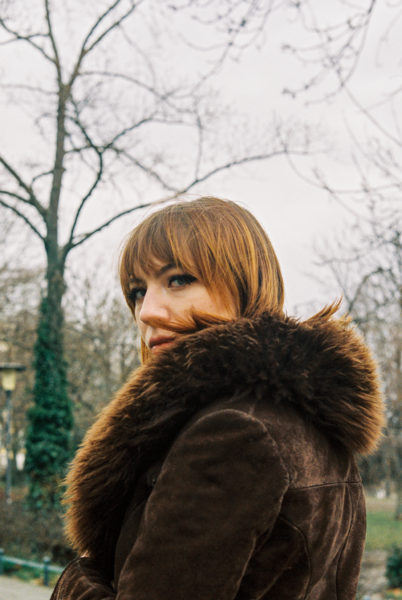 'Berlin is great for record shopping,' they tell me on our way. Over the past few years, the medium has increased rapidly in popularity causing record stores to pop up on every corner of the city, from bright shops with a massive collection to small gloomy corner stores carrying only hidden gems of artists you might never have heard of.  But if any of you live in Berlin and enjoy hunting for affordable LPs, you will know the downside of this; the stores are packed, the prices are up, and the cheap thrift gems that you have hoped for might be gone or dig deeper holes into your pockets than expected. Suzan certainly has an eye for true flea market gems. Her entire outfit consists of unique pieces that you won't find at any corner store.
Thrift Hunters
A small town just outside of Solingen, Hahn, comes up as the place where the band digs up most of their secondhand treasures. On the local flea market, you can still find some real bargains. Also, their trip to the United States paid off, they beam and tell me about their successful import of 80 LPs in the carry ons of each of the three – you do the math. Bought at only a dollar a piece each band member had to smuggle the discs through security to not get into trouble at customs.
In Berlin they are mainly looking for some Eastern treasures – one thing the Suprafon has a big weakness for. Suzan Köcher and her band were so inspired by the Czech record label, they didn't only name their latest album after it but the whole four-piece band. On that January day I only met half of the Suprafon gang but the vibe between Suzan and her bandmate speaks of the intimate relationship the musicians share. Born and raised in Solingen, that is where they still feel at home. Not even cities with a large music and creative scene can tempt them to leave. 'Through touring we get to know so many different places that it is nice to come home to something familiar, 'Suzan explains.
Please Please Me
When we arrive at The Record Store Berlin, all the hurry fades from the two musicians who will still need to drive home by car later on. Section by section they work their way through the shop meticulously inspecting each record. Looking like time travelers form the 60s era, that is the sound they are most attracted to as well; 60s psychedelic rock and folk but our day at the record store showed that the musicians also have a knack for eastern European gems. The first disc that immediately catches the attention of the two, is the Beatles legendary Please Please Me displayed on the highest shelf of the record store (so high we had to ask the owner to take it down).
"Please Please Me" is not the most famous Beatles record, but it is a special favorite of mine. The youthful beat sound of the debut album takes you to a completely different time. It sounds totally fresh and antique at the same time. Revolver or Sgt. Peppers were probably more groundbreaking later, but this record shows a young band that has no idea what will happen to them shortly thereafter.
Françoise Hardy
The next record that Suzan Köcher dug up, was no surprise to me as the singer often lists Françoise Hardy as an influence of hers. The singer, who is not too far situated from the Beatles on musical timeline, started her career in the 60s and soon charmed her way into the hearts of many with her sultry french vocals and baroque pop arrangements. Even though she does not speak it, Suzan has a strong affinity for the language and sang in French before.
"French music is an important inspiration for me. Serge Gainsbourg, Jacques Dutronc and France Gall can always excite me. The most important one for me is Françoise Hardy. Her calm and haunting way of singing is so far away from the intrusive style that many singers do. She is also a style icon that inspires me with her elegant nature."
Turkish Delight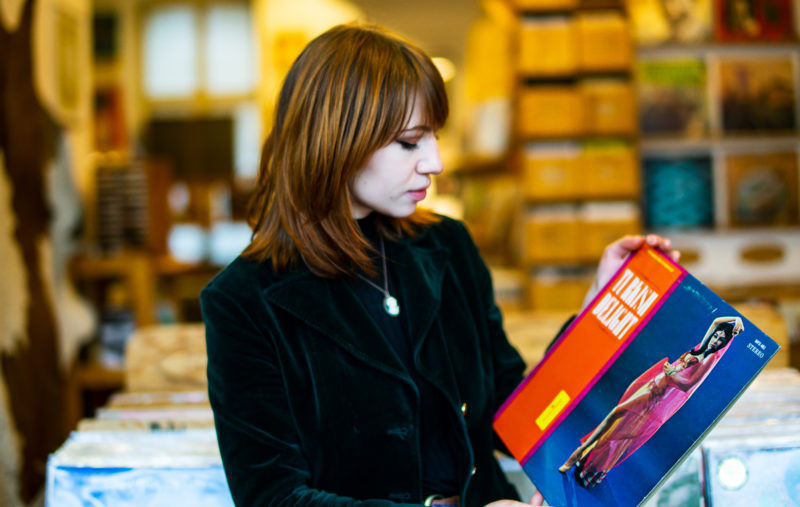 Their knack for international music took the two music lovers further down into the east to Turkish belly dance classics. And I have to admit when Julian placed the giant headphones over my ears, the groovy sound of the traditional instruments and the jingle of the tambourine proved incredibly catchy. Yet, especially if you listen a little deeper into the layers of playful instruments, the refined arrangements are impressive. The two had a very hard time not buying this record. In the end, it had to stay in the store because their collections already contains one too many belly dance LPs. For Suzan Köcher Turkish music holds a very special meaning.
"Through Turkish music I rediscovered a part of my roots. My mother is from Turkey and although this aspect did not seem to play a major role for us, it was still part of my and our identity that I first had to discover for myself. The power of music can connect and cross borders that may only exist in the mind."
Fleetwood Mac – 'Rumours'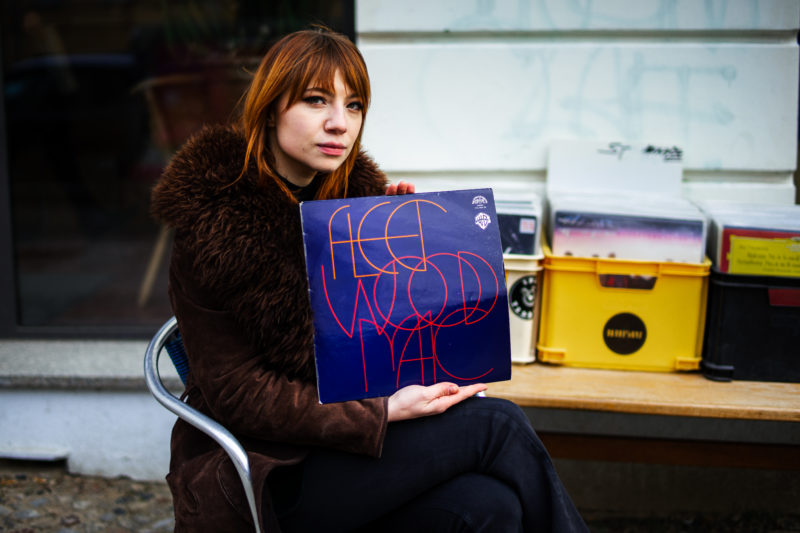 Between tugging the most obscure and interesting LPs from bands I have never heard off from the shelves, the one or the other classic cannot miss in Suzan's collection. Fleetwood Mac is one of these bands that just always seem to fit no matter what kind of mood you are in.
"Rumours" is a wonderful pop album that is full of melodies without being superficial. Stevie Nick's mysticism, Christine McVie's elegance and Lindsey Buckingham's energy create an incredible pull that you can hardly escape. I selected this particular record because it is a license edition of the Czech record label Supraphon that inspired our name. I have never seen the cover in this form before."
Niemen – 'Enigmatic'
And we are back on the romance Suzan Köcher and the Suprafon share with Czech and Polish music. Especially, her bandmate Julian Müller dove deep into the abysses of 60s and 70s psychedelic rock from the Czech Republik, Poland, and Hungary. Sometimes they even find true gems merely judging by the extravagant cover designs some of these LPs have! Of course, this method has also lead to a few shots right past the dark.
"Czeslaw Niemen was the most famous rock musician in Poland in the late '60s and '70s. However, his music was not middle of the road, but totally multifaceted and had an impressive intensity. His albums range from '60s soul, to complex prog rock and electronic music. "Enigmatic" is his most famous record – what surprised me most was his album "Katharsis", which Julian brought back from Dresden last year. On this record Niemen experiments with synthesizers and sounds like someone from another dimension."
New Old Sounds
In the almost two hours we spent rummaging the shelves of the record store, Suzan and Julian, of course, came across many other gems that made choosing only five records to introduce very hard. Their versatile taste in music explains the many different facets of the band's latest record released back in November. Eager to find new influences and inspirations the musicians are always on the hunt for something else, something new, something old, something strange. And I also did not leave the shop with empty hands but followed the recommendations of Suzan Köcher and Julian Müller and bought my very first Françoise Hardy and Niemen record.
All Photos by Liv Toerkell for NBHAP.