A supernova is a transient luminous explosion of immense power. "It's star that you cannot see until it suddenly explodes into a super bright light.  I like the image of a sleeping talent flashing really bright", Novaa says about her name. And while the supernova only illuminates for a short time, Novaa's talent is bound to shine on longer. She is about to release her second LP The Futurist and ahead of the release we met the Berlin-based singer for another nocturnal interview.
Supernova
We walk past several bars, the people are not as cramped as usually due to corona, but the atmosphere is close to normal in Berlin's Prenzlauer Berg. It is one of the last warm days of August before the early fall brings the first chill to the streets. Talking to Novaa is effortless and the time flies as she tells me about her move to Berlin a couple of years ago and her relationship to Social Media. While she is glad that life in Berlin seems to continue, she also misses the beloved Berliner club and concert scene. "I like dancing to all kinds of music. It can almost be like taking on different characters for the evening when you dance to different genres", she laughs.
During quarantine the artist took the dancing to her room and shares her improvised movements via social media. While she puts on different costumes when going out, her music is incredibly authentic. The artist sitting in front of me on the warm summer evening, is the same person you get to know through her songs. Novaa's music shifts from quiet and introspective to witty and observational but there is a silver lining of true emotion to each song. That quality also shows in the way she speaks, somberly and patiently.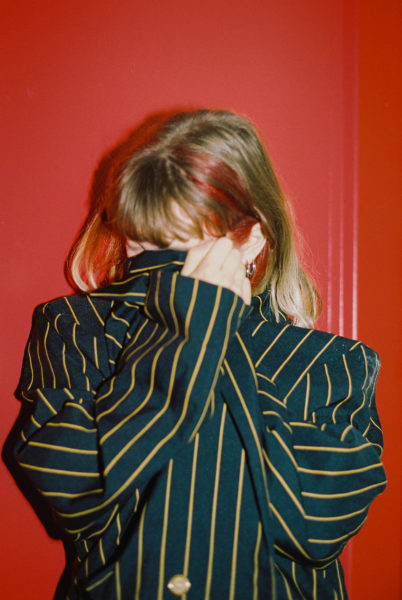 Who Are You?
"It was quite hard to not have an outlet, like going out or going on vacation or even just surrounding yourself with a large group of friends", Novaa says about the past few months. On The Futurist she imagines a futuristic world, falling in love with an artificial intelligence and living in cyber rooms but a pandemic she did not see coming. "I have always been a private person and I like being by myself, so that has not changed too much. Luckily, I also work from home, freelancing for other musicians and making my own music."  
"I think it is really interesting to think about who we are when we are not around others. We often tend to define ourselves through other people and our environment. What happens then when we do not have other people around us anymore? Who are we when nobody is watching?"
Those existential questions have influenced all of us during the pandemic. Especially when dealing with personal emotions can become hard when you do not have other people to mirror your feelings. "For me it made a lot of things more intense – in a positive but also in a negative way," Novaa explains. "It became easier to define things after the initial chaos." Distanced from literally everybody it is impossible to not reflect upon oneself and the relationships surrounding you. The singer also wrote a beautiful guest article for NOTHING BUT HOPE AND PASSION about dealing with the pandemic earlier this year.
Meditations on Love
Through her songwriting, Novaa found a way of dealing with the overload of emotions. Over the last months she has written a lot, but those intimate songs have not yet found their way onto the forthcoming album. "The latest songs are almost like journaling. They have been really therapeutic to write." But the artist is not yet sure into what kind of frame she wants to put them. "I have been reflecting a lot about the experience of being a woman in society. Before I wouldn't allow myself to write about topics like love, sexuality, and the relationship I have to myself but writing about those things has been a great experience."
Novaa was working from home before the pandemic as well so it was not that hard for her to stick to her work routine. But because the artist is working so much – not only as Novaa but also producing and writing for other musicians, work has kept her busy. "I unfortunately do not have a writing routine, sometimes I do not even have time to write. But I stick to my morning routine of yoga and meditation," she says.
No Walls
Over social media channels like Instagram, Novaa gives her fans and friends an insight into her daily life and routines – including ups and downs. She shares personal photos and intimate stories with whomever they might resonate, creating a safe space for all kinds of emotions to be seen and valid. "At first it was strange, sharing private things on social media. I had a hard time posting at all, but that changed. I might present myself open and vulnerable, but I am not actually making myself vulnerable."
"When you build walls expecting to keep bad influences out, it does not work. Good people knock and leave when you have your walls up, only those who do not have your best interest in mind break through whether you want them to or not."
That metaphor is what the artist keeps in mind when sharing her stories online. "I always think about what I share and sometimes when I post impulsively, I even delete stuff. There is so little room for insecurity on social media. Everybody struggles and everybody is insecure but that is not the image presented online. My music creates a space for those feelings, and I don't want to pretend to be someone else online then." By showing us a different side of the life of an artist but first and foremost a human being, Novaa carves out a space to talk about emotions that often go unseen. She does not create an illusion of perfection but shares all kinds of thoughts and feelings – ups and downs like everybody experiences them. "Sharing things always creates room for others to share things too," the singer adds.
"I am an all or nothing kind of person." 
Like A Child
On her songs, Novaa is open and authentic. But is it not strange for an artist who is used to expressing herself through music to write for other musicians? "When I write for Novaa, it is a different process. It is very intuitive and personal. I almost feel like a kid because I just sit down and do whatever I feel like doing. When I write for other people it is always in collaboration with someone else."
"To me making music is the opposite of owning things. I do not have a problem with sharing my music and writing for others."
Already at a very young age, the writer and producer started out learning the technical craft. Entirely self-taught she used the upsides of the internet and learned the techniques step by step. "I learn how to do things when I need them for my music. Like that I can work at my own pace and it is easier to teach yourself something new when you have a goal in mind". This kind of self-teaching has worked out well for the singer. The Futurist is also written and produced by Novaa and it shows in the intrinsic personal note of each song. Layering different types of electronic elements and synthesizers, the artist creates a variety of sound worlds from tender otherworldly Cyber Room to the more electronic and driven AI Am In Love.
"What If Human Kind Is A Dinosaur"
"My favorite song is Planet Earth, I think", Novaa says towards the end of our talk. "I still remember the very moment I wrote it. I felt very alone and isolated, it was a painful moment but eventually I found peace when I wrote this song." That is the songwriter's creative mission and what her songs sound like; journeys to emotional peace fighting her way through different kinds of situations and experiences.
The songs on The Futurist talk about sci-fi phenomena, aliens, and the unknown journey ahead, but the core experience of Novaa is an utterly human one. The music seems to bleed straight from the vein that goes to the artist's heart and she finds the beauty in painful moments. I cannot wait to hear more from what this unique artist will share with the world.
All Photos taken by Liv Toerkell for NBHAP
The Futurist is out on the 18th of September.