The National – 'I Am Easy To Find'
Sounds like… the soundtrack to Mike Mills' latest film, because it kind of is. 
Ok, so that sub-heading is a bit misleading. I Am Easy To Find, the eighth studio album from Cleveland-via-Brooklyn indie-rock veterans The National was produced by film director Mike Mills (Beginners, 20th Century Women) who lent his vision along with ears in directing the accompanying, heartbreaking short-film of the same name starring Alicia Vikander. Critics and commentators often compared The National's music to the score of a low-budget American comedy-drama film, and now, almost as an in-joke, it actually exists.
The wide-scope ambition in creating an accompanying film to a new album, along with alternate-takes and remixes of the album's tracks, is consistent with The National's mood on I Am Easy To Find, however. This is their longest, most intricate-yet-subtle record yet, following on from the break in expectations Sleep Well Beast semi-successfully delivered. Where that album attempted to inject life into The National's sound with electronics, I Am Easy To Find allows room through orchestration and a wide array of female voices (such as Sharon Van Etten, amongst others) that create a dialogue and shift of focus away from Matt Berninger. It's a similar trick Fucked Up pulled last year on their latest opus Dose Your Dreams, leading to some incredibly rewarding tracks such as Oblivions, Not in Kansas and the album's title track. Bar the anthemic Where is Her Head, however, The National's eighth album sees a move away from the constant race to the top, leading to a much deeper listening experience. (Adam Turner-Heffer)
Stream Now: ► Spotify / ► Apple Music / ► TIDAL
---
Slowthai – 'Nothing Great About Britain'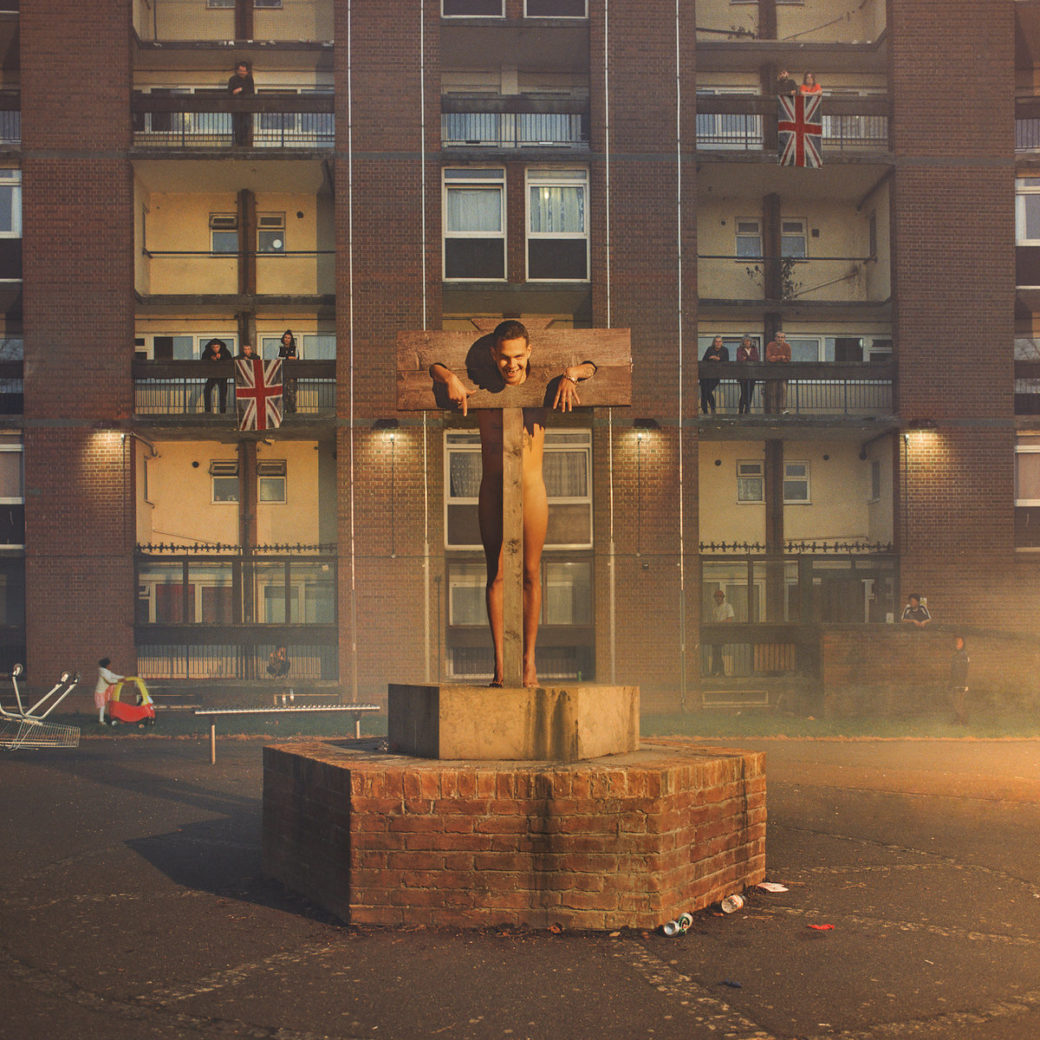 Sounds like … a grim portrayal of Britain's state-of-the-nation.
There's nothing particularly great about Britain, if you consider that a party called Brexit party, led by Nigel Farage, will presumably get the most votes in next week's European election. But at least there is a ray of hope coming out of the young British music scene. Tyron Kay Frampton aka Slowthai hails from Northamptonshire, an area in East Midlands that manifestly backed Brexit back in 2016. Frampton grew up in a council estate, where most future prospects are just made out of dealing drugs or taking 'em. After working as a laborer and at a clothes store, he eventually made it on the BBC's Sound of 2019 list. And his debut Nothing Great About Britain, appropriately being released just before the precedent-setting European elections, proves the BBC's decision to be accurate.
The 11-track album is a mix of the political anxiety, that worries the UK's youth. It's a melting pot of rap, grime, garage, dubstep and even punk. Slowthai doesn't bother about conventions and already has an outburst of profanity hinted at the royal family on the title track. The Mura Masa produced Doorman is probably the example of how close English rap can get to punk and focusses on the wealth, Frampton gets exposed to in his new residency Kensington. But there's more laid-back on NGAB, as soul-influenced Gorgeous and Toaster or garage-inspired Missing. While the Skepta-feature isn't the albums stand-out track , it's hard to pin-out the highlight of the album, as every track blends in just to well with the others. The 11-track album appears almost as a well-curated mixtape of different spheres and styles. Nothing Great About Britain is a coherent and grim portrayal of Britain's state-of-the-nation. While it isn't all grime here, it's the best example of what happens, when not 'just' Dizzee Rascal blends into your socialization as a MC, but also Radiohead, Oasis and Portishead. Slowthai might not be the new Dizzee nor Skepta, but his snappy attitude reminds of Plan B's Ill Manors or Jamie T's Panic Prevention. (Louisa Zimmer)
Stream Now: ► Spotify / ► Apple Music / ► TIDAL
---
Interpol – 'A Fine Mess'
Sounds like … Interpol push the pedal down on their new songs and find a little life outside of their shadow. 
Can brevity be Interpol's friend? To be honest, I've already done a lot of the humming and hawing about this EP in our last Nice Ones feature, where I speculated that a shorter run-time and harder, faster songs might be exactly what the band needed to save them from the 'some killer, lots of filler' that has dogged their post-Antics output. So, now that the full EP is here, did that formula prove successful in delivering an Interpol release that, while not coming close to their classics, is still the most solid release they've put out in years?
Well, the answer is a cautious yes. The title track alone makes this record a worthwhile project. It takes some of the 'controlled storm' effect that they used on the Marauder album, but puts it to better effect for a song that will definitely stand up tall in the second tier of Interpol songs, a little below their greats but up with tracks like The Heimlich Maneuver and All The Rage Back Home. Elsewhere, the songs keep it tight and simple, each living with a clear purpose fulfilled – for a band whose ambition has occasionally left them vulnerable to dropping clangers (hello Rest My Chemistry), Fine Mess is thankfully free of them. The sheer majesty of their early work is probably never coming back, but no band can shape the stars to their will forever. A Fine Mess is a solid, enjoyable Interpol record, and proves they've got life left in them yet. (Austin Maloney)
Stream Now: ► Spotify / ► Apple Music / ► TIDAL
---
Jon Bryant – 'Cult Classic'
Sounds like … utterly personal confessions of an emotionally and musically matured singer.
'We are all only human' is the message the heartfelt record of Canadian singer Jon Bryant ultimately transports. Cult Classic is his third album and a painful examination of the human nature with all of its faults, hopes and beauty. But the title is more than just a catchy name for a LP and reflects the musician's own experience of being part of a cult –and to finally break free from it. The emotional journey Jon Bryant embarked on, he bravely lays out on Cult Classic.
From the beginnings of being lured into the safety of the numbing conformity and community, that appears to be bottomless on Party, to breaking free from the ties on the confessional Did What I Did. The swooning mellow rhythm and the glistering synth accompany the words of a man coming to terms with his actions and accepting the consequences of his behavior: 'I did what I did because I wanted to'. The pop ballad displays an inner awaking and while Jon Bryant says he 'did the mental effort to maintain a safe distance from full-commitment' to the cult's activities, he owns up to his past mistakes on the single. With the help of groovy synth tunes, Ya Ya Ya Ya turned out to be one of the more playful and uplifting tracks on the record. On deeply poetic lyrics the musician is reminiscing about a past relationship dying out due to lack of communication. Yet, the most captivating track on the LP would have to be 'Cultivated'. The gospel chants and the electronic synth give it a sinister vibe of impending doom, while the artist explores the parallels of relationships and cults. The deep-rooted need for human connection is what drove the musician, among many others, into the arms of a cult, and now makes for an intriguing record loaded with the rawness and reality of personal experiences. Cult Classic appears to be written out of the aching need to speak one's mind and heart, and bears this importance with special lyrical moments and captivating musical hooks. (Liv Toerkell)
Stream Now: ► Spotify / ► Apple Music / ► TIDAL
---
Com Truise – 'Persuasion System'
Sounds like … a delicate waltz between man and machine.
Over the past ten years Seth Haley and his alter ego Com Truise managed to create something that's gotten rare in the scene of electronic music – a quite unique sound that's immediately recognizable as being unmistakably his own. It's this ongoing battle between sharp beats and tender electronica that made his previous releases so tempting and his new mini-album Persuasion System opens a brand new chapter in his artistic life. His 2017 record Iteration brought his very own conceptual space saga to completion, so it was time for a fresh start. Haley switched digital audio workstations, rebuilt his palette of sounds, and tasked himself with simply trying it out. That spirit freed him from any expectations and allowed the ideas that later turned into Persuasion System to fully unfold their own cosmos.
The sound however isn't a total surprise, it's still pretty much a Com Truise record but with a few fresh nuances. Cinematic opener Worldline opens the record with the familiar 'retro future' vibe that could have also been lifted from a forgotten 1980s sci-fi gem. It's followed by the slow grooving title-track that unfolds its dirty groove like a stream roller. Tenderness quickly returns in the short ambient piece Gaussian which surprises the listener with gentle piano play on top of it. Tracks like Kontex and Privelege Escalation continue to walk the familiar path of ambivalence. Like a glichted version of his colleague Tycho Seth Haley likes to play with the expectations of the audience. There's still something spaced-out in the sound of Com Truise but on this new release it feels as if the human element is finally allowed to shine through as well. (Norman Fleischer)
Stream Now: ► Spotify / ► Apple Music / ► TIDAL
---