There've been a running joke between us during the entire Reeperbahn Festival where we called it 'conference' while making the famous Dr. Evil quotation marks gesture. Yes, of course, the 11th edition of the famous event in Hamburg was once again 'the place to be' for the national and international music industry. Talks, business meetings and that infamous conference. But on the other hand it's also a lot of receptions, free drinks (at least for the delegates), small talk, a crowded Reeperbahn and creative chaos wherever you look. So, yes, the Reeperbahn Festival might also be a business event but it's not your ordinary one. It's one where you are able to run into a slightly intoxicated label manager and also discuss the state of British independent rock with an even more wasted newcomer musician from Newcastle. Yet, the 2016 edition was on the edge of overestimation. The lines for certain venues were quite long and way too many venues have been way too packed. And don't get us old folks started on the lack of oxygen in most of them. A bit downsizing could be helpful for 2017. It's just more enjoyable to watch a band when you can actually see them – or at least get the chance to breathe.
But on the other hand, that's the sticky, beer-driven spirit that keeps the entire Reeperbahn Festival going; an event just as special like its setting. Just walk the Große Freiheit on a busy Saturday night between 1 and 2 a.m and you'll get an idea of what we mean. Anyway, those who like it cozy are highly welcome at Reeperbahn Festival, misanthropes should avoid it – or head directly to a more discreet setting like the really wonderful St. Pauli Church where NOTHING BUT HOPE AND PASSION also hosted its own stage for the first time this year, featuring lovely performances, especially by Mrs. LAURA GIBSON. A lot of old favourites delivered joyful performances; including the record release show of TIGER LOU at Uebel&Gefährlich, an acoustic set by BOY at the even bigger St. Michaelis, SOPHIA who performed there one day later with a whole string section. BLONDAGE (aka former RANGLEKLODS) are still as joyful as they were four years ago and so were rave two-piece JAGWAR MA, electropop chanteuse SARAH P., the always haunting DOUGLAS DARE and Danish sample kings DEN SORTE SKOLE.
In this piece we'd like to focus on eight haunting performance treasures by acts that haven't been on our radar before. Musical discoveries that convinced the NOTHING BUT HOPE AND PASSION staff via their gigs and sound, resulting in a diverse selection that once again shows the variety this festival got to offer.
---
Shame (UK)
Best moment of a festival: Having a vague idea of what to expect from a concert but, in the end, being blown away by the actual experience. Britain's hot new bunch of mods, SHAME, definitely happened to be such an experience. Attitude, style, great melodies, even greater energy and some inspiring, old-school spitting and beer spilling turned the Molotow stage into a freak train into times in which Britain's most pissed and most inspired music happened. We're fans already.
Mitski (US)
The age of some acts at Reeperbahn Festival is just plain scary. At least if you see a performance like the one of NY-based MITSKI who's just 25 years old and already acted so professional on stage. Her songs are of pure class, various and rich sounding, her voice is simply a gift and her presence really beyond her age. Let alone that she already has five records out so we'll definitely have some catching up to do here.
The Lemon Twigs (US)
We came for their haircuts, we stayed for the joyful 60s sounds. Yes, THE LEMON TWIGS sound as if they were fallen out of time but they come from a better place. And brothers Brian and Michael D'Addario weren't even afraid to cover THE BEATLES' I Want To Hold Your Hand in German(!) during their packed show at Molotow. That's how you win the heart of the German and especially the Hambur audience. Their debut LP Do Hollywood will be released via 4AD next month.
Helgi Jonsson (IS)
Even before NBHAP's own stage at the St. Pauli Church on Saturday, the place became our favourite venue at the entire festival due to its sacred old school feeling and the wonderful selection of artists who performed their. Icelandic songwriter HELGI JONSSON brought his full band (including his wife, Danish artist TINA DICO) and this unbeatable Icelandic flair whose soulful melancholia warms up every heart. Whether it's on piano or on banjo – this gentleman is critically underrated for a few years now as it turns out. Time to change that, girls and boys.
Alma (FI)
There's room for every musical genre at Reeperbahn Festival. That also includes shiny and polish mainstream pop with EDM influences. ALMA from Finland is the country's new tropical house pop prodigy whose powerful voice even made the latest single by German dance pop proucer FELIX JAEHN sound less horrible than expected. Her own tunes are even better, her voice is outstanding and the fact that she doesn't look or act like your ordinary skinny pop starlet is another reason to be convinced that a bright future will wait for the young lady.
Saint Sister (IRE)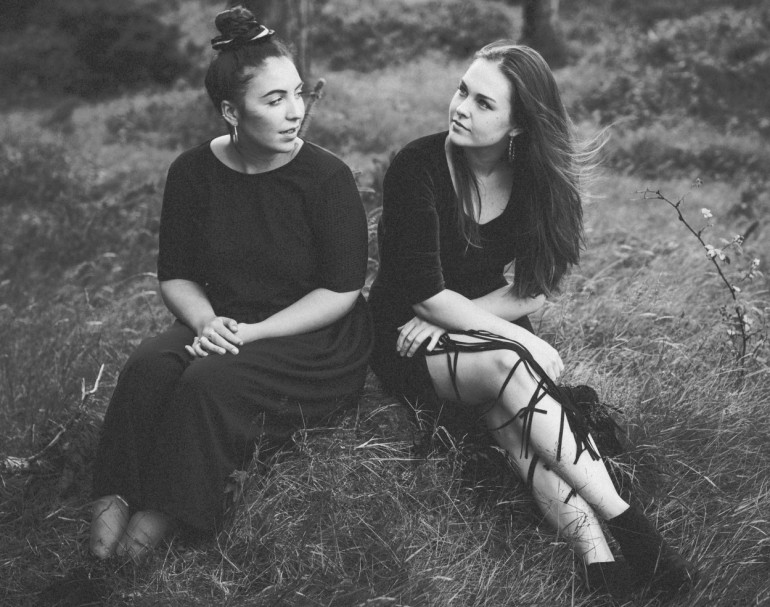 Yes, the church again, but the performance of Irish sisters SAINT SISTER just fitted the venue too perfectly to not mention them. Folk melodies with lovely pop twists and an ethereal groove presented by a slightly shy but captivating duo just got us. Even though they probably learned by now that a misfunctioning drumpad shouldn't be the reason for not playing a song. Nonetheless: Never underestimate the power of the harp!
Chad Lawson (US)
In the spirit of CHILLY GONZALES' piano lessons, US neo classic composer and artist CHAD LAWSON did a fine job in widening the audience's horizon. Classical pieces by Chopin and Bach lingered through the St. Pauli Church, not without loosing a certain pop edge though. LAWSON's just a really good entertainer and his skills are beyond doubt.
Conner Yongblood (US)
Last but not least, this young gentleman who happens to slip through our fingers during the past months despite already receiving a lot of praisal and supporting Norway's AURORA during a recent tour. The man from Texas with the finest haircut since THE WEEKND delivers gentle BON IVER-infected songwriter soul that is driven by his loop station and autotune-powered vocal performance, making him a promising participant of the current contemporary soul movement. Go see CONNER YOUNGBLOOD live whenever you get the chance to and get reminded of the emotional power music can still have on you.

—