Early September in Berlin is still nice and sunny if you are lucky. It is one of those last warm days when I meet Daniel and Daniel from Feng Suave for the second time. The Amsterdam-based Duo is back with another EP following last year's Warping Youth. So Much For Gardening is the perfect soundtrack to a late summer day and comes with a dose of 50s and 60s revival, sprinkled with grains of salt in the shape of the band's wryly sarcastic lyrics observing societal problems.
"We kind of regret calling the EP that", Daniel jokes when we meet. The plan for today; greening Berlin with the band, yet another gardening themed interview the EP title got the band into. Dressed in retro clothes, hair still as fabulous as last year, it would not have surprised me if the musicians were passionate hobby gardeners. As it turns out they aren't.
Verbloemen
"The title has another meaning to it", Daniel explains while we are looking around a local flower shop to find victims for our gardening adventure. "We just learned that after, but apparently gardening is a Dutch coping mechanism in hard times. For example, in times of war or poverty people would go gardening just to not talk about what is going on. There is even a Dutch word for it, "verbloemen", which means to bloom something over, to polish it to hide it away."
The EP, like all of Feng Suave's outputs, has apocalyptic themes to it dealing with the disasters of climate change, wicked capitalist structures, and a dose of escapism. "The joke in the title is kind of like – okay we tried this. We tried gardening and it didn't work. That gardening has this kind of meaning in our own language just added a deeper layer to the English title."
Getting the Hands Dirty
For not being the hobby gardeners I deemed them to be, both Daniels pull it off pretty well. Armed with a lavender plant and a rather sad, but still tasty, mint plant, we head to a local park. Luckily, we are aided by the local city gardening team, who allow us to make use of their equipment. To be fair, it is just the two Daniels getting down into the dirt to dig holes – but I guess that's what happens when you call your EP So Much for Gardening. And no one can say that they did not look like professionals.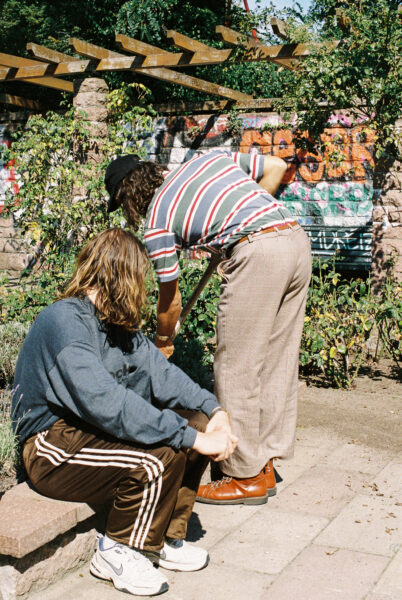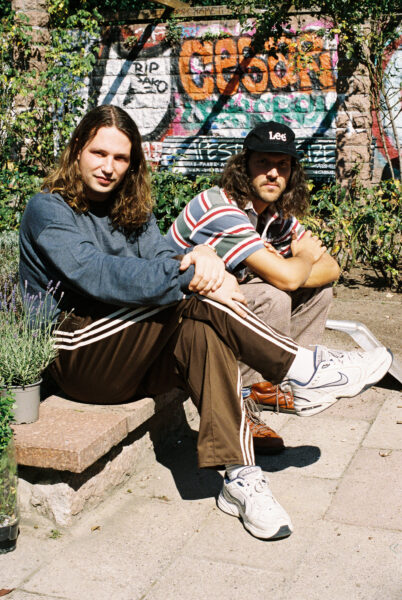 While digging in the bright midday sun, the Duo tells me about another track on the release. The opener Unweaving the Rainbow Forever sets the mood for the record from the first note – the dreamy soundscape is somewhat Beatles-reminiscent and lives off the revival vibe and the lyrics rooted in current environmental issues.
Unweaving and Screwing Up
Daniel and Daniel explain that the song title was inspired by a children's book by Richard Dawkins, a British biologist, who gives explanations for natural phenomenon in kid-friendly language. "He explains what is really going on. But we use the title in a different context. The title of the song is about taking apart the world. Unscrewing it or screwing it up."
While the song sounds as smooth and effortless as if it were just something the Daniels casually put together, the lyrics to the track were actually inspired by another trip the band took. "We were walking past the zoo observing all of those animals living in fake worlds, on fake rocks and trees, like Trumans in a way. And they don't know it. You can extend that metaphor to us. Everything we surround ourselves with is manmade, artificial, and has little to do with what we evolved in. Observing the people and animals in the zoo, I think they are much more in the same boat than they realize. The zoo is just a zoo within a bigger zoo."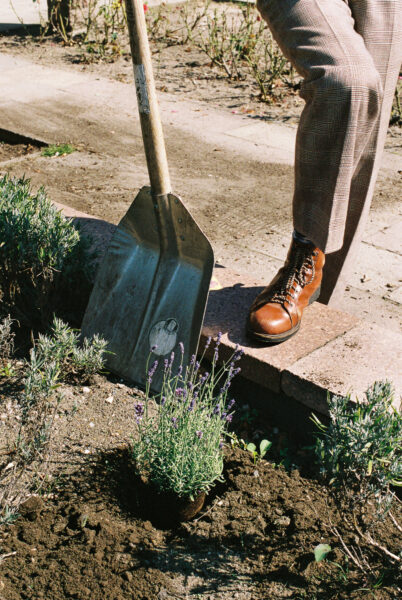 Humor as a Weapon
These clever metaphorical twists are part of what makes Feng Suave's music so intriguing. Striking the perfect balance, they deal with existential topics but always in a tongue in cheek or ironic manner. And anyone who has ever met the two musicians will probably notice that this is just their energy. Always up for goofing around, they embraced my imposed gardening challenge, posed with a David Hasselhoff pin up in a shop window on our way, and love sarcastic jokes.
"Humor is the last thing you want to lose", they say. When dealing with depressing topics, like climate change writing about it makes it easier to cope. "We have a place to put our thoughts. And we always try to get a laugh out of it. We know that it does not fix anything but maybe it helps others too."
"It feels silly to observe and sit on the sidelines and write a fucking indie pop song about it – that feels like a second-degree joke in itself."

Contemporary Revival Music
The self-ironic approach to music making gives Feng Suave the laid-back energy they have – on and off the tape. "It is really funny", Daniel says. "When people don't listen to the lyrics they think – oh such a chill song – until they notice . And that is exactly what we want to make. It shouldn't be all sad or all happy. Our music can be both because that's what life is like too."
The contemporary topics in the lyrics root the otherwise retro sounding EP in the current times. "Yeah, we really went for it", the Daniels laugh. "This EP is by far the most musically revival, so the lyrics had to be very 21st century otherwise it would just be too much throwback. We want to bring something to the table, to make it relevant now too and to reflect the world we live in."
To get a musically authentic old school vibe, the band recorded the entire EP on tape. "The process was very different. Usually, we were buried in our computers for months. This time there was no screen. We were just in the studio with our band."
"It was hard to record only on tape. You give up a lot of control. During the process we gained a lot of extra respect for the artists we admire from back in the days."

The Nod to the Outside World
All of Feng Suave's song have a "nod to the outside world" as they call it. Their indie pop tracks rooted in retro sounds and musical escapism are brought back to reality by the irony of the lyrics. Like that, heaven turns into a Tomb For Rockets, and the pilot announces solemnly "we've just lost another wing". Sung in the tender high-pitched timber, the severity of the stories told might get lost for the inattentive listener. "It is more about observing what is going on than offering solutions. We don't want to pretend like we know it any better – we don't."
Daydreaming
Back at our gardening adventure – Daniel and Daniel have both successfully planted their plants in the dry park. Even though they found their coping mechanism in music making instead of gardening, it suits them well too. Later, soil washed off the hands, they play a small showcase at the label office. Just the two of them on guitars, the stripped back set fits the intimate vibe of the invited crowd. Seeing them perform, joking with one another and the audience you can imagine the fun they must have had writing these songs.
Between sincerity and irony, serious and playful, easy going and hard hitting, Feng Suave's music is a delight to listen to. With humor being their weapon of choice against the dullness and the big and small tragedies of life, the two musicians don't take life too serious.  The dreamy EP might just be the perfect soundtrack to gardening in the sun. But the musicians also compiled a playlist with their favorite tracks for a laid-back sunny afternoon.
Check out the updated Daydreaming Delight Playlist including many artists that inspired the band's revival sound, like The Beatles, The Mamas & The Papas, Nina Simone, and Erasmo Carlo. The band's picks will only be available for a limited time so make sure to follow the playlist right here and save your personal favourites.
Photos by Liv Toerkell for NBHAP.
So Much For Gardening is out now via Filter Music Group.