Tucked away between a restaurant, a carwash, and a boulder hall, I caught The Bland setting up for an intimate gig on a boat. Yes, you heard right. The band fitted about thirty guests onto a tiny boat squeezed into a well-stocked Berlin harbor. Right by the river lead singer Axel Öberg shared some insights into the making of The Bland.
The Making Of
The song 17 was one of the first ones the band recorded for the forthcoming LP, Axel told me. The age seventeen has made is way well around the music scene and is often referred to in songs, as the age of childish innocence before turning 18. 'When I turned 18 I left Sweden to travel to New Zealand. That's where I met Anton – the guitarist, who is also from Sweden – and we bonded over The Band songs and Bob Dylan. Not long and we started making music together and busking in the streets. By chance we both ended up at university in Uppsala and the band was born.'
What an unlikely formation story for a Swedish band. Perhaps it was their affinity for the southern hemisphere that led them to write such warm and sunny melodies. Back in their home country, Axel rented a small house for the band to jam regularly. Anton and Axel are both not classically trained musicians– which does not show at all, by the way. But the other members they adopted, like bassist Johan Sund, drummer Hannes Hasselberg, and Keyboarder Jacob Tellins aka. 'The Bongo man' are well-trained theoretical musicians. 'The combination of the band is great', Axel says. 'I usually go by feeling and it is good to have some smart and theoretically talented musicians around to work with. It mixes really well.'
Anything But Bland
'The name?' Axel laughs. 'there isn't a very deep story behind it. We simply started out by covering a lot of The Band songs and in Swedish 'bland band' means mix tape. So it was only a joke but everybody started calling us that, so it kind of stuck.' As the mix tape part led to some confusion when the band started being more serious about touring and releasing music, they eventually dropped the band part, and thus The Bland was born.
'When they read 'the mix tape' people would just assume that we were a cover band or that a DJ would go on. We do like the wordplay of 'bland' describing a taste less sauce because I think this is the contrary to the kind of music we make.'
While the rest of the band had already changed into their trademark yellow color shirts, Axel was still wearing bright red. Just before he had to run off to change, he told me that: no yellow is not his favorite color, although, it is on the way of becoming it. I would imagine, as the band is gathering more and more followers and play a lot of live gigs, the yellow sticks with you eventually. 'We wear yellow because we wanted to connect on stage, to feel more uniform as the band. We even brought a huge yellow cloth to cover the boat in.'
What's next?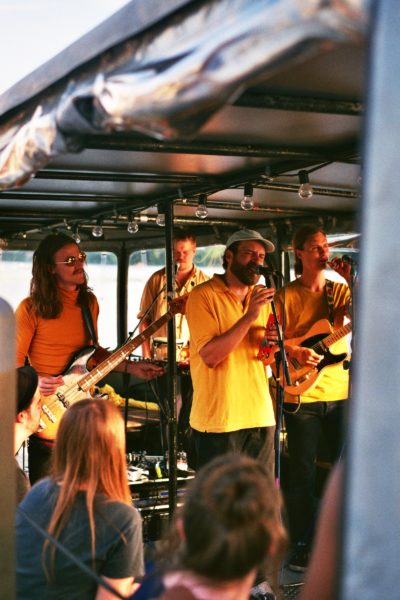 Their album hasn't even dropped yet, and The Bland are already making plans for the next one. Initially the plan was to record the follow-up record in a castle over the summer time – a castle they were invited to by a family they met on tour who collects castles (so who ever of you out there owning some castles, hit up The Bland they will probably come over for a jam session). But as Axel admitted to the plan of recording an entire album in a week sounded a little bit ambitious even for The Bland, they decided to make a documentary instead.
'We want to push ourselves to explore new ways of making music and connecting through it. So the mission is to do some – I know this sounds super hippie – but to do some acting exercises and to find out new ways to use or bodies to make music.' This certainly sounds like an interesting experiment. The documentary, so Axel says, is going to be of course a little bit about the recording as well, but is mainly supposed to focus on the band's learning process. By letting the people be part of a completely new creation process they hope to connect more with their audience.
Of Earworms and Bass Solos
So The Bland appear to be on a pretty steep rise in the music industry at the moment. Stay tuned for the album and the documentary, of which Axel does not know yet when it is going to be released. While during the live performance on the boat Axel and co. sure sound like born-to-be musicians, Axel actually has plans to pursue a very different career on the side. He is a full-time working doctor at the emergency station of a hospital. This made my jaw drop, as I am already struggling with juggling my studies and writing for NBHAP but some apparently can have it all. 'I want to keep doing both. But I want to focus on music before specialising in my career as a doctor.' So one thing is clear; emergency whether musical or other, The Bland are your guys.
Later on, all dressed in yellow shirts, The Bland laid down a crashing rock show that almost made the boat shake. Making some noise in the otherwise quiet little bay, the band smashed out their songs like rockets. Like the Rest is probably still ringing in my ears (attention acute earworm danger!!). With crashing bass, guitar, and drum solos, especially live, this band is one you should not miss out on.
The Bland's debut album Beautiful Distance will be released on August 30 via Backseat/ Soulfood/ Believe Digital.
All Photos by Liv Toerkell for NBHAP
---
This article was made possible via the concept of 'Smart Compensation' which allows to invest more time on specific editorial topics. Find out more about it in NBHAP's Mediakit.