IDLES – 'Ultra Mono'
Sounds like … a definitive force of meaningful rock music at crosspaths.
I don't like to state it since it's on the "forbidden expressions in reviews" list. But I think that IDLES are at a turning point of their career. The sheer force of Brutalism has faded, the "amidst-the-eye-of-the-storm"-brilliance of Joy as an Act of Resistance was important at its time but so many things happened within the two years since. To be fair: For a band always aiming to extend the game of British punk music it's close to important to match expectations whilst evolving. First, because they're British. A music scene that, especially in the field of guitar music and fueled by the media, tends to work only in binaries (also see Beatles/Stones; Sex Pistols/The Clash; Oasis/Blur etc.) We witness that once again as some of the figureheads of British working class uproar are turning against each other these days. An altercation typical for "the left eating itself" that I don't want to engage in. The second reason though why IDLES are at a turning point right now is that the tools that they crafted for themselves don't seem to apply to as many adjusting screws anymore.
Don't get me wrong: Ultra Mono is still a very important record. There is still so much of productive tension when John Talbot burble-yells about "CONSENT" or "ANXIETY" in front of the fierce mess that the band creates. But, and herein lies the danger, it slowly starts to sound a little too sloganized. I still buy it at this point but Ultra Mono sometimes lacks the relatable characters or stories and comes across as a little too self-centered. Musically there might be a way out of that but it was not chosen. The asserted concision lacks a little of the megalomania that helped spread the powerful messages of this band in the first place. From IDLES I don't like to be fed new material. I'd like to be irritated and simultaneously put a grin on my face. With Warren Ellis, Mike Skinner and Kenny Beats collaborating there are likeable characters involved but they don't transport innovation either. I'd like to stress it again: IDLES are precious and highly reflective of all that's happening around them and what their role in it is. They are all that in a way few other bands are. Ultra Mono as an album though is, if you are familiar with them already, not what the cover image tries to imply: Too seldomly it comes as a surprise. It doesn't hit just the right spots to make your aching feel worthy. But it still is a powerful, lively statement of one of the most important rock bands of our time. I'm sure we'll be reminded of that once they return to stage and channel their irressistible, very contemporary complex of politics, decay, love and anger. You just might have to dig a little deeper for it on Ultra Mono. (Henning Grabow)
Stream It: ► Spotify / ► Apple Music / ► Bandcamp
---
Sufjan Stevens – 'The Ascension'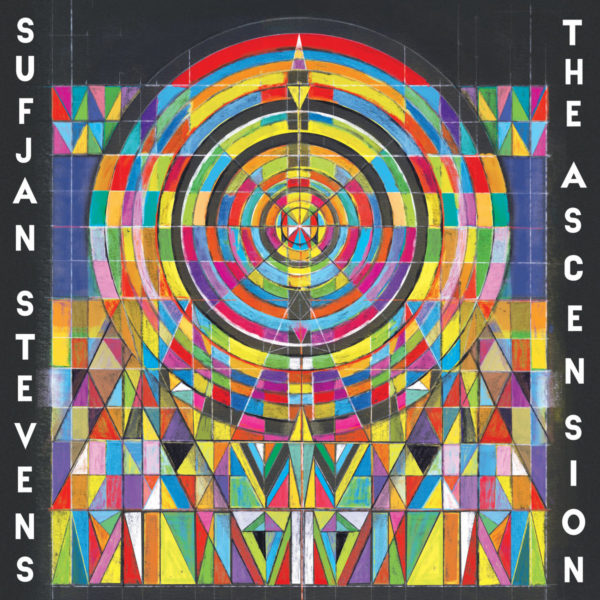 Sounds like … a universal evaluation of the world's zeitgeist embedded in an eclectic pop cosmos.

The current level of anxieties in the world must be impossible to measure after what we all have been been enduring as individuals in our own respective surrounding, but also collectively in a much bigger dimension for a while now. Our at times overwhelming sheer existence in the ongoing and seriously fucked up state of things reveals a certain numbness, but at the same time a necessity to deal with what we have been exposed to for much longer than we can actually blame the year 2020. Instead of giving in to the pain and all the tension, Sufjan Stevens returns with his new album The Ascension that examines the status quo and humanity's role in it. The nuanced and profound result could easily have been full of disillusionment and raging outbursts, however, its nature is surprisingly contemplative – of course only until the occasional disruption of Sufjan Stevens' love for experimental electronic music kicks in that is woven into the 80-minute eclectic soundscape. 
In fact, all throughout The Ascension, Sufjan Stevens faces the mostly dreadful reality revealing one crisis after another by approaching the facts with a continuous love for programmed beats, an abundance of synthesizer sounds and a drum machine. All while making sure to approach his fears from a more universal angle this time than his usually deeply personal stories only he knows how to convey so beautifully. The world-weary view at the core of the album is contrastive to the expansive and ever pulsating pop cosmos Stevens explores with a lot of love for details at the same time as his profound realizations about faith, humanity and the socio-political state of his native country America. The latter crumbling day by day in front of his and our very own eyes. The grief and frustration Sufjan Stevens clearly experiences while particularly questioning his own relationship with America and its culture on the closing track America leads the New York based singer-songwriter to sing 'I have loved you, I have grieved / I'm ashamed to admit I no longer believe.' By no means, the ambitious substance of what The Ascension offers to its listeners can be taken in easily. Perhaps, that is also exactly what proves to be one its finest qualities once you plunge into the rich sonic palette as well as its remarkable zeitgeist. (Annett Bonkowski)
Stream It: ► Spotify / ► Apple Music / ► Bandcamp
---
Sylvan Esso – 'Free Love'
Sounds like … an electronic and sing-along feast for every dancefloor-missing, summer-yearning, and bisexual heart!
To be honest, it is a rarity for me to listen to the to-be-reviewed-records earlier than two weeks before I write a piece about it. Free Love is an exception. It was first sent to me in late July, on one of the sunniest weekends full of outside fun, and I fell in love with it. Ever since I heard Amelia Meath's and Nick Sanborn's self-titled debut in 2014, I followed the band's development closely. Over the years I have noticed again and again that Sylvan Esso cut themselves a beautiful niche of minimal pop music which resonates with the most divergent crowds – a remix of Hey Mami blasting at a rave, Play It Right on the playlist of my favourite Dublin café (mostly visited by young mothers), or my friend who is a radio person urging me to listen to What Now after its release. And Free Love is sure to find its way to more people from all paths of life.
Opener What If is a reminder – what if we would focus on the important things – of this album and of life: 'What if end was begin? / Then would men be like mothers / And the falling of others would be like the first leaves of flowers."  The record's first single Ferris Wheel was the first song that stood out to me, not because of its straight-forward lyrics or clear, upbeat danceability but because of the illusion it creates – first mistaking the synth pipes for real ones, only to be corrected by the following panpipes. Plus, there is an Animal Crossing-video that is frame by frame amazing and adorable. At the centre and in line with the album title stands Free. Meath's lyrics accompanied by a minimal keyboard melody: "People always ask me what it's like to love everybody / I tell them, 'Don't be crazy', there is too many people around me / if I love them all, they break me, you see / but if I'm being honest each moment is loving at first sight." This is the quiet, life-assuring, and delightful music I've been longing for. Yes, there are a lot of artists who have consciously or not created songs fitting the year 2020 but many of them reflect the uncertainty of it all and I've been yearning for something that has a more light-hearted depth to it, something that doesn't deny reality but spins it just enough to make it tranquil.
Another highlight of Free Love is Frequency ultimately linked to Amelia Meath's coming out as bisexual in June. I must say it gratifies my love for the duo and I'm also not too surprised. When I first saw her outfit on WITH: Live Concert Film – a big light-pink tulle onesie with white plateau sneakers and a slick combed back mullet?!?! – "She's the one, I swear to God!" There are a lot more things I could praise but to conclude here: Free Love is like an incredibly sweet, mesmerizing, and short fling. The one you can cling to if you so choose and which will define any other love you find after this. For me, I don't want to get over this for a long time. (Anna-Katharina Stich)
Stream It: ► Spotify / ► Apple Music / ► Bandcamp
---
Kraków Loves Adana – 'Darkest Dreams'
Sounds like … a liberating goth pop party on your nearby graveyard.
Losing yourself in the darkness can be quite a challenging yet very rewarding process in order to keep your sanity in these weird times. Apathy, loneliness, depression and acceptance of your own weird self – it's a lot Hamburg-based two-piece Kraków Loves Adana is dealing with on their fifth full-length but by giving in to their Darkest Dreams they actually create something surprisingly liberating and an album that finds hope in the grittiest places. It follows a turbulent but short-lived affair with US cult label Italians Do It Better to which the duo signed in early 2019. But since this year told us that anything can change anytime the once so hopeful relationship fell apart shortly before the release of this album. Instead of a potential production from Chromatics leader and label mastermind Johnny Jewel Deniz Çiçek and Robert Heitmann decided to release this record in pure DIY-style. Their sound, their vision, their choice and if you happen to be a longtime fan of the group you might actually be pleased with that decision as the record is way closer to their two previous two albums. However, compared to 2018's Songs After The Blue Kraków Loves Adana take an even more obvious turn towards dark wave territory but luckily their affinity for catchy hooks and tempting pop melodies is still pretty much intact.
"Don't you know some flowers grow in the dark?" – Çiçek's gloomy mantra opens the album and takes us straight to the lush twilight vibe of early 80s lo-fi vibe. The singer still got that hypnotizing vibe in her voice that really captivates the listener. Don't Ask Why slightly lifts the spirit before the gentle groove of Faded to Black continues the ride towards the heart of darkness via a gentle groove. There is an efficient simplicity in the composing and structure of these songs, they appear to be quite reduced yet very on point while being also built on solid songwriting skills. Every now and then the references of Kraków Loves Adana shine through. There's a bit of Depeche Mode DNA shimmering in the grooving Paradise On Fire while Kiss On Fire comes with undeniable nods to The Cure (and the band's first ever German lines in a song). Love Isn't Dead and The Ocean Between Us are catchy four-to-the-floor goth pop anthems that really feel like everything's at the right place. And although the powerful I Want To Want Nothing takes a hopeful turns the nocturnal closing track – fittingly titled Darker Darkness – takes us right back into the abyss. However, the band doesn't lose themselves in despair, it celebrates the nightly set-up as a liberating source of power. Çiçek isn't moaning, for her the darkness is an ally and something to give her strength. And that's the credo of this concept album that once again shows that Kraków Loves Adana are a unique phenomenon of Germany's independent music scene … even without the backing of a huge label. Lovers of music's gloomier sides should totally embrace this record. (Norman Fleischer)
Stream It: ► Spotify / ► Apple Music / ► Bandcamp
---
Marie Davidson & & L'Œil Nu – 'Renegade Breakdown'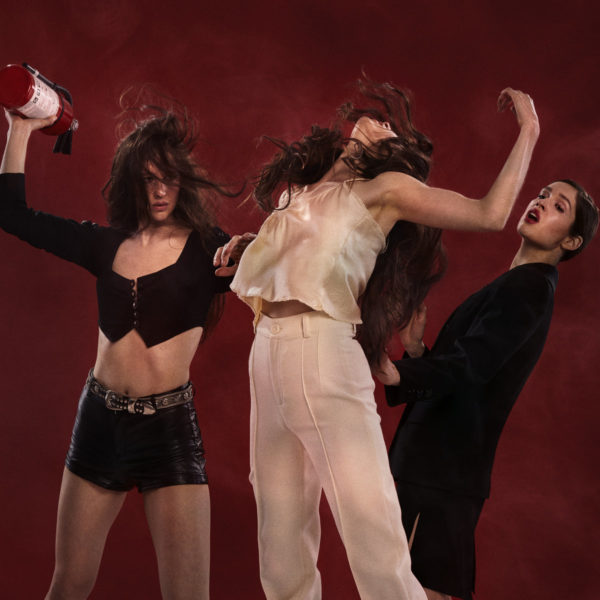 Sounds like … there's a new chansonniere in town. 
Merely a year ago, Marie Davidson announced her departure from the club scene. With 2018's Working Class Woman she had just released the most prominent work of her decade-spanning career. After the success of the album, endless club and festival sets followed. With sleepless nights, lost gear and solo traveling, Davidson soon experienced a first-hand industry burnout. However, she didn't quit music ultimately. With Renegade Breakdown, she now presents the first-album of her newly-founded trio Marie Davidson & L'Œil Nu. She is joined by her husband and Essaie-Pas partner Pierre Guerineau and friend Asaël R. Robitaille.
On Renegade Breakdown, Davidson marks a throughly different sound to her previous electronic work. The album presents chansons in various forms – from pop to rock, funk and jazz. However, all songs are driven by Davidson's characteristic and sober voice. "There are no money-makers on this record / this time I explore the losers point of view", she sings on opening title-track. Back To Rock is driven by moody guitars, while stomping pop number Worst Comes To Worst sounds like a modern crossover of Madonna and Mylène Farmer. But there's also intimate insights into the mind of Davidson: La Ronde is an intimate wedding chanson, Just In My Head is her personal take on jazzy lounge music. I've been to many places/ it made me just want you even more, she reveals here. In nearly an hour, the trio channels different influences and styles, resulting in a timeless and heartfelt sound. Even though the last songs can't hold up the dynamic level of Renegade Breakdown or Worst Comes To Worst, this experiment proves to be through and through successful. With Renegade Breakdown, Davidson shows that there can be an afterlife to an successful electronic career. This might also be useful knowledge for all unemployed DJs out there right now. (Louisa Zimmer)
Stream It ► Spotify / ► Apple Music / ► Bandcamp
---