Lana Del Rey – 'Chemtrails Over The Country Club'
Sounds like … calming cinematic folk lullabies against the world's despair.
Over the past decade Elizabeth Grant carefully and continuously shaped the microcosm of her alter ego Lana Del Rey to perfection. With the arrival of her seventh full-length it's impossible to free Grant, the songwriter from Del Rey, the character. That also goes for traditional genre limitations. Pop, indie, alternative, folk, country – Lana Del Rey is many things these days but most of it she's probably one of the most profound songwriters of our time, something people tend to forget when they just focus on the imagery. Chemtrails Over The Country Club is another prime example. Like on its predecessor Norman Fucking Rockwell! form 2019 she teamed up with star producer Jack Antonoff who's most famously known for his work with Taylor Swift. Just like on Swift's double lockdown album experiment folklore and evermore in 2020 Lana Del Rey is also heading for simpler and purer folk territory here but compared to the gentle vibes of "America's sweetheart" her record feels like the nocturnal and slightly twisted sister that is driven by a subtle sad undertone. One might think Lana Del Rey's love for soundtracking the decline of the once so glamorous American way of life would get bored over time but she never fails to deliver that overall melancholy with dignity and great songs. Chemtrails Over The Country Club is a more reduced affair than her previous musical endeavours, delivering eleven laidback lullabies that lure the listener even deeper into her world.
White Dress opens the album with her fragile voice whispering, raw and broken over a piano as she recollects the memory of long gone love, including a name dropping for The White Stripes and Kings Of Leon. There's probably an autobiographical approach here. The title-track is an epic cinematic ballad before songs like Let Me Love You Like A Woman and Not All Who Wander Are Lost head back to folk territory. Especially on a song like the hypnotizing five-minute long Yosemite Lana Del Rey understands how to ensnare the listener. Just like on her previous records Chemtrails Over The Country Club isn't interested in any chart-conquering hit singles, instead Del Rey, Antonoff and other collaborators like Weyes Blood and Zella Day celebrate an old-fashioned very traditional form of great American songwriting (the record also ends with a cover of Joni Mitchell's For Free), celebrating a slowly fading era that's pretty much gone. It's what Lana Del Rey wants to showcase with her nostalgic songs, this old imagery and the lyrical content of her music. Like a slowly yellowing old Polaroid picture this music offers a glimpse into a different time. On the same time it's not just a pure retro affair, it's also music for the here and now, for a country in which the American dream already turned into a nightmare for so many. You need the right setting to enjoy this music and to dive into its world but if you do, Lana Del Rey still offers some of the most fascinating and captivating stories in modern music. (Norman Fleischer)
Stream It: ► Spotify / ► Apple Music
---
William Doyle – 'Great Spans Of Muddy Time'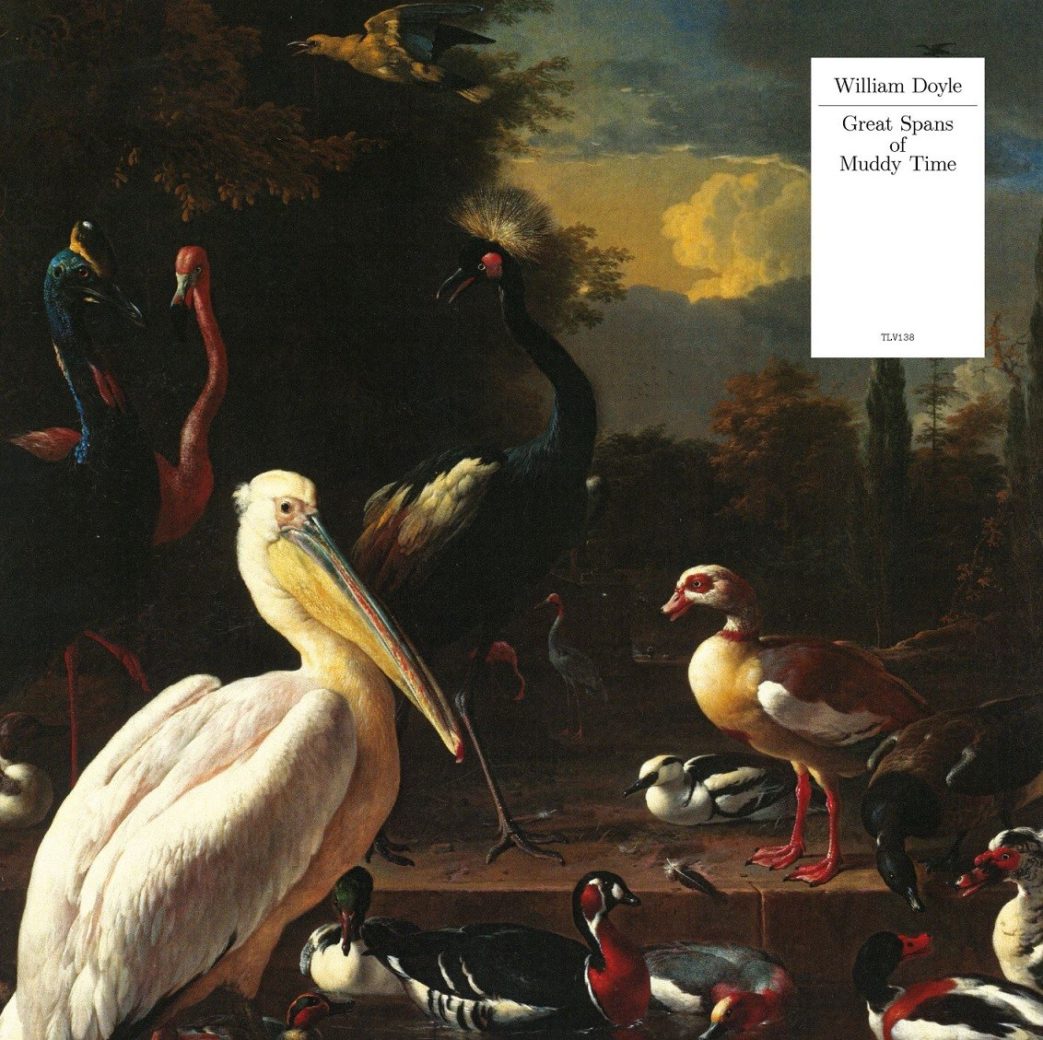 Sounds like … celebrating the imperfection and creative chaos of the human mind.
In a world that is driven by perfection and predictability the current Corona crisis feels like a much needed recalibration for many of us. Home quarantine needs no high quality photography, video calls never work perfectly, our mental health is quickly declining and forcing us to adjust many aspects of our lives only to realize that the goal of perfection and having control over everything becomes obsolete in a time that constantly forces you to break with your habits and expectations. For William Doyle it was less about the pandemic but a hard disk failure that forced him to revaluate his working methods. The British composer lost most of the foundation work of his new album due to a hardware malfunction. Luckily he saved some of the music on analogue tapes but he had to accept the imperfect status of that sound. Instead of starting from scratch Doyle worked around that issue and turned the initial problem into strength as he embraced the imperfection and the fact that he was unable to edit the analogue recordings and their melodies. Instead he worked with the mistake and created a fascinating microcosm out of it that also taught him to not end up getting lost in details. His previous album Your Wilderness Revisited (the first one he released after ditching his old East India Youth alias) took four years, Great Spans Of Muddy Time happened way faster.
That accidental creative freedom is still happening in the same territory of Doyle's previous releases but this time his mixture of warm analogue synth and gentle dreamy guitar folk takes a few abstract detours over the course of these thirteen songs. While I Need To Keep You In My Life starts the album with a delicate synth melody and atmospheric ambient patterns the following And Everything Changed (But I Feel Alright) is a much-needed mood lifter and a fitting theme song for this entire album. There are a few moments where Doyle takes the new found love for imperfection a few steps further like these brief moments in Somewhere Totally Else where the stereo sound suddenly turns into mono or songs like Shadowtracking and Semi-Bionic where nervous noisy flickering is challenging the listener's expectations. William Doyle's new album is inspired by artists like Robert Wyatt, Brian Eno, Syd Barrett and David Bowie's Berlin era. It feels like every sound is directly linked to the composer's on internal turmoil. Dealing with mental health through music has always been an essential part of the songwriter's work and this time this confrontation is even rawer than on his previous releases. Just listen to the instrumental A Forgotten Film to understand what I mean. Great Spans Of Muddy Time is not an easy record also there are a lot of soothing moments on it. It's a wild and adventurous slide down the musical rabbit hole of William Doyle, an arty and complex dream pop album that isn't shying away from the nightmares. Needless to say that this is exactly the right time to listen to it. (Norman Fleischer)
Stream It: ► Spotify / ► Apple Music / ► Bandcamp
---
Alice Phoebe Lou – 'Glow'
Sounds like … the sweetest dreams and darkest nightmares of love.
Some people have fortunate timing, even in crisis. Alice Phoebe Lou finished the extensive tour of her second album Paper Castles in 2019 and had 2020 cut out to write new music which is what every musician had to turn to last year. The result is Glow which became a vulnerable and quieter record of the many layers love adds to the human experience. On her website, Lou writes that: 'I shaved my head. Had an ego death. And started writing straight from the heart' – this cannot be overheard.
What is quite noticeable at a first listen is the arrangement of the twelve tracks on Glow. They feel preciously placed – sonically and narratively exactly where they were meant to be. Alice Phoebe Lou starts with Only When I : "I spread your love so thickly so I can reminisce some more – even if we're done for". An end is always a beginning and who hasn't indulged in past affairs just before meeting a new person. Followed by the title track filled with excitement and with its garage-y rhythm flowing right into the swing of Dusk because "the world don't matter when we're looking at each other. The tempo slows down again on mothers eyes and heavy // light as air", just like the first disappointments and routines settle after falling in love. Throughout the record, the songwriting feels natural and on-point, not a word too little or too much. On Dirty Mouth which feels like a statement song to all women standing their ground in any situation, Lou scream-sings 'Talking back – don't feel shame / Saying no saying no / Dress up – Let it go, let it go / Dirty mouth don't feel shame!'. Also a good reminder that No is a full sentence. Once again, Alice Phoebe Lou moves a huge step forward without losing the emotional heart and depth of her music. Glow underlines her outstanding position in the field, as one of the most profound characters in the songwriter/folk/whatever-you-might-call-it territory. (Anna-Katharina Stich)
Stream It: ► Spotify / ► Apple Music
---
Middle Kids – 'Today We're The Greatest'
Sounds like … indie pop-rock with personal touches.

The Sydney trio Middle Kids are taking their indie pop-rock to the next level with their sophomore record Today We're the Greatest. In comparison to their 2017 debut LP Lost Friends, the band explore personal lyrics and move away from the metaphorical to the deeply intimate and straight forward communication of emotions. Singer and primary songwriter, Hannah Joy, dives into personal history and communicates universal longing through the existential topics of the record.
It opens on the contemplative Bad Neighbors. The slow-burning song deals with past traumas and sets the mood of the record as a more profound output. R U 4 Me leans towards the pop side of the trio and conforms to the motto as Hannah Joy puts it "music that loves the listener". The complexity of the Middle Kids' songwriting comes through on the ode to staying in love, Stacking Chairs. "When the wheels come off, I'll be your spare" Hannah Joy croons on the intimate ballad. The more restrained effort of the closer and title track, Today We're the Greatest, is contrasted by the multi-layered Questions. Infectious hand-clapping to brass sections – the song is the center piece of the LP. "I got questions and you got answers, but I'm not even sure if they are worth asking", Hannah Joy sings of relatable doubts. The personal touches of Today We're the Greatest make the record deeper than the previous one. (Liv Toerkell)
Stream It: ► Spotify / ► Apple Music / ► Bandcamp
---
Bleach Lab – 'A Calm Sense Of Surrounding'
Sounds like … ocean-drenched soundscapes, full of tranquility and dread.
South London's Bleach Lab may still be in the very beginning of their musical endeavours, but they certainly do not lack a bold attitude, that much grants their debut EP A Calm Sense Of Surrounding. Held together by just five songs that are yet all the more dense, soothing and atmospheric, the dream-pop quartet takes a stab at two traumatic experiences of grief: the death of bassist Josh Longman's father and the falling apart of singer Jenna Kyle's long-term relationship. Using the five stages of grief – anger, denial, bargaining, depression and acceptance – to frame the often moody-dreamy croonings of front woman Jenna, these pieces exhibit a sonically and emotionally dense tour de force. And they should mark the starting line to various next chapters for these folks.
The waves come crashing in as early as in Old Ways, the first of the five tracks. Ambient guitar pickings and the soft roll of drums gently wrap themselves around Jenna Kyle's hazy vocals. No question, the thematic focus lies on "the angry side of the grieving process at the end of a relationship" and yet, in the way this tune sinks in, this one invites to sink right down to the well of the feeling. The metaphor of water is then indeed a characteristic that informs A Calm Sense Of Surrounding, as guitarist Frank Wates explains: "Water can resemble calm, tranquillity and slowness. Yet it can also be utterly terrifying. We felt this was similar to the whole mess of emotions which grief exposes you to and it subconsciously seeped into our lyrics and soundscapes". The wonderful follow-up Never Be dives right into this emotion, even more calm and soothing. If there is something like an epic quality in contemporary pop music – this comes quite close to it for sure. And as if the references to Virginia Woolf's writings were not clear enough yet, Lighthouse unmistakably reveals that, in a track that is steering from melancholy towards desire for redemption ("You're the lighthouse on my shore / Teach me things I once ignored"). With an incredible softness, Flood picks up that slow rushing vibe, leading into the ultimate Scars, that seems to cover up for the dire sensations these songs have worked themselves through. If one feels that this ends all too abruptly there, it is also because one feels the need for more to come from Bleach Lab. (Andreas Peters)
Stream It ► Spotify / ► Apple Music / ► Bandcamp
---